With the odds stacked against them, the Hoosiers came up bigger than ever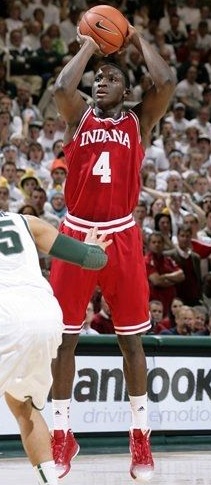 This game was supposed to be about Michigan State. At least that's what we were led to believe. This was the Spartans chance to take control of the Big Ten race, to make a case for a No. 1 seed in the NCAA Tournament, and to do so in front of their beloved hero, Magic Johnson.
Nobody, it seemed, wanted the Hoosiers to win this game. Few believed they could. Not the broadcasters, not the officials, and certainly not the raucous crowd inside the Breslin Center. It seemed unlikely the Hoosiers would win, given all the elements at play.
And yet, they did. When we get into March, when we get to Selection Sunday, this will be the game we look back at and say, 'Wow, Indiana is an elite team.' The Hoosiers have been impressive all season. They've won games against Michigan, Ohio State, and another one against Michigan State.
But in none of those games did the Hoosiers face the hurdles they did on Tuesday night in East Lansing. The odds were stacked against them all night. There were several questionable calls, at least one ridiculous no-call, and two late clock errors. Indiana trailed by four points with less than two minutes left. The game looked to be over, but it wasn't.
No. 1 Indiana, 72, No. 4 Michigan State 68.
"For Indiana to come in on this night with the crowd as good as it was and the national audience," said Michigan State coach Tom Izzo, "I think that speaks volumes of them. They deserve the credit."
The Hoosiers have trailed late in games before this season. Butler and Wisconsin are examples. But Indiana didn't win those games. The Hoosiers made runs, they scored buckets, but they didn't win a game in which they were truly up against the wall late.
On Tuesday night, they refused to accept that result. Christian Watford, who looked rattled by a flagrant foul he picked up in the second half, was able to shake it off and make one of the biggest plays for the Hoosiers since his buzzer-beating 3-pointer against Kentucky last year. His 3-point play cut the Michigan State lead to one point and gave the Hoosiers new life.
"Christian was just a grown man the whole night," said Indiana coach Tom Crean. "Air balling and having 15,000 people yell at him didn't affect him one bit. We just kept coming. We had the foul situations and the flagrant, which I just trust, because those are high-level officials. He didn't let any of that affect him. He just kept playing,"
And then there's Victor Oladipo, who looks more and more like the National Player of the Year every time he steps on the floor. He wasn't 100 percent, but it certainly looked like he was. No matter what happened in the game, Oladipo always looked like a guy who expected to win.
"I wasn't the same, I'm not gonna lie to you," Oladipo said. "But I just wanted to win and help my team win. I felt like I couldn't help my team win sitting on the sideline."
The way in which he closed that game — with six straight points to put the Spartans away — will be remembered for a long time.
"For me, the MVP of this league, Oladipo, made every play when he needed to," Izzo said. "What happened is he's got incredible heart and he just did what he does. I can give you our scouting report right now — cut him out, cut him out, cut him out — and he went and got it."
Oladipo went and got it, and the Hoosiers took what they felt belonged to them. There was no shying away from the environment like Indiana did at times last year. There was no whining about the officials. The Hoosiers just made plays.
Derrick Nix asked us to give him something Oladipo can do that Branden Dawson can't. Well, the list would be too long to include here. But to start, Oladipo can make plays at winning time. Dawson wasn't even on the floor down the stretch. Keith Appling, who Nix compared to Trey Burke, was terrible. Gary Harris missed key free throws late.
Right now, that's the real difference between the Hoosiers and some of the other really good teams in the country. There are teams that are capable of performing at an elite level — Miami, Michigan, Michigan State, etc. — but they haven't shown the ability to go on the road and grind out a win against another really good team. The Hoosiers have done that twice now, in the span of just over a week.
Indiana had its back against the wall in the toughest environment of the season and in front of the entire nation, and it emerged with sole possession of first place in the country's toughest conference. For once this season, we have a No. 1 team I think we all can agree on.
Filed to: Christian Watford, Tom Crean, Tom Izzo, Victor Oladipo