Five takeaways from Indiana's win at Michigan State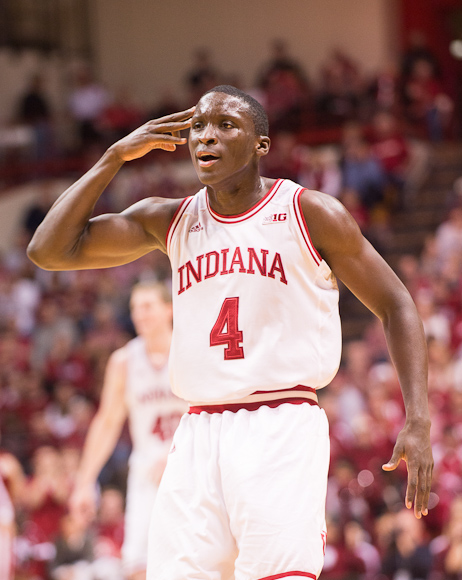 EAST LANSING, Mich. — Indiana moved to 6-1 in Big Ten road games with Tuesday night's 72-68 win over Michigan State at the Breslin Center, the first win for the program in East Lansing since 1991. The Hoosiers have won four straight overall and now sit a game ahead of the Spartans in the Big Ten standings.
Here's a look at five takeaways from IU's second win over Michigan State this season:
· Control was established early: Indiana didn't lead from wire-to-wire, but the fact that the Hoosiers built a lead early and sustained it throughout the first half was pivotal. Playing from behind on the road is never easy and in the atmosphere the Breslin Center provided, digging a hole could have spelled doom for IU. But the Hoosiers took their strong road performance in Columbus and built on it further in East Lansing. That was evident in the closing minutes when Michigan State mounted its final run. The Spartans opened up a four-point cushion with 1:37 remaining, but the Hoosiers answered immediately with veteran plays from Christian Watford and Victor Oladipo to close out the win.
· 85 percent of Oladipo is more than enough: Questions about Oladipo's health dominated headlines going into the game after he sprained his left ankle in IU's win over Purdue, but nothing was going to keep the IU junior out of this game. After finishing with a line of 19 points, nine rebounds, five steals and a block, Oladipo admitted that he was only 85 percent healthy. But as we've witnessed all season, Oladipo makes key plays down the stretch and Tuesday was no different. He scored six points in the game's final 43 seconds and his heady tip-in of a Yogi Ferrell missed layup gave Indiana the lead for good at 68-67. "The play that was the killer was the tip-in," Michigan State coach Tom Izzo said. "What happened is he's got incredible heart and he just did what he does. I can give you our scouting report right now — cut him out, cut him out, cut him out — and he went and got it."
· Indiana's offense was once again balanced: Besides the 19 points from Oladipo, the Hoosiers also had three other scorers in double figures. Cody Zeller, who played arguably his worst game last season at Michigan State, scored 17 points on Tuesday in a variety of ways. Zeller faced up and knocked down mid-range shots, scored at the basket and was seemingly unaffected by the physical play of Derrick Nix and Adreian Payne. Christian Watford didn't have his best night offensively, but three of his 12 points came when IU was faced with its largest deficit with under two minutes to play. Watford took the ball from the left wing, drove into the lane into contact from Payne and finished a tough runner for a 3-point play. And Jordan Hulls, who also had 12 points, hit a crucial 3-pointer midway through the second half that pushed IU's cushion to five.
· Turnovers weren't much of an issue for IU: Indiana came into Tuesday with the second-worst turnover percentage (19.7) in conference play. In a 74-72 loss at Illinois earlier this month, the Hoosiers coughed the ball up on 22.1 percent of their possessions and those mistakes were a big reason a sizable second half lead melted away. But in yet another sign that this team continues to grow and learn from its losses, IU turned the ball over on just 15.1 percent of its possessions at Ohio State and just 15.2 percent of its possessions in the win over Michigan State. Yogi Ferrell in particular deserves mention as he finished with five assists and just two turnovers against one of the country's best defensive backcourts in Keith Appling, Gary Harris and Denzel Valentine.
· Keith Appling once again came up empty for Michigan State: After missing a majority of the first meeting in Bloomington with foul trouble, Michigan State figured it would get much better production from junior point guard Keith Appling. Fouls weren't an issue for Appling this time around, but his lack of production in a team-high 36 minutes really hurt the Spartans. He finished with just six points on 1-of-8 shooting, missed three free throws and had four turnovers. Further limiting his effectiveness was the fact that Appling let his struggles on offense carry over to his defense, which is typically a strong suit of his game. "I really don't know why [he struggled] to be honest with you, I felt bad for him," Izzo said. "He just wasn't himself. I think you get to the point where he is a very good defender and he kind of let his offense dictate his defense and that was the biggest problem early."
Filed to: Michigan State Spartans, Victor Oladipo