Film Session: Second half D
Indiana's defense held Michigan's most efficient offense in the nation to 1.06 points per possession in its 81-73 win on Saturday night. It was the Wolverines' second lowest output of the season on a per possession basis. In the second half, the Hoosiers often forced Trey Burke and company into contested looks out of the paint and away from the rim. The normally-efficient Burke would finish just 4-of-14 in the final 20 minutes of the contest.
A look at four second half plays highlighting what the Hoosiers did to keep the Wolverines out of their comfort zone in the latest edition of Film Session:
I. HOLLOWELL BLOCK
With 13 seconds expired and Michigan passing around the perimeter, Jon Horford passes to Glen Robinson III on the right wing.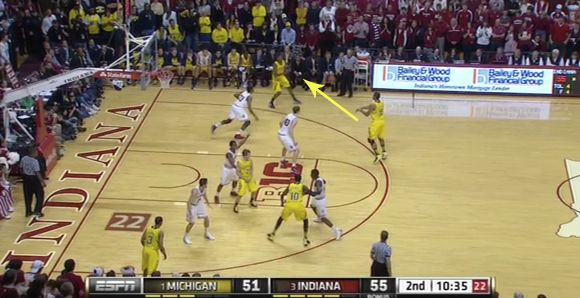 Robinson III passes back to Horford and makes a move left. This gets Jeremy Hollowell leaning towards the corner as Robinson III gets a handoff back from Horford: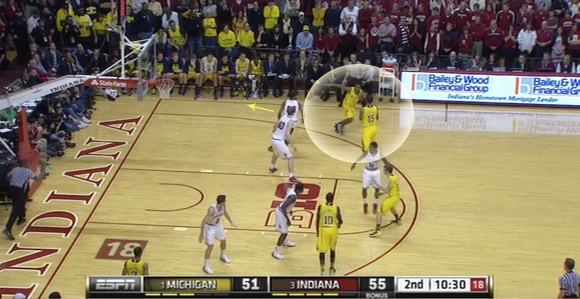 But Hollowell is able to recover and Robinson III decides against the 3-pointer: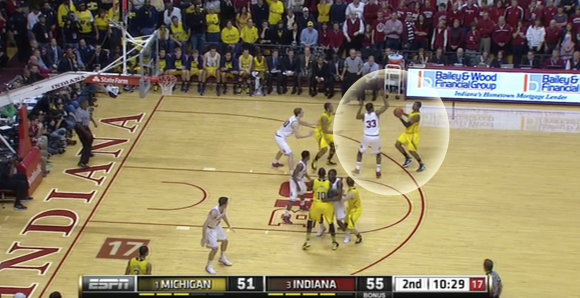 Instead of swinging the ball and potentially getting Burke involved with a reset up top, Robinson III goes back into Horford. And he passes it back out: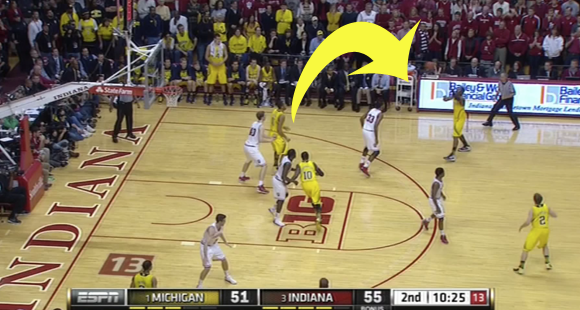 With the lane clear and the shot clock ticking towards 10, Robinson III makes a move to the rim: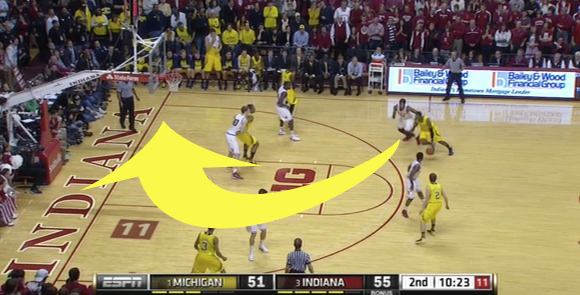 But Hollowell again recovers and blocks his shot: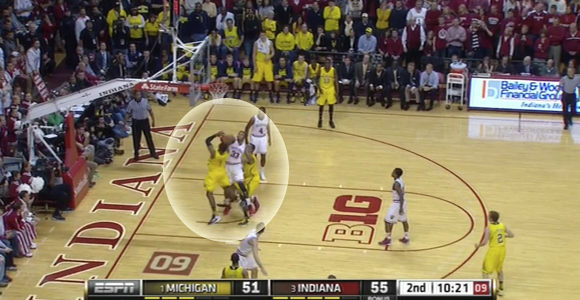 This was just a case of some solid individual defense by Hollowell. He lost a step twice, but recovered each time. Robinson III entered the game shooting 77 percent at the rim, so the block — one of three by Hollowell on the night — was particularly impressive.
Video:
II. A CONTESTED TWO
Here Burke has the ball way out near half court: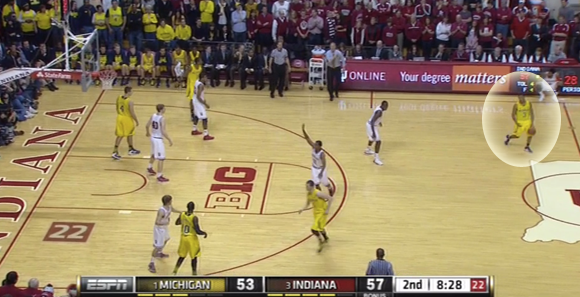 Five second later, he's no closer: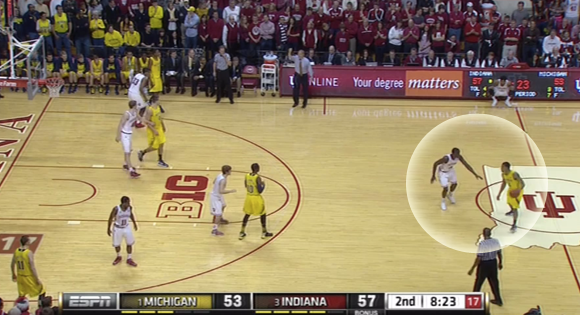 Mitch McGary comes out and sets a ball screen. But Zeller stays in the paint. Remember, this isn't always how Zeller has played ball screens this season. He's usually hedging out high. (In fact, our first Film Session of the season chronicled this — plays II and III.):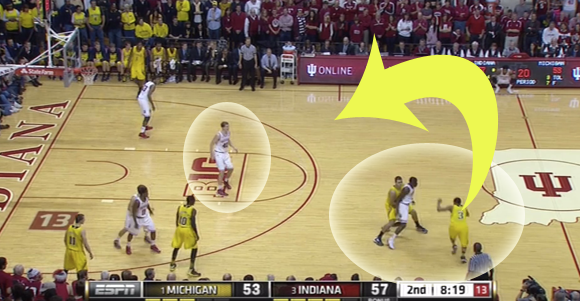 But playing Burke — who came into the game as one of the best ball screen guards in the country — differently has its benefits. Zeller is able to stay in front of him and cuts off his angle to the rim. This also means Hollowell gets to stay home against Robinson III instead of looking to stop Burke and leaving the open corner 3 as an option: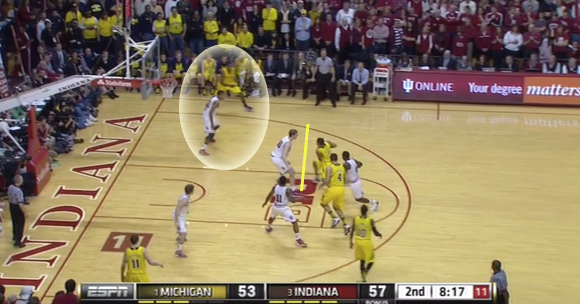 Burke still makes the pass to Robinson III, and he curls around to the wing and heads towards the free throw line: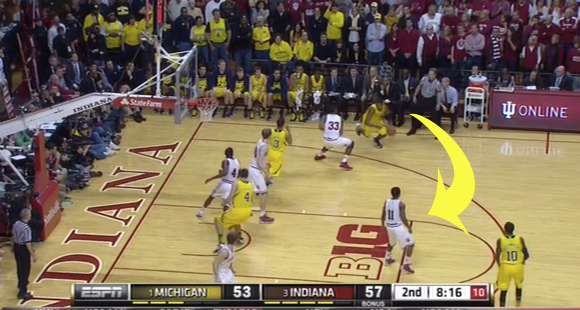 With only eight seconds left, Robinson III takes a contested 15-footer over Hollowell that misses: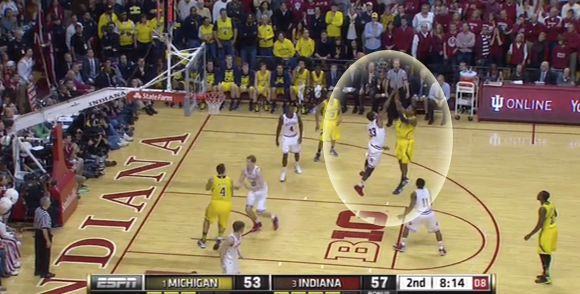 When you play an offense as efficient as the Michigan's, if you aren't able to force a turnover, taking away its first options — a Burke lay-in, an open Robinson III 3-pointer — and forcing the team into something contested in a lower percentage area of the floor is the goal. Indiana did that here.
Video:
III. ANOTHER CONTESTED TWO
Here we see similar action to the play above, as McGary comes to set a ball screen for Burke out beyond the left wing as Zeller hangs back: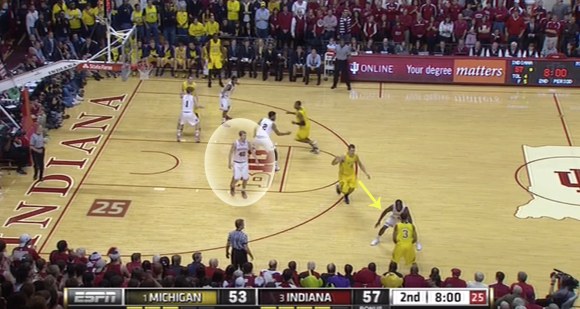 As McGary draws contact on Victor Oladipo, Zeller is in front of Burke and ready for him: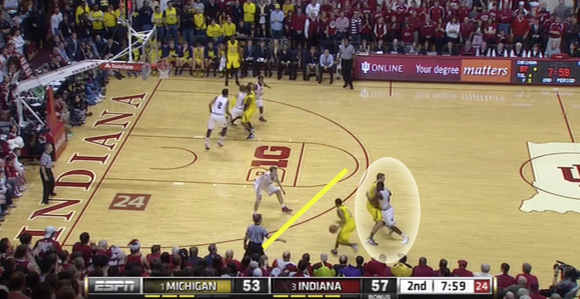 He comes to the free throw line area, and unable to get around Zeller, he shoots a contested stepback. It misses: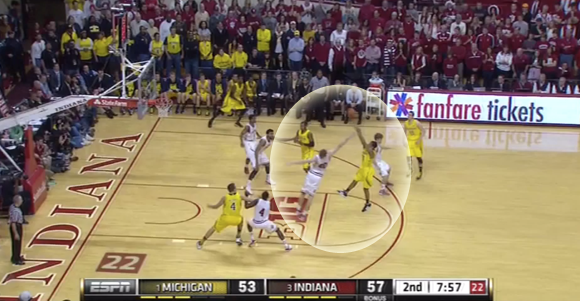 Again: Trey Burke shooting a contested stepback over a 7-footer is a win for Indiana on this possession.
Video:
IV. A MISSED THREE
Here's a look at another ball screen, this time on the right wing. McGary comes across to set it: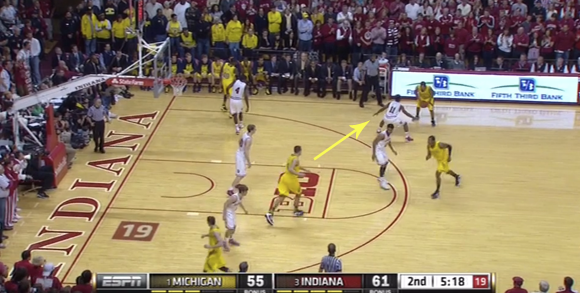 It's possible Burke has a chance to get by Zeller here, as he'll have to slide to cut him off. If he's able to, the help is likely to come and Burke may have an open teammate on the developing strong side: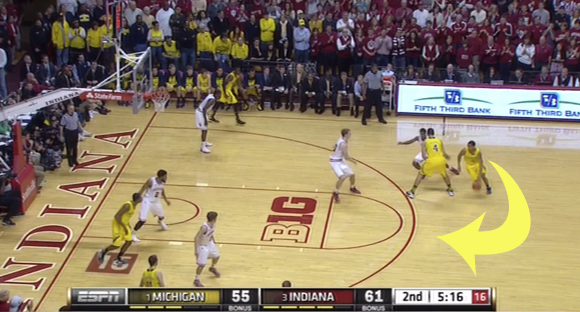 But Burke never even tries it. With Zeller sliding over and Yogi Ferrell going under the screen, he instead takes a 3-pointer several feet behind the line. It misses:
This is a shot Indiana can live with, no?
Video:
Filed to: Cody Zeller, Michigan Wolverines, Trey Burke