Film Session: Defending the 3-pointer
With last Thursday's game against Indiana Wesleyan not hitting the Big Ten Network until Wednesday, the inaugural Film Session comes a little late this season. Onwards.
Indiana Wesleyan got off to a hot start against Indiana last Thursday thanks to an early barrage of open 3-point looks the Wildcats knocked down. A look at what went wrong for the Hoosiers defensively on three such 3-pointers in the season debut of Film Session:
I.
After showing a little full-court pressure off an inbounds, Indiana sets up in the halfcourt. Jordan Hulls doesn't immediately mark a Wesleyan player; he instead assumes a bit of a rover roll at the top of the key with his hands up: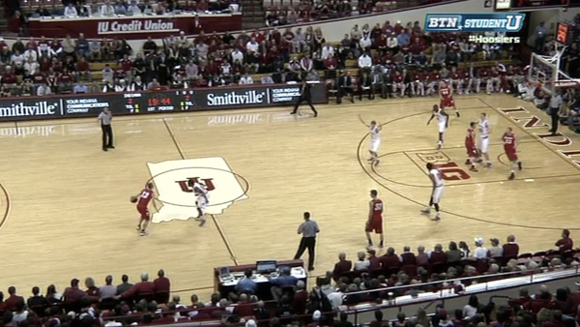 D.J. Bettinger dribbles left and initiates the offense by passing to Jordan Weidner on the left wing. Patrick Hopkins comes across to the left high post and gets doubled by Cody Zeller and Hulls. This leaves the weak side vulnerable to attack: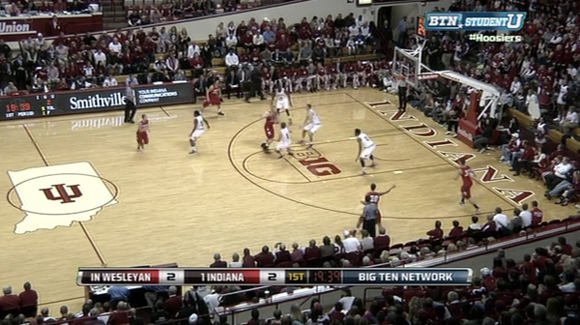 From there, it's a simple turn and pass to Aaron Martin, who knocks down the 3-pointer: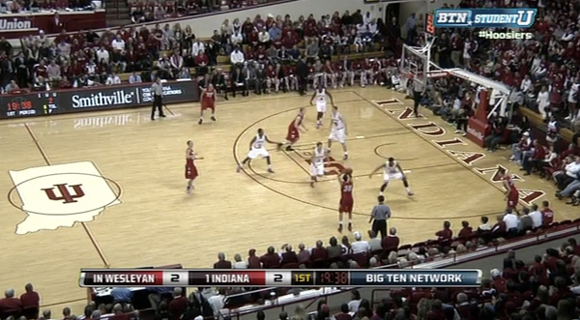 Not sure if Hulls was supposed to be marking someone here out of the gate or not. (UPDATE: I think, as Cbruce576 points out on Twitter, that Indiana is actually in a 2-3 zone here with Yogi Ferrell late to get into position because he's applying on-ball pressure. Hence why Hulls is playing where he is.) But by Wesleyan putting the ball in the middle of the defense, they were able to exploit it for an open trey.
Video:
II.
Martin sets a pick for Bettinger before halfcourt: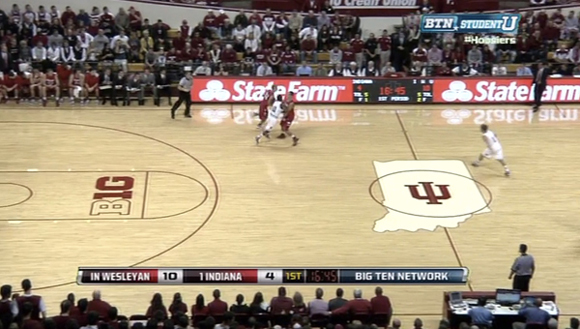 Which has Hulls switching with Ferrell to pick up Bettinger across the timeline: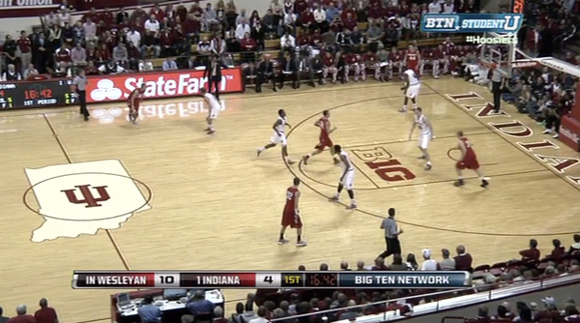 Bettinger hands it off to Weidner, who curls up as Hopkins looks to get a body on Victor Oladipo with a ball screen: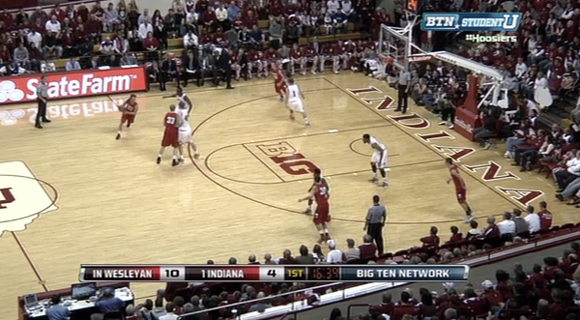 Hopkins never gets a body on Oladipo, but it doesn't stop Zeller from showing hard and pressuring Weidner well out past the 3-point line with Oladipo: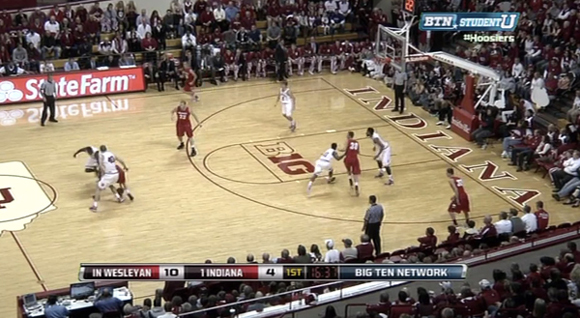 Weidner is able to thread the D and find Hopkins, and with two Indiana defenders above the top of the key, Wesleyan is again on the advantage: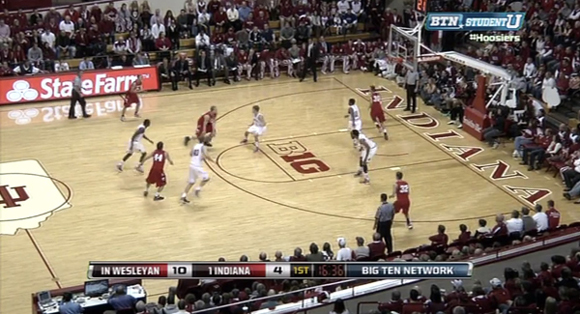 This time, Hopkins looks over to the right wing again, but instead makes a pass behind him to Bettinger who connects on a 3-pointer: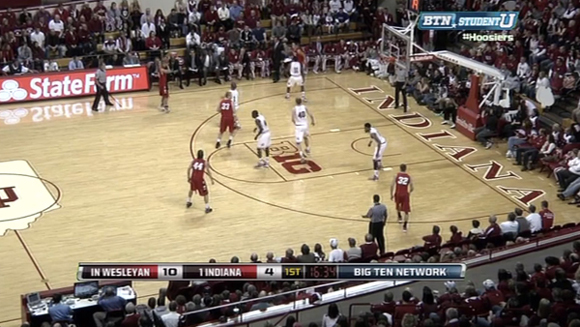 Hulls is able to pop out near the 3-point line quickly here, but because Bettinger flashes some NBA range, he has a wide-open look several feet behind the college line.
Video:
III.
Parker Stouffer sets a pick for Weidner and Zeller again aggressively hedges out to stop dribble penetration: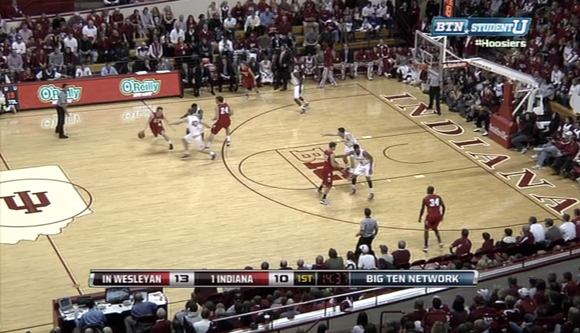 Out near the timeline, Weidner collects himself: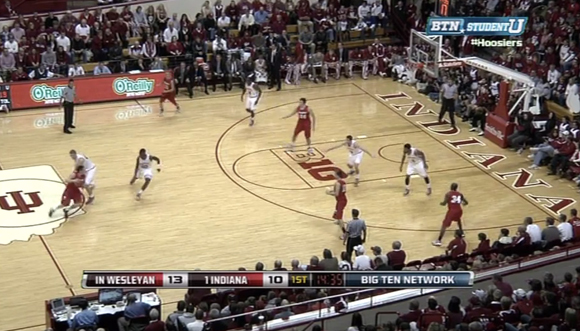 And passes to Taylor Schoen on the right wing: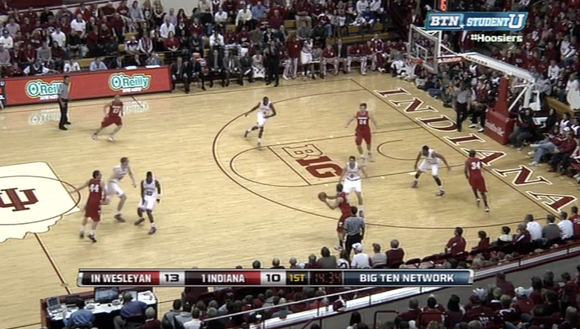 Schoen makes an entry pass to George Jones IV on the right block. With Zeller still not recovered, Oladipo comes down to the right block to help, leaving Bettinger open in a smilar spot: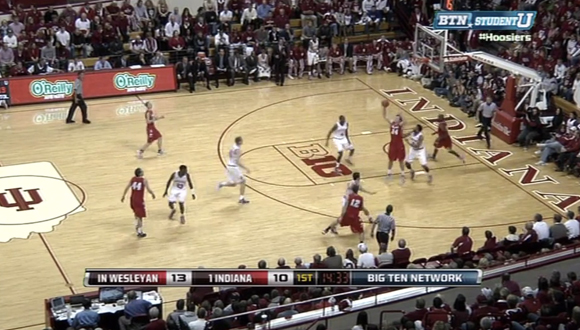 Jones the IV makes a quick pass out to him: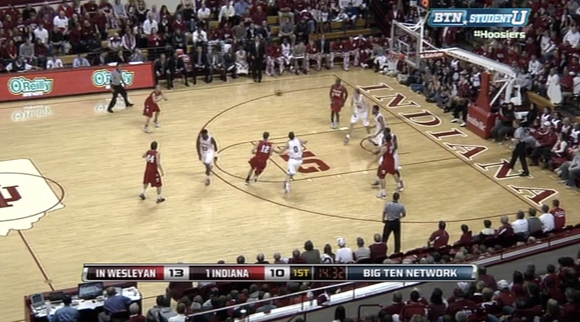 And he connects once more: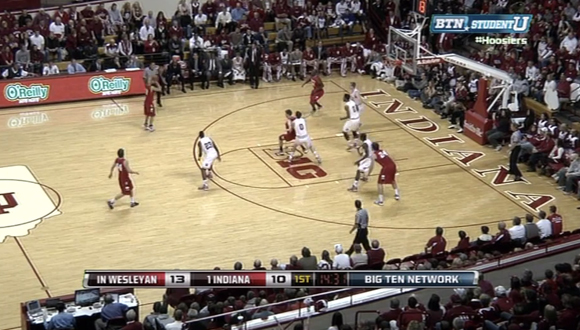 By Zeller showing hard on this one as well, it just took Wesleyan again making a few passes to find a wide-open man beyond the 3-point arc.
Video:
Filed to: Indiana Wesleyan