Film Session: A 3-point barrage
The Hoosiers hit eight straight 3-pointers in Wednesday night's 72-49 win against Penn State, which included two late in the first half and six straight to start the second. Will Sheehey, who's offense game has struggled some of late, hit three in this stretch to help him get back in rhythm. Yogi Ferrell, who opposing defenses such as Wisconsin have sagged on of late, also contributed two during this stretch and hit 3-of-4 for the game.
A look at all three confidence-building 3-pointers from Sheehey and one from Ferrell in the latest edition of Film Session:
I. Here we see the Hoosiers with all five players out beyond the arc as the ball is swung from right to left: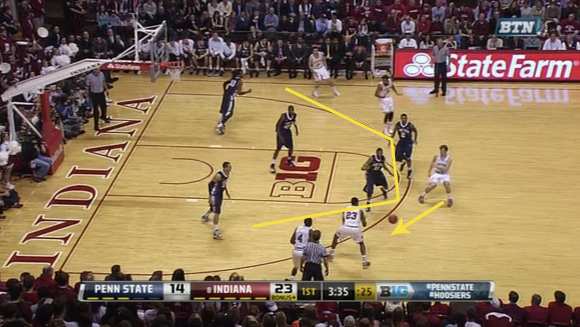 But as the Hoosiers reverse it back right, Christian Watford and Victor Oladipo have cut across and filled space: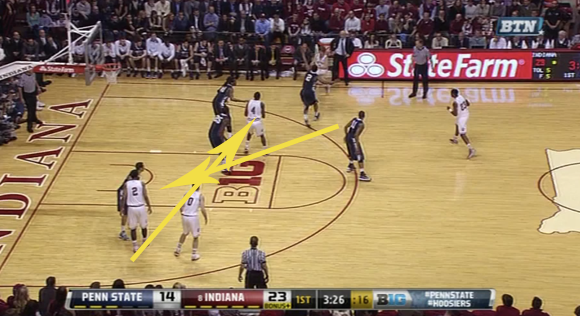 As Oladipo curls back around, this leaves the Penn State zone imbalanced. There are four defenders on the strong side — leaving Sheehey open on the left wing: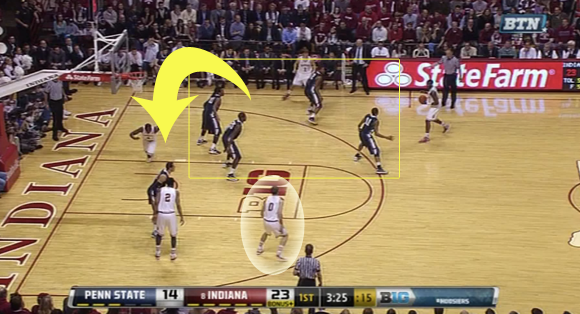 It's just a simple swing pass, and he's left with a wide-open look he connects on: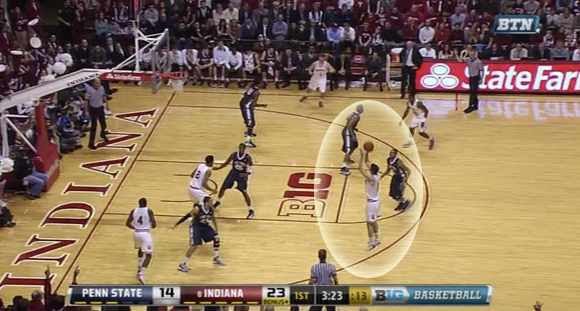 As Shon Morris notes on the call, Jermaine Marshall falls asleep here and doesn't account for Sheehey at all — allowing him the nice look.
Video:
II. Yogi Ferrell brings the ball up the court and its knocked out of bounds. On the reset, Sheehey sees some more snoozing Penn State defenders as he inbounds the ball in: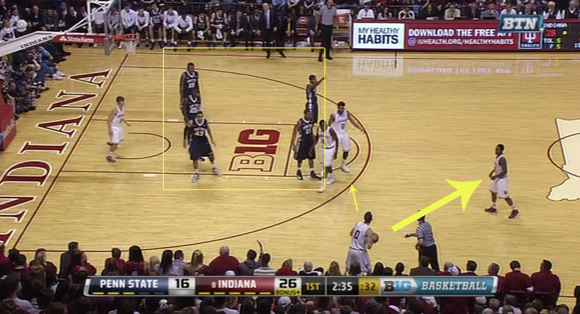 He calls right back for the ball and receives it: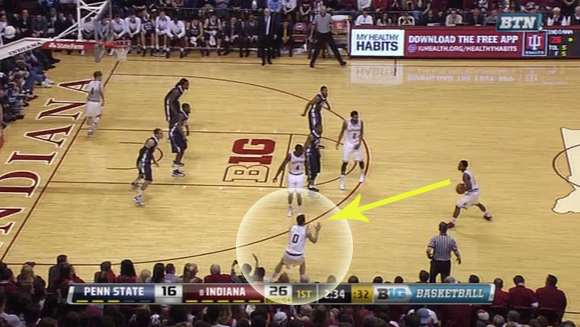 Ross Travis does a decent job of coming up from the block to get a hand up, but it's another Sheehey 3-pointer before halftime: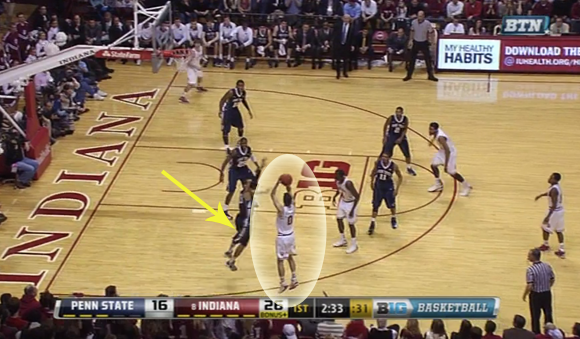 Video:
III. Penn State does a good job of spreading its zone out here and guarding against 3-pointers. So with 13 seconds left, the Hoosiers have to do more than just ball reversal around the perimeter. The action comes to the middle as Cody Zeller sets a pick for Ferrell: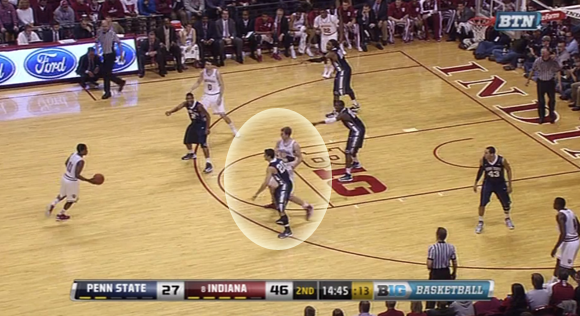 Ferrell uses it, darts into the middle and passes out to Zeller: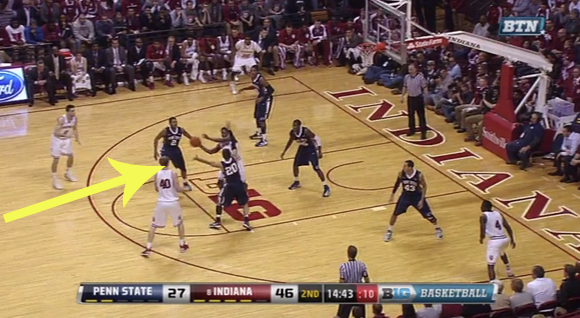 Zeller then fills the space Ferrell has vacated, drawing the top of the zone deeper into the middle, which leaves Sheehey wide open again: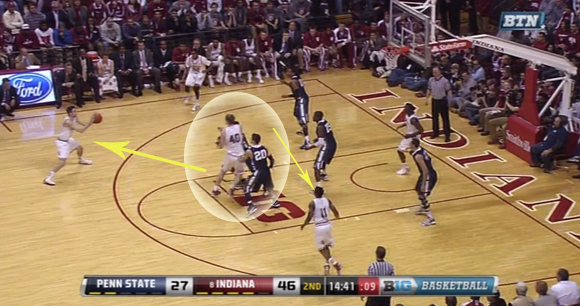 He rises and scores: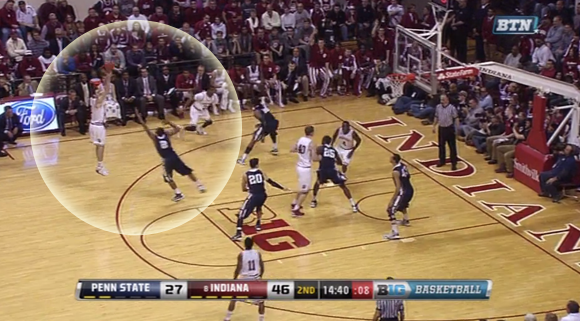 While Sheehey was the benefactor of wide-open looks, sometimes it takes a night of offensive ease to get some confidence back and move forward. Remember: Sheehey airballed two shots against Northwestern on Sunday.
Video:
IV. The Hoosiers swing the ball from left to right: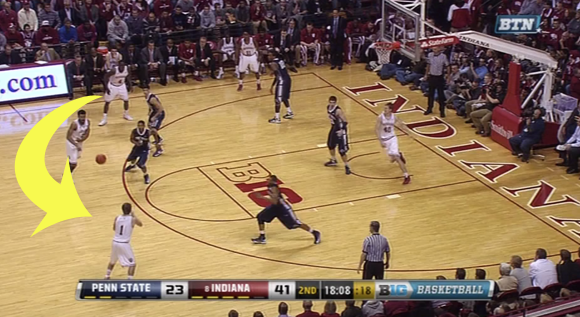 As Hulls comes to the middle, Christian Watford curls down to the lane and Oladipo darts in off the wing into the middle: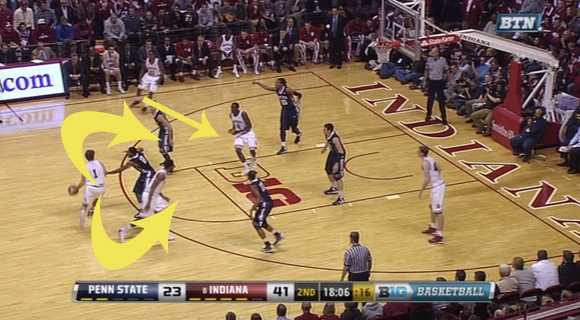 With the defense again sucked into the middle as Hulls passes to Oladipo, he touch passes it out to a free Ferrell: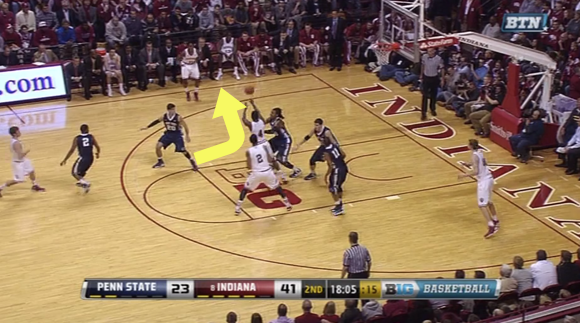 He hits the corner trey: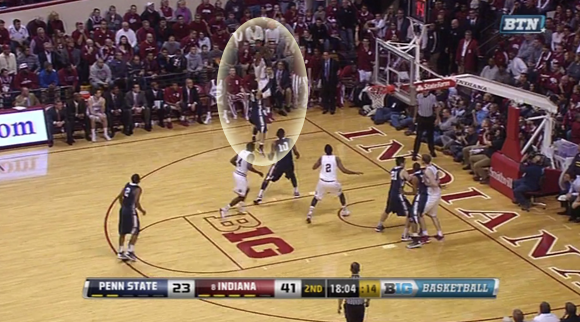 Video:
Filed to: Penn State Nittany Lions, Will Sheehey, Yogi Ferrell