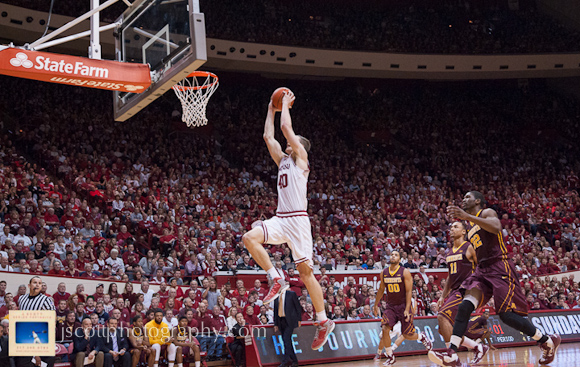 Thoughts on an 88-81 win over the Golden Gophers:
I. The first 20 minutes of this one was Indiana at its finest: Finally back behind a raucous student section coupled with the rest of the Assembly Hall faithful, it was a clinic of sharpshooting from distance (7-of-11, including some deep ones from Jordan Hulls), defense into offense (19 points off turnovers) and a defense that didn't send Minnesota to the line once and allowed just five second-chance points from the best offensive rebounding in the country.
And the tone was set on the first offensive play of the game that Indiana could play Minnesota's physical game around the rim: A missed Christian Watford shot at the rim was put back up by Cody Zeller. It missed, but there was Watford sticking with the play, rebounding Zeller's miss and putting it back in for a score. Zeller (18 points, six boards) and Watford (15 points, nine boards) would play strong defense for the remainder of this one. This was especially true in the case of Zeller. He had all three of Indiana's blocks this afternoon, including a chasedown on a Minnesota fast break in the second half that began because he turned the ball over. Zeller also had a dunk in which he penetrated all the way from the perimeter. It's plays like these that remind you Zeller, in his 7-foot frame, can do some pretty unique things on the basketball court.
The energy that surged through the team and its fan base in the first 20 was electric and the Hoosiers took a 23-point lead into the break.
II. The second half would tell a different story. Just as they did after half at Penn State, the Hoosiers got sloppy. Minnesota's full-court press bothered the Hoosiers. They turned the ball over 11 times. And the hot shooting of the first half (66 percent), evaporated in the second (29 percent). The Hoosiers made just six — six! — field goals on 21 attempts, including just 1-of-8 (12 percent) from distance. Minnesota got foul happy in the pressure — the Hoosiers were in the double bonus by the 11:34 mark — but Indiana failed to capitalize on all of its trips. Indiana went to the line a ridiculous 36 times after halftime, but converted on just 64 percent of those attempts (23). Christian Watford missed a pair. Jordan Hulls missed a pair at a crucial juncture, but Zeller found his way into getting a hand on the board, which fell into Hulls' hands. He would be fouled again and this time he'd make both.
All the fouls made this one drag on and it kept Indiana out of another sort of rhythm or flow, and Minnesota would not go quietly in the Bloomington afternoon. The Golden Gophers would get the lead under 10 at the 1:49 mark on a Rodney Williams 3-pointer. It would cut it to six on an Austin Hollins 3-pointer with 40 seconds remaining. It fell to just three with 19 ticks remaining after Andre Hollins hit two of three from the line after Victor Oladipo fouled him on a 3-point attempt, the third time Oladipo committed such an error in an otherwise brilliant performance (20 points, six rebounds, two assists, three steals). It would be Oladipo's fifth foul and he was done for the afternoon.
But Minnesota's furious run and Indiana's steep decline would end there. The aforementioned Hulls free throws put the Hoosiers back up five, and two from Watford late punched it out to seven and that would be all.
Final: 88-81 Hoosiers, snapping an 11-game Golden Gopher winning streak and avenging last year's loss to this team inside Assembly Hall.
Crisis averted.
III. Rough afternoon from the bench today. Will Sheehey didn't score and badly bricked a 3-point attempt in the second half. Remy Abell, who's done a great job of playing within himself and making smart decisions so far this season, was erratic (two turnovers). Jeremy Hollowell (one point from the line) and Hanner Mosquera-Perea (one point from the line), and Abell (one point from the line) would score the only bench points of the game for IU.
Minnesota had its way on the offensive boards (40.5 offensive rebounding percentage, 21 second-chance points), but Indiana was able to negate it with some strong work of their own in that department (42.4 offensive rebounding percentage, 17 second-chance points).
Filed to: Minnesota Golden Gophers