Film Session: The smarts of Victor Oladipo
Victor Oladipo stands as one of the most efficient scorers in the country this season, as his 72.0 effective field goal percentage is currently second in all of Division I.
Oladipo's improved perimeter shooting — and in particular, his 3-point stroke — coupled with a strong 82 percent on attempts at the rim are the biggest reasons for his high shooting marks. But there are also smaller, subtle things — the junior picking his spots and not forcing things, the technique he's using around the rim — that are also a factor in just how he's been so dang efficient.
A quick look at three such smart scores from Monday's Penn State game in the latest edition of Film Session:
I. THREE BALL
Oladipo starts with the ball up top. Penn State's defense is a little out of sorts here, as Jordan Hulls is open on the left wing. The Nittany Lion bench notices and points him out: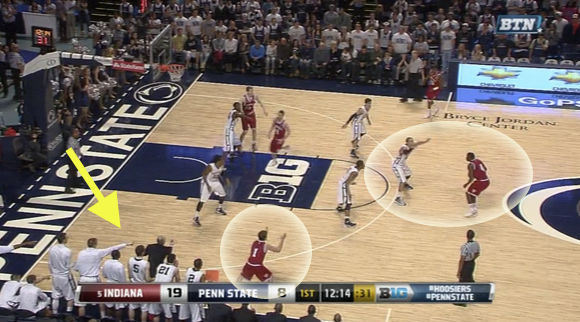 Hulls gets the pass from Oladipo, but he quickly whips the ball to Will Sheehey: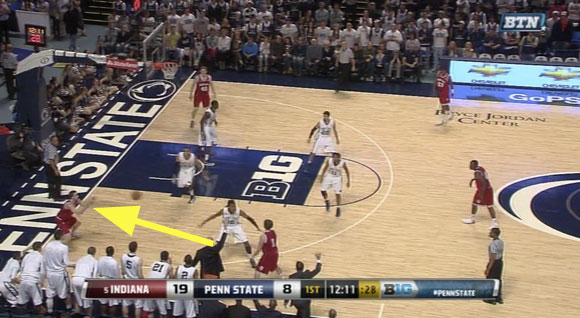 Sheehey dribbles to the middle and passes to Remy Abell on the weakside: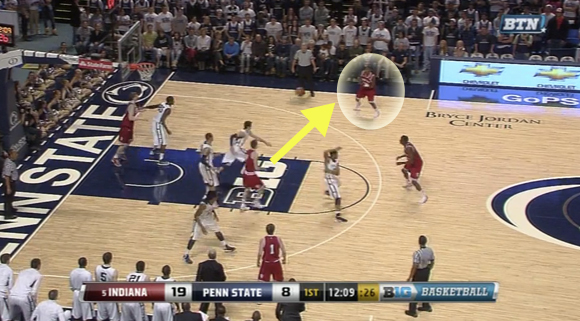 Penn State's D is still a little funky here. Sheehey gets the ball from Abell with Oladipo near, but Penn State only has two defenders around the three of them: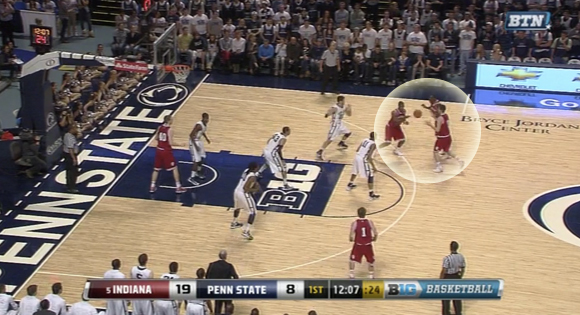 From here, Oladipo fills the right wing and four of Penn State's five defenders are on the other side of the right block: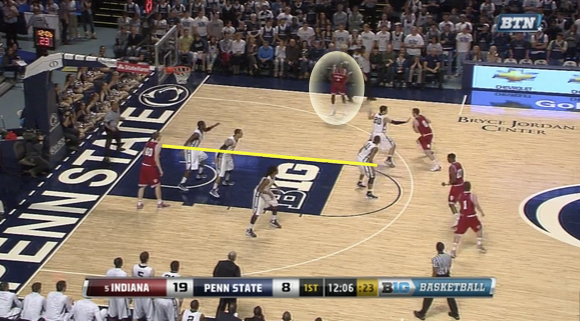 Recognizing this, Sheehey takes his man right and shields him as he passes to Oladipo: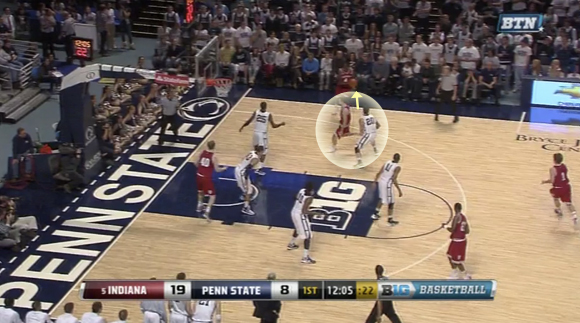 This gives him a pretty clean look, which he connects on: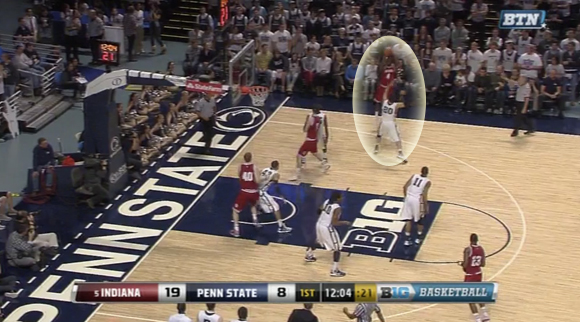 Oladipo is hitting on 47.8 percent of his 3-point shots this season due to improved form. But he's also been selective, only taking them when he's open and in rhythm. This was his only attempt of the night beyond the arc. He's hit on 11 of 23 this year, averaging 1.5 attempts per game.
VIDEO:
II. ON THE BREAK
A Cody Zeller block lands in Oladipo's hands and it's off to the races: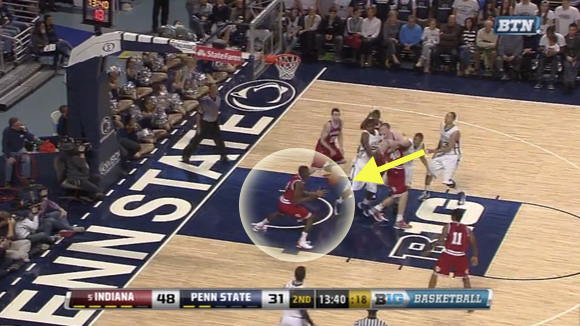 Oladipo blasts past four Penn State defenders; D.J. Newbill is all that remains: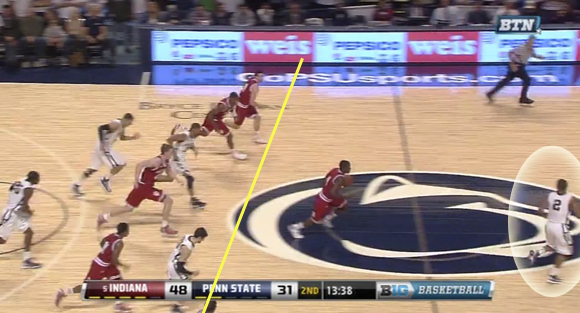 Oladipo begins to make his move near the free throw line: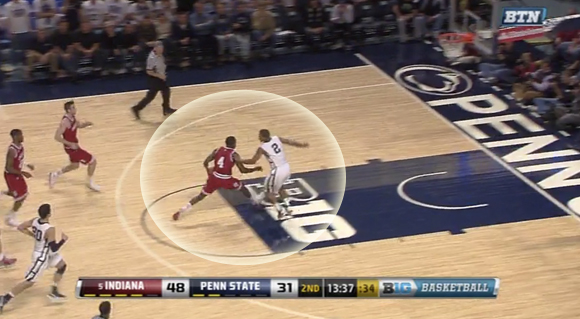 He jump stops and it gets Newbill back on his right heel: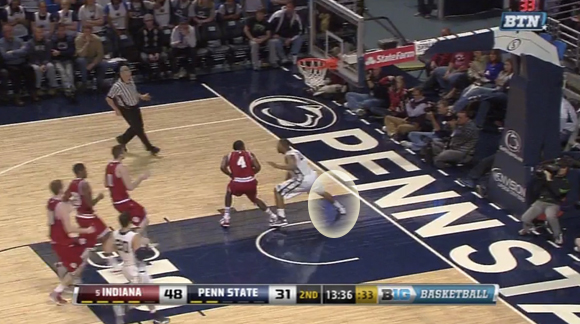 This allows Oladipo to get the ball in his right hand up above Newbill, as he's only able to extend his left hand up near Vic's face: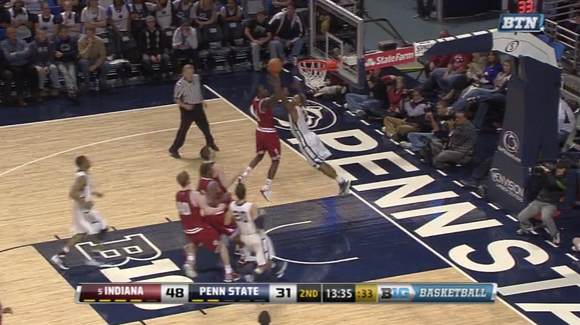 As Jim Jackson says on the call, the jump stop is a bit of a lost art, but Oladipo uses it to his advantage here for an easier look for himself.
VIDEO:
III. IN THE HALFCOURT
Hulls looks for Oladipo over the top for a possible alley-oop: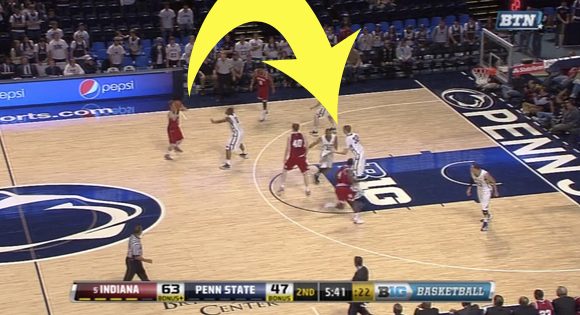 Hulls ends up dribbling right and passing it into Zeller. The ball gets loose: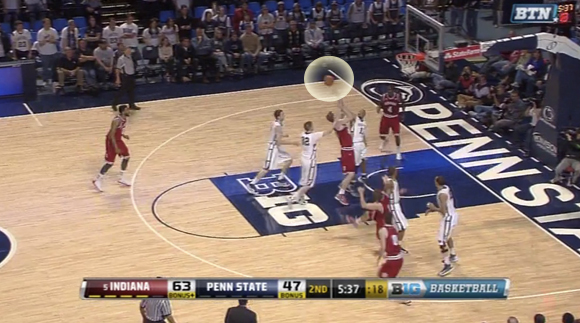 Watford assumes control and zips it to Oladipo: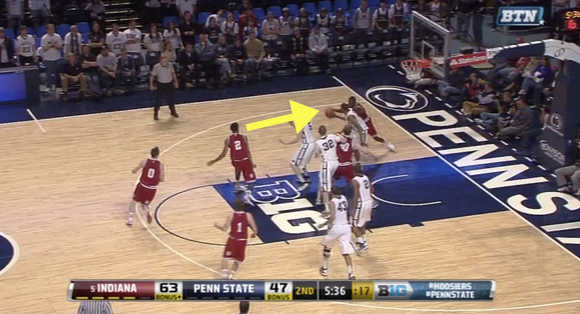 He curls around to the other side of the rim and scores: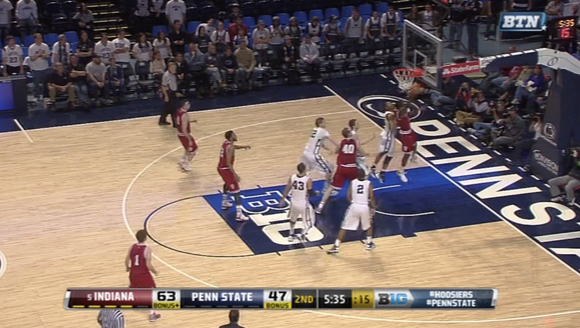 This isn't the best example off a broken play, but we've seen Oladipo reverse to the other side of the rim time and again this season for scores. It's effective because he's able to use the rim as a shield against the defender on the side he came from, and it's usually the part of paint that is also devoid of another defender, so he's finishing against less opposition.
VIDEO:
Filed to: Penn State Nittany Lions, Victor Oladipo