Five takeaways from Indiana's win at Penn State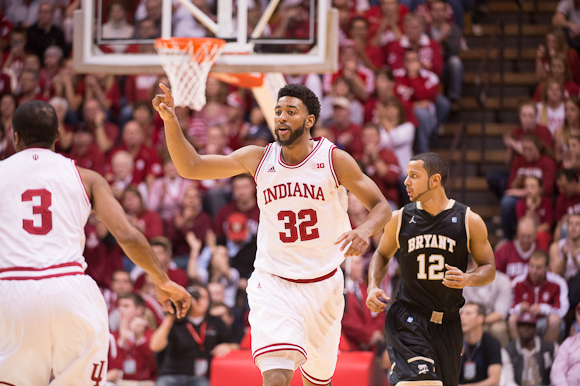 Indiana started off 2013 with an impressive performance as the Hoosiers crushed Penn State 74-51 on Monday night at the Bryce Jordan Center. Here's a look at five takeaways from IU's fifth straight win:
· What road problems? Yes, Indiana finished 3-6 last year on the road in the Big Ten. But dating back to last season, the Hoosiers are now 4-1 over their last five true road games and comfortably dispatched of Penn State on Monday. The Nittany Lions might finish in the Big Ten's cellar, but the win moved IU to 2-0 in the league and most impressive of all, the start to this game left little doubt on the eventual outcome. After trailing 3-2 following a 3-pointer from Brandon Taylor, IU reeled off a 13-0 run and maintained a comfortable margin the rest of the way. Two straight road wins to open the conference season will certainly build confidence from within that this group can continue to win away from Assembly Hall.
· An assertive Watford is a major plus: After IU's win at Iowa, I wrote that Christian Watford wasn't the difference in the win, but he was a critical factor. In State College, Watford was even more assertive offensively early than he was in Iowa City. In the game's opening four minutes, Watford finished two plays at the rim (one of which resulted in a 3-point play) and also buried a 3-pointer. Watford has been criticized frequently for failing to finish plays around the basket, but his field goal percentage at the rim has increased from 54 percent last season to 58 percent so far this year. After failing to record a rebound in IU's win over Florida Atlantic on Dec. 22, Watford now has 22 rebounds over his last three games.
· Indiana fills it up from the perimeter: It wasn't nearly the performance put forth last January at Penn State, but IU used the 3-point line efficiently on Monday and it was a collective effort. In total, five different players connected from distance, including Jordan Hulls, who bounced back from an 0-for-10 performance from the field at Iowa. Victor Oladipo connected on his only 3-point attempt and is now at 47.8 percent on the season. Remy Abell continues to take the perimeter shot when it's available and is now 12-of-20 from outside after shooting just 6-of-15 last season. In total, Indiana now has five players with eleven or more 3-pointers made and Will Sheehey owns the lowest percentage at 39.4.
· Who will emerge from the bench? It's still a fair question to ask after IU didn't really get much from the bench beyond the play of Sheehey (eight points, four rebounds) and Abell (seven points, two assists). Right now, Jeremy Hollowell looks the most comfortable of the group and the freshman from Indianapolis scored three points (all on free throws) and grabbed four rebounds in 10 minutes. He looks like a viable candidate to play some minutes at the four when the opposition goes small. Hanner Mosquera-Perea struggled to find any rhythm on Monday as the freshman from Colombia picked up three fouls in four first half minutes and finished with one rebound in eight minutes.
· Things to work on: It's tough to find many faults in a 23-point win on the road in conference play, but there are a couple of things that could be of concern, particularly heading into Saturday's game with Minnesota. Indiana allowed Penn State to grab 17 offensive rebounds for a OR% of 39.5, their second-worst mark of the season behind the loss at Butler. The Nittany Lions couldn't convert the second chance opportunities they received, but that won't be the story with the Golden Gophers, the country's best offensive rebounding team. Also of note: IU had 17 turnovers, many of the unforced variety, and shot just 22-of-34 from the foul line for 64.7 percent.
Filed to: Christian Watford, Penn State Nittany Lions, Remy Abell, Victor Oladipo