Five takeaways from Indiana's win at Iowa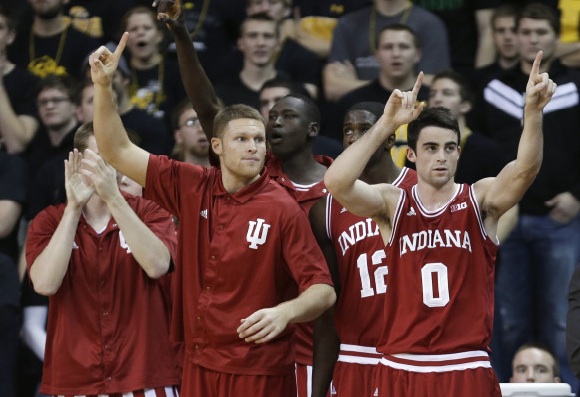 (Photo credit: Associated Press)
Indiana closed out 2012 on Monday afternoon with a critical 69-65 road win at Iowa to open the Big Ten season. Here's a look at five takeaways from the Hoosiers' 13th win of the season:
· This was IU's most important win so far: Yes, wins over Georgetown and North Carolina might be "better" in terms of bolstering the NCAA Tournament resume, but given how the Hoosiers started out on the road in the Big Ten a season ago (1-5), it's fair to call this the most important win so far this season. Indiana, despite its resurgence in 2011-2012 that culminated with a Sweet 16 appearance, finished just 3-6 away from Assembly Hall in conference play. For a team with Big Ten title aspirations, 3-6 isn't going to get the job done. Even though it was just the first conference game, a loss in Iowa City could have ultimately been the difference between a conference title and finishing as a runner-up. The performance wasn't pretty, but it builds confidence going into the next three road games, which are games IU needs to take: Penn State, Northwestern and Purdue.
· Christian Watford wasn't the difference, but he was critical: Victor Oladipo and Cody Zeller are Indiana's two best players, but in yesterday's first half, Christian Watford came up big. The 6-foot-9 forward from Birmingham, who has been notoriously inconsistent throughout his career, had eight points and four rebounds in 15 first half minutes. And as his teammates shot just 1-of-5 from distance in the first half, Watford hit 2-of-3 of his attempts from beyond the arc. Both were in critical spots. After a shaky start that included a missed shot by Zeller followed by a Zeller turnover, Watford knocked in the game's first points on IU's third possession. Watford's second trey gave IU its largest lead of the first half at 29-20 at the 3:11 mark. While it's impossible to know what to expect from Watford on a game-to-game basis, IU has to be hopeful that yesterday's performance is the norm rather than the exception.
· Jordan Hulls shot 0-for-10 and still played winning basketball: The same can't be said for Iowa's Roy Devyn Marble, who shot 1-of-14 and would have been far better served getting the ball to Aaron White and Mike Gesell rather than forcing contested shots. Hulls, on the other hand, took mostly shots in the flow of the offense that just weren't falling. And despite going scoreless, he filled out the rest of the stat sheet nicely in 22 minutes: six assists, three rebounds, two steals and no turnovers. It'll be a shock if Hulls goes scoreless again the rest of the way, but Monday afternoon showed that he can still be a productive player even without scoring.
· IU's bench is still a work in progress: Beyond Remy Abell and Will Sheehey, who are considered starters by Tom Crean, Indiana didn't get much from its bench. In 14 minutes, Hanner Mosquera-Perea, Derek Elston and Jeremy Hollowell combined to go for 0-for-2 from the field, grab two rebounds, block two shots and commit three turnovers. Hollowell, despite airballing his only field goal attempt, did make a positive impact with two blocked shots, one of which kept the Iowa deficit at three with under nine minutes to play. The lack of scoring shouldn't be much of a concern, but IU needs more rebounding from this group and fewer careless mistakes.
· Zeller, Ferrell and Oladipo come up big when it counts: It's refreshing to see Victor Oladipo get the national recognition he deserves. He's been Indiana's best player through 14 games and his impact on yesterday's game was notable in several areas. He notched his first career double-double and took Marble, Iowa's leading scorer, out of the game. Zeller, despite a rocky start, rebounded to score 15 of his game-high 19 points in the second half. We'll never know if all of the preseason hype and attention started to wear on Zeller, but despite being labeled by some as a disappointment, his scoring and rebounding numbers are both up over last season. And Ferrell, in his first road game, put together this line: nine points, seven rebounds, four assists, a steal and three turnovers. Yogi still goes into the air too frequently without anywhere to go, but with IU struggling to find offense yesterday, he was more aggressive looking for his shot in a hostile environment that would have swallowed up many freshmen.
Filed to: Christian Watford, Cody Zeller, Iowa Hawkeyes, Jordan Hulls, Victor Oladipo