Film Session: Four key plays
Will Sheehey's jumper at the 10:04 mark in the second half put the Hoosiers up eight (56-48) in their New Year's Eve win against the Hawkeyes. It was the largest lead they'd see the rest of the game, as Iowa cut the lead all the way down to one before the Hoosiers eventually escaped with a four-point win (69-65).
A look at two plays that helped Iowa evaporate Indiana's lead and two that helped Indiana seal a victory in the latest edition of Film Session.
I. While the ref hands the ball off on an inbounds play, Jordan Hulls is already finding himself out of position, as Josh Oglesby is up at the top of the key and Zach McCabe and Eric May have bodies in front of IU's senior: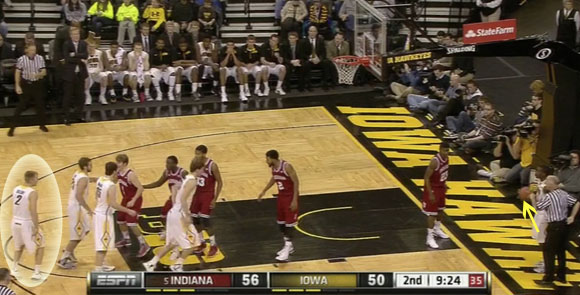 From there, all it takes is them both giving him a brush screen to make sure Oglesby has enough time to catch … :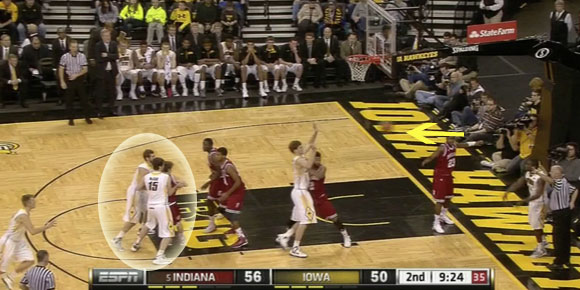 … And shoot. Hulls eventually spins his way out of the bodies. But by then, it's too late: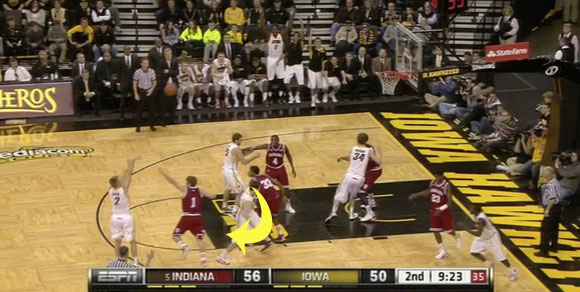 This made 3-pointer cut Indiana's lead to three. It's also not the first time this season Hulls has had trouble tracking a 3-point shooter on an inbounds play.
Video:
II. Iowa's score to cut it to a one-point deficit starts with an IU turnover. An entry pass by Yogi Ferrell to Cody Zeller gets snatched up by the Hawkeyes: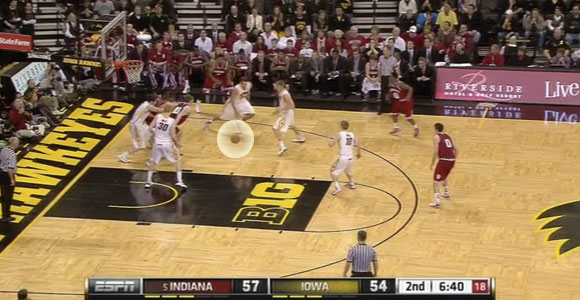 Iowa finds themselves with four players in a box down near the basket: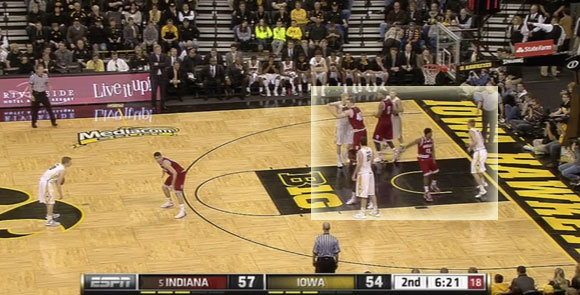 Both May and Oglesby curl up and around from the right and left block …. :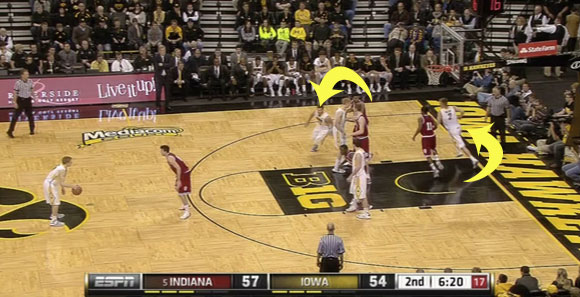 … and end up on opposite wings. Watford chooses not to follow May to the right wing, so Oladipo floats out on him a bit. This leaves his man, McCabe, open in the middle. And for whatever reason, Indiana's positioning here also looks like they have floated into a zone later in the possession, which would explain why the middle has been left open. (On the call, Dan Dakich says: "Again, they switch to zone and half the team didn't know it.")
So from there, McCabe gets the pass: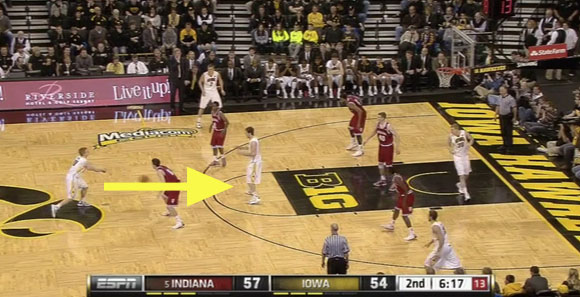 He shoots and scores: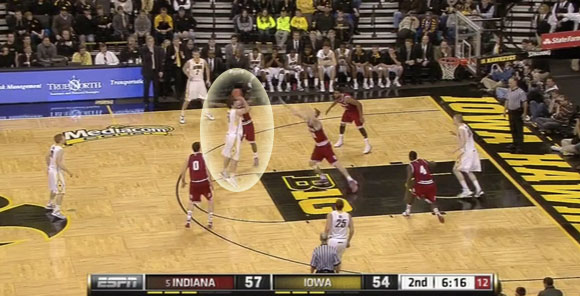 Video:
III. With 21 seconds gone on the shot clock, Sheehey sets a pick for Hulls: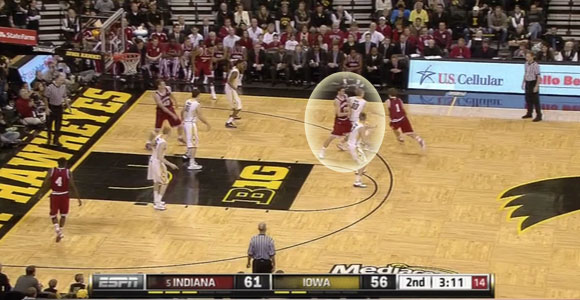 Zeller has good positioning on McCabe, so Hulls throws an entry pass: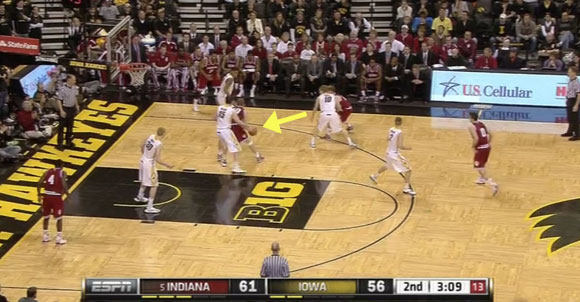 From there, Zeller makes a move off his right shoulder: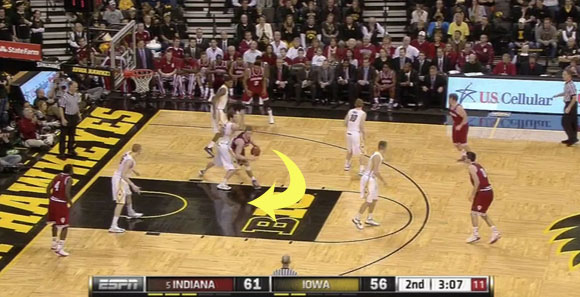 Scoops and scores: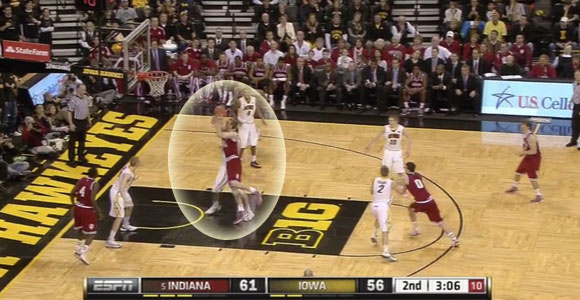 This put Indiana back up seven, and gave the Hoosiers a little breathing room heading into the final three minutes. It would be Zeller's last score of the game.
Video:
IV. Oladipo's biggest score of the game starts with him batting a rebound of a Christian Watford missed 3-pointer out of Roy Devyn Marble's hands: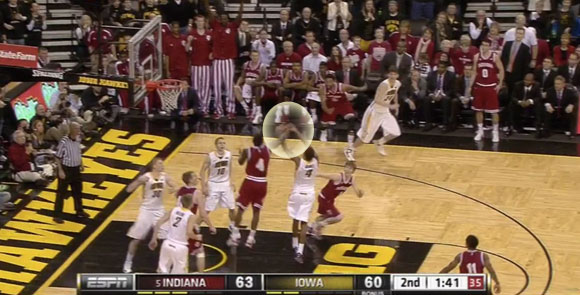 It eventually ends as a jump ball — with the possession remaining with Indiana: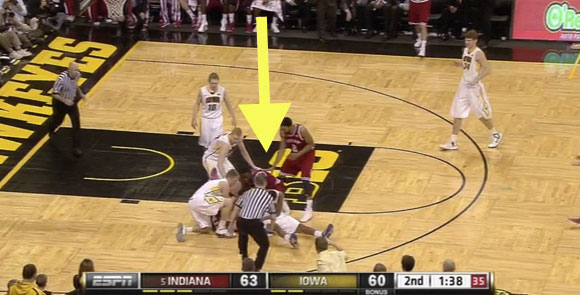 Indiana isn't able to get much going early, and with 10 seconds left on the shot clock, Zeller sets a ball screen for Hulls: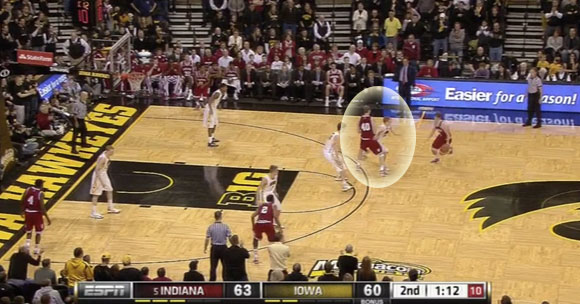 Hulls comes left, then comes back right and feeds a nifty little pass around and in to Zeller: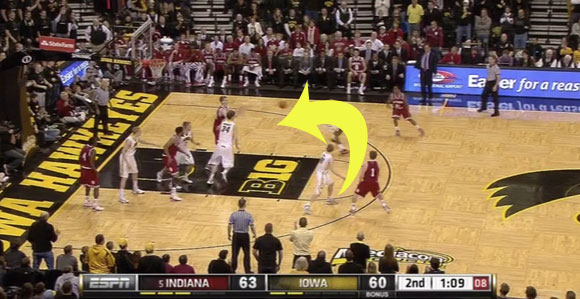 With Zeller's shot — an eventual airball — on the way, Oladipo lurks on the baseline with Aaron White and Watford battling for position: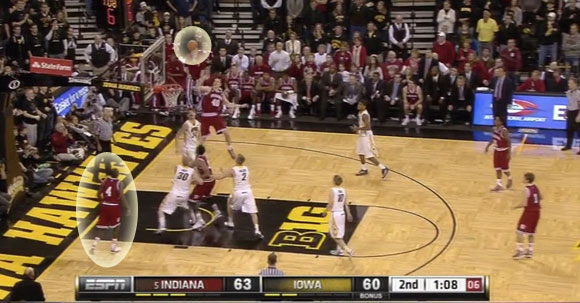 He's able to snatch the rebound away from White: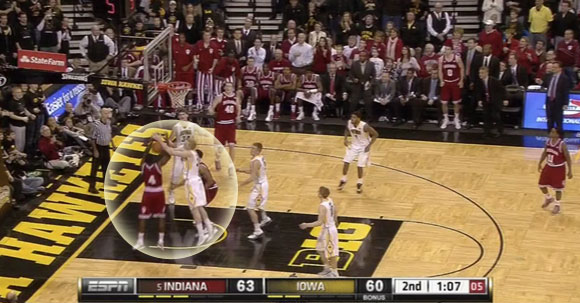 Oladipo puts it back in to put Indiana up five and just about seal the victory: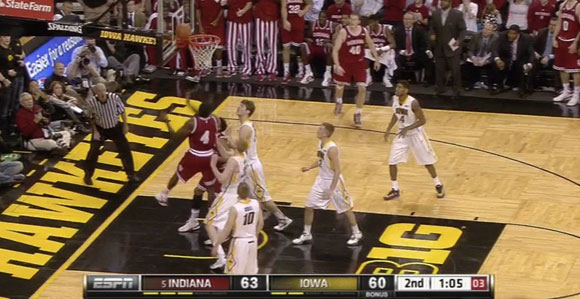 Video:
Filed to: Iowa Hawkeyes