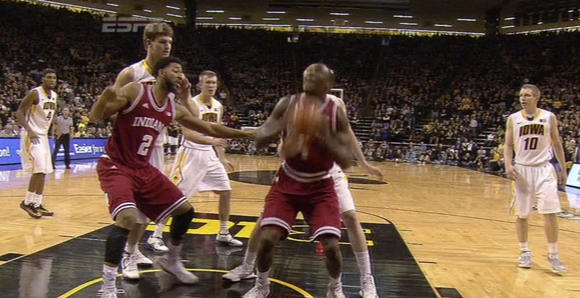 Thoughts on a 69-65 win against the Hawkeyes:
I. Had Iowa made more shots (just 33.3 percent from the field and a horrific 17.6 percent (3-of-17) from beyond the arc), had a few possessions turned one way instead of the other, Indiana would be sitting at 0-1 on the Big Ten season and still unable to figure out the Carver-Hawkeye Arena puzzle in the Tom Crean era. But alas, the Hoosiers escape Iowa City on the eve of 2013 with the W. At times, it felt like Indiana was about to punch this one out far enough that a comfortable lead and victory was just over the horizon. The Hoosiers would go up six points off some quick buckets. But Iowa, behind a raucous sold out crowd that certainly sounded quite loud on the TV, just wouldn't allow it … all the way to the final buzzer. Fran McCaffery and Tom Crean were switching defenses, from zone to man and back again — two generals switching up strategy, trying to slow down and negate what the other was doing.
Though, the question was asked on Twitter and by Dan Dakich on the call: Just why was Indiana playing so much zone against this Hawkeye team? Was it really necessary? Dakich came through with an explanation in the second half: Iowa was shooting the ball so badly — and a zone, provided you don't put a man in the middle and get easy looks at the basket or in the paint (which Iowa was able to do a healthy amount of times) — makes you shoot jumpers. Because check this: After starting the second half hot and hitting nine of their first 10 attempts, the Hawkeyes only went 3-of-19 the rest of the way.
Tough to win in such a fashion, even with Indiana scoring under a point per possession in this one (.943) and having some turnover issues (15 miscues for a turnover percentage of 20.5 percent).
Indiana was able to hold court thanks to getting to the line and converting at a decent clip (11-of-16 in the second half after just going 2-of-2 in the first) and well, having the best player on the court in this one: Victor Oladipo.
II. Speaking of Oladipo, it is becoming clearer and clearer with each game this season: No one is more important to this team's success. He is a rock on both ends of the floor. He guards multiple positions. He gets to the basket; he has an improved jumper that is falling. And he has, for the most part, been immune to stretches of poor play and disappearing acts like some of his teammates. Oladipo scored 14 points — none bigger than his putback after a Cody Zeller miss with 1:03 to go to put Indiana up 65-60, a stretch in which Indiana had possession of the ball for 62 seconds. The junior wing also had 10 boards.
III. The questions about the 2012-2013 version of Cody Zeller continue to ring through on social media. Why isn't he involved more? Why isn't Indiana looking for him on more possessions? Why isn't he demanding for the ball more? But as we've seen before after a quiet first half for the big man, the Hoosiers seemed to make a concerted effort early in the second half to get him the ball by running some pick-and-roll action on the right wing — which was effective. After just four first half points, Zeller scored 11 in the first 4:10 of the second half … and then didn't score again for over 10 minutes, as he hit two free throws with 3:45 to go.
I get the concern from fans about how he's being used — and really, these problems, at times, have been around for the last season and a half now — but the results are what they are: Zeller ended the game as the team's leading scorer (19 points) with a perfect 5-of-5 performance from the line. He took their most shots with 12. He had 10 boards, five coming on the offensive end.
Despite the weirdness of just when he scored, it was a strong night for the Washington native.
IV. I tossed out the hypothetical at the start of this of Iowa hitting some more buckets and this one turning out differently. But Indiana had its version of this as well: Jordan Hulls was 0-of-10 from the floor. He had two 3-pointers later in the second half that you felt just kinda had to go in because of how good of a shooter he is, and how bad he'd been all game. Neither dropped.
Hulls will shake this off and start hitting again. Because he's simply too good not to.
V. Lest I forget, Christian Watford was another reason Indiana won this game. He was aggressive — though, maybe overly aggressive and trying to do too much at times — and finished the night with 11 points and eight rebounds. Watford's been a guy that's been punched around by the IU faithful at times for his inconsistency. But this won't be the last time he aids in an IU Big Ten victory.
Filed to: Christian Watford, Cody Zeller, Iowa Hawkeyes, Victor Oladipo