The Minute After: Jacksonville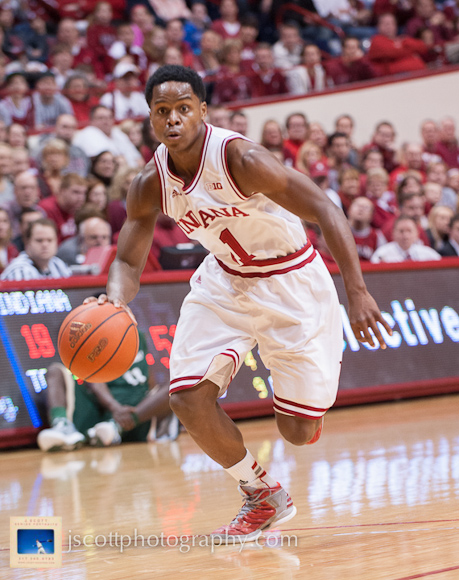 Thoughts on a 93-59 win against the Dolphins:
I. Though Indiana eventually won this game by 34 points (Jacksonville actually covered the 36-point spread thanks to a late 3-pointer), it was a slow burn to get up to that mark. The Dolphins trailed by a respectable 15 at half and Indiana didn't punch the lead to 30 until the 8:52 mark of the second half. They were able to keep it somewhat close because they were working their offense for open looks early and connecting. The Dolphins hit 47 percent of their first half shots and were particularly strong beyond the arc (5-of-9). And it ended up being a solid night from distance for the game for them as well (10-of-17, 58.8 percent).
What ultimately did Jacksonville in were two things. No. 1) It sent the Hoosiers to the line at a high rate. IU was in the bonus by the 11:34 mark of the first half and got over a quarter of its points (24 on 31 attempts, 77.4 percent) at the line. Jacksonville also coughed the ball up 20 times (27.7 turnover percentage) which Indiana, as it often does, converted on heavily (34 points). So from the line and off turnovers alone, Indiana scored 58 points — 62.3 percent of its offensive output.
You simply can't give a team as good as Indiana that many gift points and expect to stay close enough to be in striking distance. Especially if you're already giving up a sizable advantage in the talent department.
II. A night to remember for the likes of Jordan Hulls and Yogi Ferrell. Hulls was hot in the first half from beyond the arc — 5-of-7 — and even banked one in. After he hit his sixth early in the second half (18:39), it seemed as if he may be on pace to challenge the IU record of nine made threes in a game (a co-record held by Rod Wilmont and Matt Roth). But Hulls never made another shot from beyond the arc the rest of the contest. He finished 6-of-9 from 3-point range and scored 20 points.
Ferrell continues to set his teammates up left and right, but tonight was particularly impressive: The freshman tallied 10 assists against zero turnovers. He's been great at finding teammates on the break and in the halfcourt, and such vision and skill will come in handy when Indiana gets slowed down by teams that have more equivalent talent during Big Ten season and need a creator and facilitator against better defenses.
III. A night to forget for Cody Zeller. Not only was The Big Handsome loose with the ball (four turnovers), but he spent more time than usual on the bench with foul trouble. The sophomore picked up his fourth with plenty of time to still go (12:16) in the second half. Tom Crean even took Zeller aside for a one-on-one chat on the bench while associate head coach Steve McClain ran a second half huddle. (Speaking of huddles: There seemed to be a little more chirping than usual from Indiana players during some of them tonight.) After returning after his fourth foul at the 7:24 mark, Zeller was able to salvage his night a bit, as he pumped in a quick 10 points before exiting the contest for good at the 3:05 mark.
Hanner Mosquera-Perea's progression continues to be something to watch. He tallied a a career-high six points this evening. But after his strong rebounding effort last time out, he had just one in 12 minutes this evening. Peter Jurkin didn't see the floor until deep into garbage time (he entered at the 2:08 mark in the second half) and you wonder how much, if at all, he's going to factor in during the Big Ten slate. (Though, he was playing with an air cast on left ankle tonight, which may have kept him from more playing time.)
Filed to: Jacksonville Dolphins