Blackmon Jr. off to hot start in junior season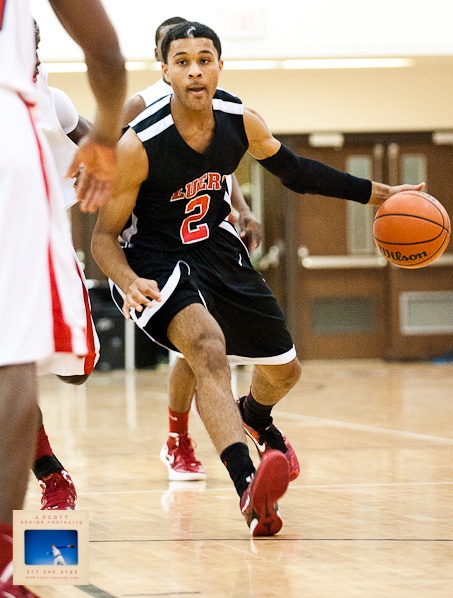 If there was ever any doubt as to how well James Blackmon Jr. would be able to recover from last year's season-ending knee injury, he's put those questions to rest pretty quickly.
Blackmon Jr., a 2014 Indiana commit, is making up for lost time to start his junior high school season.
The 6-foot-2 guard is averaging 37.3 points per game through Fort Wayne Bishop Luers' first three games fresh off a torn ACL injury that ended his season last February.
"It really kind of feels the same as it did before because of all the work I put in for my knee," Blackmon Jr. told Inside the Hall of his success. "I just feel like I got better in different aspects. Sitting out watching, I watched a lot of film and stuff, so I'm a thinker of the game now too. My athleticism got a little bit better even though I had a torn ACL."
Blackmon Jr. opened the year with 38 points in a 79-74 loss to Mishawaka Marian. He was even more impressive his next time out in front of Tom Crean, scoring a career-high 44 points, including six 3-pointers, in a 79-63 win over Fort Wayne South.
He added another 30 points in a 77-68 loss to Fort Wayne Concordia last Friday.
"This isn't anything I really expected," Blackmon Jr. said. "It's just that, my teammates, I needed them to help me, and they got me open a lot. I did what I could to win the games, but I never really thought about scoring a lot of points. It was just something that came with playing hard and working hard."
Blackmon Jr. said he has altered his game a bit this year with his collegiate career in mind.
"I'm trying to get myself stronger in the upper body so I can come in and compete as soon as I get there," he said. "Also, I'm working on being good on defense because they play a lot of up-tempo. Their offensive game fits me already, and that's probably the reason, because they play that up-tempo style."
Filed to: James Blackmon Jr.