What to Expect: Florida Atlantic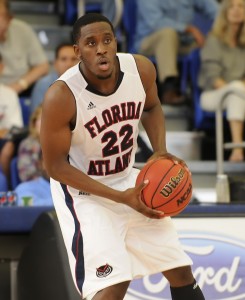 It's a quick turnaround for Indiana as the Hoosiers return to Branch McCracken Court on Friday night for a meeting with Florida Atlantic. The Owls (5-6) are coming off a 69-68 loss at home to Stetson. Indiana will be looking for its 16th consecutive win at Assembly Hall.
The game will be televised on ESPN2.
The competition doesn't figure to stiffen much for Indiana until the Big Ten season tips off on Dec. 31, but the Hoosiers will round out the non-conference schedule with a pair of Friday games with Florida Atlantic and Jacksonville.
FAU is up first and the Owls are led by former George Washington and St. John's coach Mike Jarvis, who produced a winning season and NIT birth in 2011-2012, but has otherwise struggled to gain momentum in Boca Raton. This season doesn't look promising as Florida Atlantic was picked to finish just fourth in the east division of the Sun Belt.
PERSONNEL
Indiana will once again get the challenge of trying to contain one of the nation's leading scorers as FAU features senior guard Greg Gantt (pictured), who is averaging 21.5 points. Gantt is shooting an identical percentage on 2-point and 3-point field goal attempts (42.7) and the distribution of his attempts is pretty equal as well (104 2-point attempts vs. 82 3-point attempts).
The only other Owl scoring in double figures is 5-foot-10 guard Stefan Moody, who is averaging 15 points. But the freshman won't be available on Friday as he was suspended for three games prior to FAU's loss to Stetson. Cavon Baker, another freshman guard who averages 3.9 points, is also suspended.
The absence of Moody means that Jarvis will need more offensive production from guard Pablo Bertone (7.1 ppg), guard Jackson Trapp (6.5 ppg) and forward Jordan McCoy (5.3 ppg) if the Owls hope to keep things competitive on Friday. Trapp has a solid assist rate (20.2), but is turnover prone (33 in 11 games) and McCoy is the team's leading rebounder at 6.4 per game.
POMEROY PREVIEW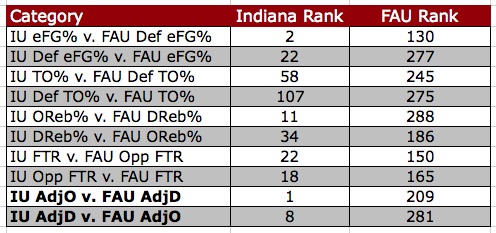 Florida Atlantic's lack of a post presence becomes apparent quickly with one glance at their profile. Their 3-point shooting is actually respectable (36.2), but they're shooting just 39.2 percent on 2-point field goals, which ranks 331st nationally.

They're also getting crushed on the defensive glass as opponents are rebounding nearly 36.2 of their misses.

WHAT IT COMES DOWN TO

This is Indiana's seventh non-conference opponent (Jacksonville will be the eighth) outside of the top 140 of both the KenPom.com and Sagarin ratings and it's another opponent that the Hoosiers will completely outclass from a talent perspective.

Gantt figures to provide somewhat of a defensive challenge for Victor Oladipo and the rest of Indiana's backcourt, but this should be another case where Cody Zeller and Christian Watford will have their way around the basket as the Hoosiers coast to a comfortable win.

WHAT TO WATCH FOR

· The status of Hollowell, Jurkin: Neither freshman saw court time in the win over Mount St. Mary's and a lot of eyes will be on IU's bench to see if either player sees the floor.

Jurkin has been eligible for the past two games but has not played and Hollowell played a season-low three minutes against Butler.

· Mosquera-Perea, Elston working their way back: How frequently both players are used to start the Big Ten season could be determined by their performance over their next two games.

For Mosquera-Perea, the foot injury that bothered him this fall doesn't seem to be an issue, but he grabbed just one rebound in 10 minutes on Wednesday. And for Elston, who is back ahead of schedule from a torn meniscus, the next two games provide an opportunity to get into better game shape before Dec. 31's trip to Iowa City.

"I think I should be OK," Elston said. "Tim's [Garl] got me in there [working] constantly. I really don't get a break, honestly. Whenever I have free time, I like to come back in the gym, but Tim usually forces me back in the gym. As soon as my knee starts to get back to 100 percent, I think my conditioning will be fine."

HOOSIERS TALK FLORIDA ATLANTIC

· "They can really score. [Greg] Gantt can really score the ball. They move the ball well and they run a ton of screening actions. They utilize them really well, whether they are curling or clearing out to look for a drive or using the 3-point line. Any Mike Jarvis team is going to be a well-coached, disciplined team." — Tom Crean

· "We have to have good transition defense, they like to get out and run and shoot 3-pointers. They have really good players who can score the ball so we have to focus on that and we can't have any miscommunication on defense. That is going to be the biggest thing for us." — Jordan Hulls

QUICK FACTS ON FLORIDA ATLANTIC

Student Enrollment: 29,290
Established: 1961
Former coaches: Sidney Green, Matt Doherty and Rex Walters

All tempo-free stats from KenPom.com.

Filed to: Florida Atlantic Owls