The Minute After: Florida Atlantic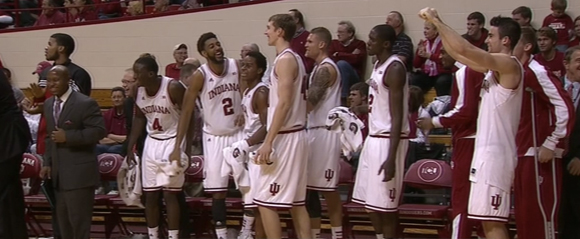 Thoughts on an 88-52 win against the Owls:
I. This was the performance from Cody Zeller some were waiting for. Getting the ball early. Attacking. Making moves in the post and looking to finish strong. Even hitting a 16-footer. Couple this with his typical scores on the break, and it lead to a season-high 24 points in 22 minutes. To top it off? The Washington product, who has had some early-season struggles from the line was near perfect on the evening (12-of-13).  (Aside: Zeller did get his shot blocked somewhat emphatically by smaller players twice.)
Christian Watford also played a particularly aggressive game out of the post and connected on 2-of-4 from distance on the evening to score 17 points.
 II. Welcome to the floor, Peter Jurkin. It appears any talk of the Sudan native redshirting will now be laid to rest. (Jeremy Hollowell on the other hand? He sat the full 40 for a second consecutive game.) Jurkin's hands were at issue in the preseason — if you remember, his elder buddy, Derek Elston, came up with the idea of playing baseball catch with him — and it reared its head early. Jurkin mishandled a rebound off a Florida Atlantic free throw and it fell out of bounds. Jurkin also had a smaller Florida Atlantic player make a move and score over him. But this much is certain about him: He's tall. Really tall. (Analysis!) If he's able to work into the speed of the college game and find his groove a bit, some decent reserve minutes may still be in store for him. You can't teach that size and length.
Hanner Mosquera-Perea made his third appearance this evening and threw down his first dunk — with authority — off a pick-and-roll with Watford. He also had a nice tip-in. But here's the key number: The freshman had 10 rebounds in 13 minutes. He's an excellent leaper and  it allows him to get up high and snatch misses off the rim. If the trust is there come Big Ten season, this sort of skill could certainly come in handy in close games for the Hoosiers, allowing for second chances on the offensive end and closing out opponent possessions on the other side of the ball.
There's still a lot of teaching moments with these guys. In the second half, Jordan Hulls fired a pass into Mosquera-Perea that led him toward the rim. The freshman didn't get his hands on it. He was subbed out. Kenny Johnson stopped him before he sat down on the bench and looked to be instructing him on what to do next time around. There were also times when their teammates had words of instruction for them during stoppages in play.
III. Indiana has had large leads against inferior opponents at home for much of the non-conference season. And still, Tom Crean will have his Hoosiers pressing and trapping in the second half; he will play his starters deep into the game. I often wonder what the opposing teams think of this, if a quiet rage is bubbling inside, and if it'll spill over in a nasty way on the court with a cheap shot or two.
I don't think any of this was the culprit at all tonight, but there was a little more chippiness in this one than usual. Yogi Ferrell lost it in the first half on a tie up. Owl coach Mike Jarvis got a technical foul called on him after he complained about Victor Oladipo's 3-pointer which hit the top of the backboard and fell through the net. And Zeller was the vicitim of a hard two-man foul in the second half, one that had him falling awkwardly on his right wrist and his elbow splaying out oddly.
IV. Greg Gantt looks like Devan Dumes, no?
Filed to: Florida Atlantic Owls