Tidbits from Tom Crean's radio show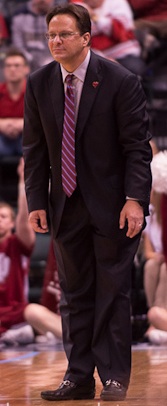 Tom Crean's weekly radio show was Monday night. Here are some of the major tidbits to take from it:
· Reacting to loss: To open the show, Crean was asked if he had changed his mind about Saturday's overtime loss to Butler after watching the film. Crean said his reaction was the same as it was right after the game.
"We settled for too many pull-up jump shots," Crean said. "Their defense is really predicated to give you that shot. That only works if you let them. It's not what we're built on. We're a pretty good pull-up shooting team, but we don't want to do that all the time."
And of course, there was second guessing, as there always is with a loss. Crean said he wish he would have gone to his bench more early in the game. He said there has to be a great trust in all the guys you put on the floor in a competitive game like the one on Saturday.
As far as how his players reacted to losing for the first time this season, they were upset.
"They were down, there's no question about that," Crean said. "It wasn't like I walked in the locker room like, 'everything is fine, let me pick you all up.' The last couple of days, the resolve has really come back. They care. There was nobody that was masking how down they were. But the last two days is when that resolve starts to come out."
· Mosquera-Perea plays, but not much: Freshmen Hanner Mosquera-Perea and Peter Jurkin were eligible for the first time in their college careers on Saturday after serving nine-game NCAA suspensions to start the season. Mosquera-Perea got on the floor against the Bulldogs, but he only played for three minutes, scoring two points.
Jurkin did not play.
"It's just going to take a little bit of time," Crean said of Mosquera-Perea. "We didn't go in with a set amount of time for him. His minutes will continue to go up. He's going to be a force for our team. He's an energy giver. When he's out there, people can just feel it."
· Reaction to Big Ten expansion: Don Fischer asked Crean for his thoughts on the addition of Rutgers and Maryland to the Big Ten Conference.
"It's great because we don't have to look to schedule games in those areas as much," Crean said. "We always want to have an East Coast presence. It's great for our school, it's great for our recruiting, and it'll be very competitive. Those are two outstanding schools and programs."
· Elston nearing return: Senior forward Derek Elston, who had knee surgery before the season, is getting close to a return. Elston was in uniform and warmed up before Saturday's game, but he did not play. Crean said Elston practiced on a limited basis Monday and it's possible, but not probable, he could play this week. More likely, Elston will return on Dec. 28 against Jacksonville or Dec. 31 at Iowa.
"He's close," Crean said. "He warmed up the other day. He warmed up hard. I knew we weren't going to be able to play him. He practiced a little bit today, but he's very limited."
Filed to: Derek Elston, Maryland Terrapins, Rutgers Scarlet Knights, Tom Crean