Recruit roundup: Hartman scores 18 in season debut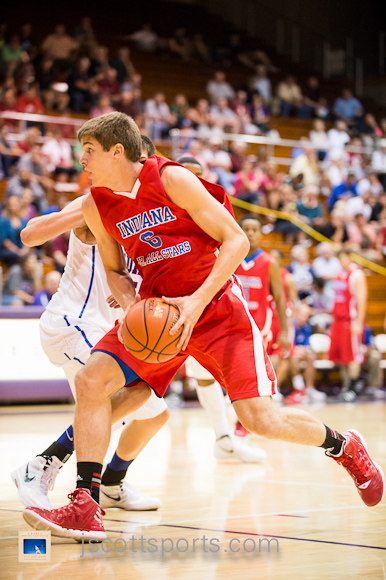 Throughout the season, Inside the Hall will keep you posted on how IU's six 2013 signees and James Blackmon Jr. are performing at their respective schools. (Photo credit: Jamie Owens/J. Scott Sports)
You can send us stats or results for this report at [email protected]. 
2013 SIGNEES
+ Collin Hartman (Indianapolis Cathedral): In his first game of the season (concussion), 18 points in a 68-63 win over Louisville Ballard on Dec. 15.
+ Devin Davis Jr. (Warren Central): Nineteen points and 10 rebounds in a 51-50 overtime loss at Ben Davis and 16 points and 10 rebounds in a 58-55 overtime loss to Chicago Orr on Dec. 15.
+ Luke Fischer (Germantown, WI): Twenty-four points in a 105-27 win over Cedarburg on Dec. 11. Nineteen points in a 75-39 win over Milwaukee Lutheran on Dec. 14. Sixteen points in a 87-44 win over Menomonee Falls on Dec. 15.
+ Noah Vonleh (New Hampton Prep, NH): Did not play as New Hampton is off until Dec. 27.
+ Stanford Robinson (Findlay Prep, NV): 10 points, five rebounds and five assists in a 120-79 win over Southwest Prep (FL) on Dec. 13.
+ Troy Williams (Oak Hill Academy, VA): 17 points in a 81-53 win over Keenan (SC) on Dec. 14 and 10 points in a 59-51 win over Ridge View (SC) on Dec. 15. Both games were in the Clarion Hotel Invitational at Ridge View.
2014 COMMITMENT
+ James Blackmon Jr. (Ft. Wayne Luers): 30 points in a 77-68 loss at Ft. Wayne Concordia on Dec. 14. Blackmon now has 1,002 career points and is averaging 37.3 per game through three games this season.
Filed to: Collin Hartman, James Blackmon Jr., Luke Fischer, Troy Williams