Film Session: Butler's post-halftime scoring
Butler exposed Indiana's defense at times in its 88-86 overtime win against the Hoosiers. This was especially apparent after halftime, as the Bulldogs pumped in 1.28 points per possession during the second half and overtime at Bankers Life Fieldhouse on Saturday. Indiana had done a strong job so far this season at limiting 3-point makes, but Butler connected on 50 percent (6-of-12) during the final 25 minutes of play, including back-to-back daggers in the overtime period to erase a four-point deficit and take a two-point lead.
A look at what happened on those two 3-pointers — as well as a look at another Butler score from distance and one at the rim — in the latest edition of Film Session.
SECOND HALF:
I. Hanner Mosquera-Perea checks into the game for Cody Zeller before an inbounds play. He's involved immediately, as Rotnei Clarke sets a screen for Khyle Marshall: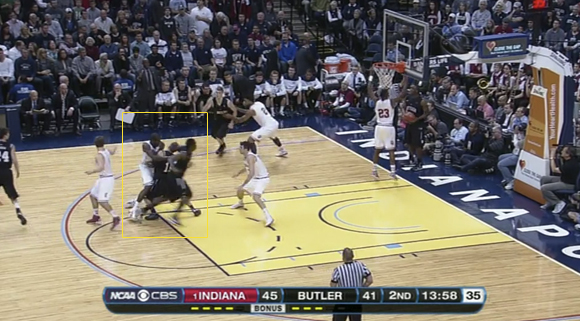 Sheehey switches onto Marshall, while Perea slides down in the lane a bit. By the time he turns his head, Clarke is already curling around Erik Fromm, who's got a body on Christian Watford and preventing him from immediately picking up Clarke: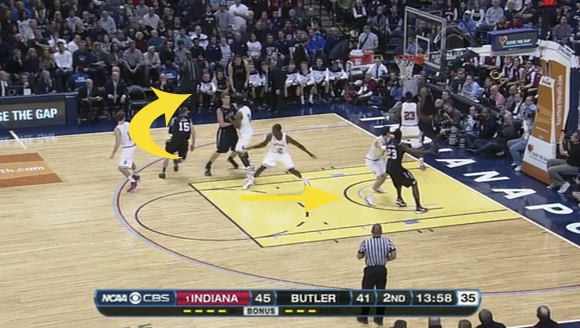 Clarke is able to get a clean look off — though Watford does eventually make his way out and try and get a hand up — which he hits: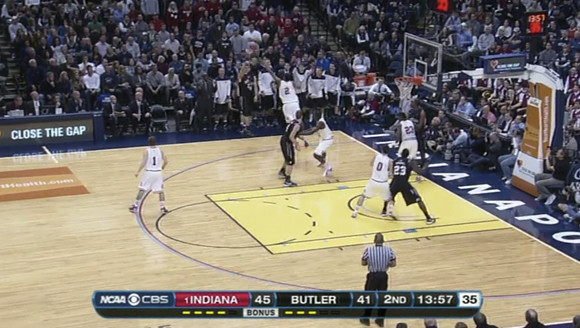 Tough to be too critical of Mosquera-Perea here; after all, these were his first collegiate minutes of his career against a team doing a lot of screening. But the fact remains: Butler took the advantage and scored three points.

Video:

II.

This play starts with Clarke handing the ball off to Roosevelt Jones: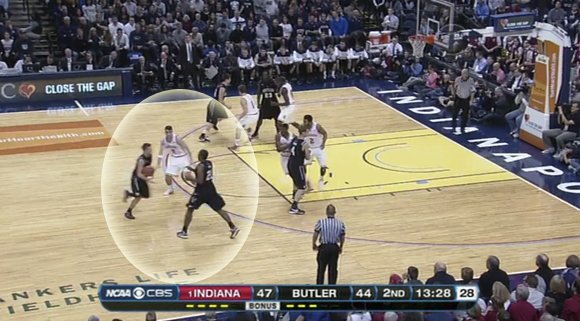 From there, Sheehey has to deal with three screens in a row before Clark eventually sets up on the left wing: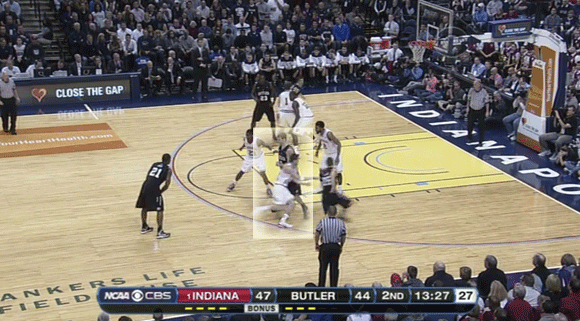 Sheehey is able to get over the top of the last one and looks to put pressure on the ball with a reach-in: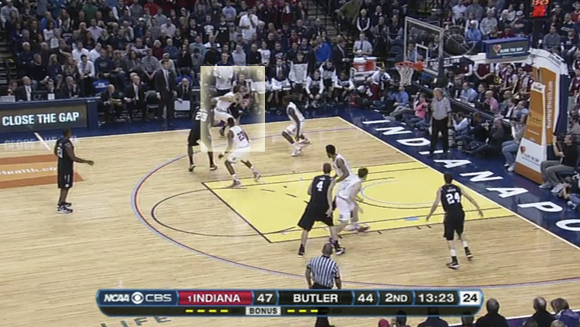 Sheehey then blankets Clarke with a defensive stance with his left foot over the 3-point line. His body and right foot appear to be a little open to the baseline: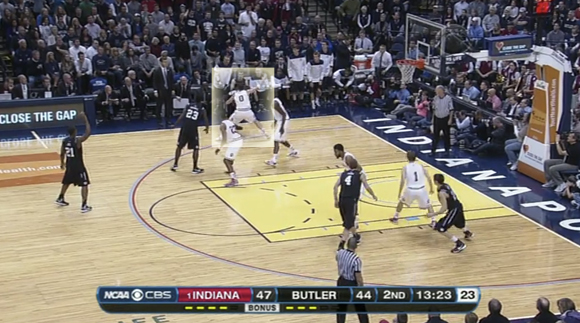 Clarke heads with his left hand towards the baseline, taking the sliver of space Sheehey is giving him: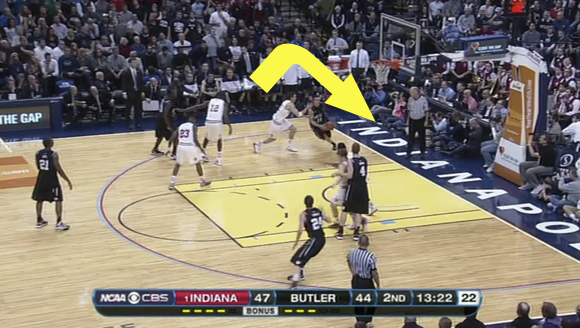 Watford doesn't come to meet him quickly enough, and Clarke is able to get a clear path to the hoop for the bucket: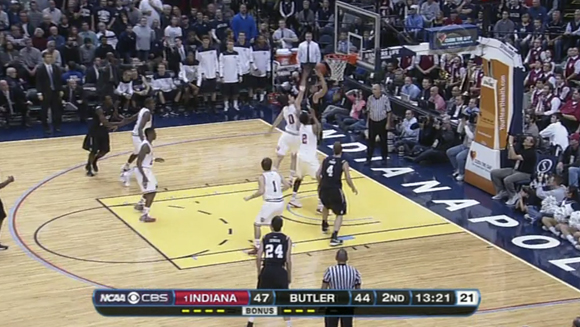 Sheehey did a strong job of staying with Clarke here and denying him a look from distance shortly after he connected on the inbounds play detailed above. But as Crean said in his post-game comments: "They got more layups than we did."
Video:
OVERTIME:
III. Chase Stigall takes a somewhat contested 3-pointer over Sheehey: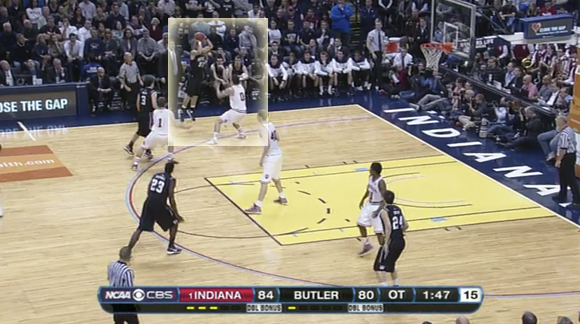 He misses. It's a long rebound which caroms out to the top of the key where no Bulldog or Hoosier is. Another 50-50 ball up for grabs: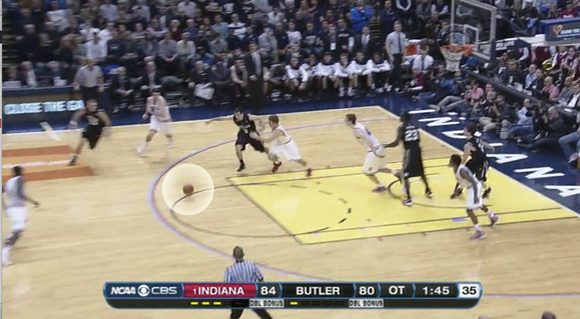 And yup: Just as you suspected, it's Butler who scoops it up, as Stigall picks up his miss. Keep an eye on Clark. It looks like he had already faded back on defense, as he's on the other side of the halfcourt line: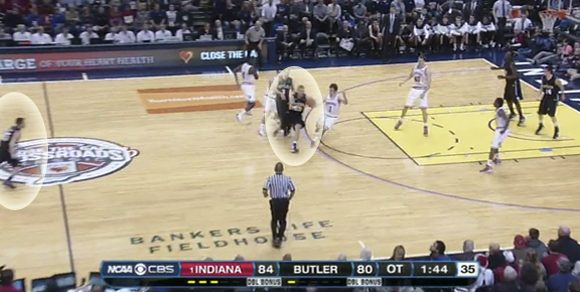 Stigall turns and finds Clarke entering back into the play. Victor Oladipo spots this, and starts racing towards where Clarke is going to receive the ball: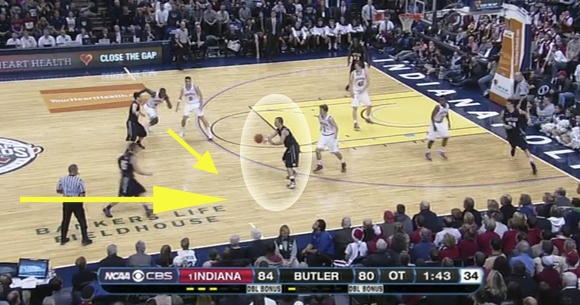 Oladipo does a great job of recovering back, but Clarke still gets off a deep 3-pointer … which he hits: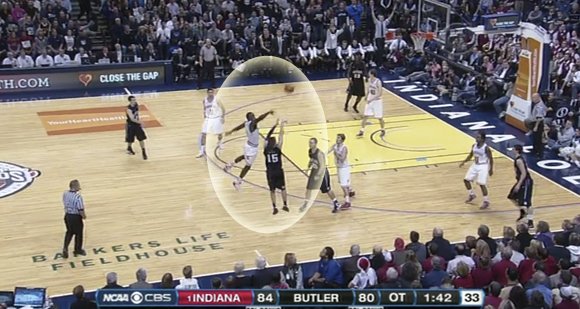 This was one of those moments that happened a couple times in the game where Indiana played well enough to force Butler into a miss, only for the Bulldogs to snag a 50-50 ball and convert. Tough blow.
IV. After Yogi Ferrell's entry pass to Zeller is stolen on Indiana's ensuing possession, Stigall sets a pick for Clarke: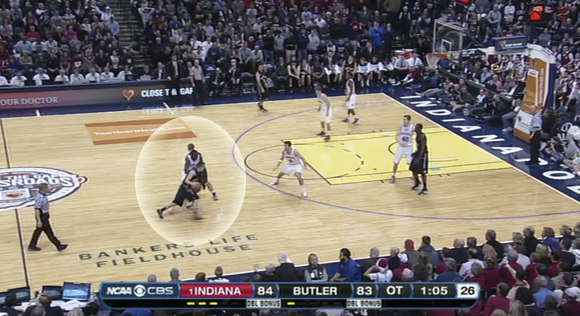 There's some miscommunication here. Oladipo continues to track Clarke as Sheehey opts to do so as well. This leaves Stigall open at the top of the key: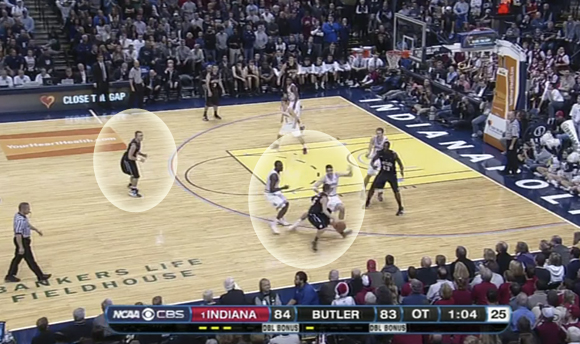 Stigall fakes a pass to Alex Barlow on the left wing, which Hulls bites hard on. It looks as if Hulls might be picking up Stigall, so Sheehey can be seen running to the left wing to mark Barlow: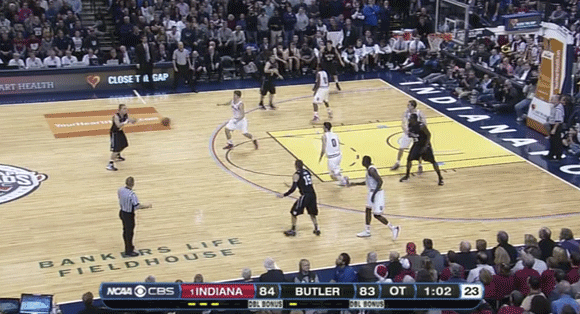 So with Sheehey looking elsewhere and Hulls popping out, Stigall steps into open space, fires and connects: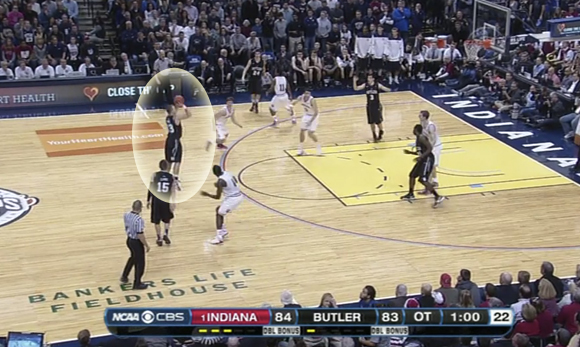 This was another deep 3-pointer from Butler, and sometimes you have to tip your cap. But Indiana's defense also went silent and was all over the place on a key possession here, and it helped Stigall find an uncontested shot which put Butler up with just under a minute to play in overtime.
Video of the back-to-back sequence in full:
Filed to: Butler Bulldogs