Sheehey's journey fueled by doubters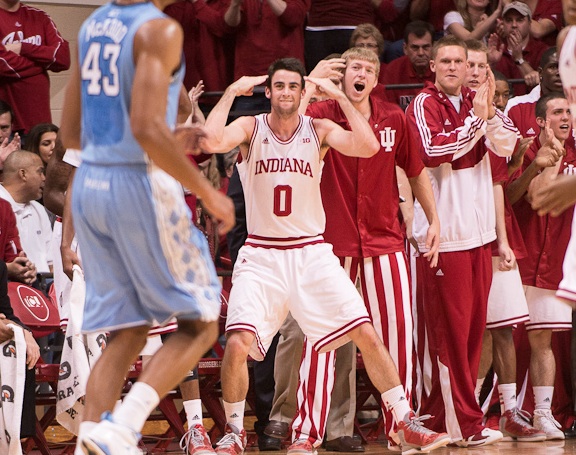 Will Sheehey hits a corner 3 against North Carolina, and the top offense in the nation punches the lead out to 31.
On the other end of the court, Indiana's sixth man, the underrecruited, unheralded Florida native, once ranked just the No. 131 recruit in the nation by Rivals.com, fronts someone who came to the Tar Heels under a bigger spotlight: McDonald's All-American James Michael McAdoo. Sheehey's giving up size to the sophomore, but he knocks the ball out of McAdoo's hands and out of bounds. Once inbounded, Sheehey and Indiana's team defense force McAdoo into a turnover.
Two IU possessions later, the junior wing hits another 3-pointer, and he rollicks down the floor like a man possessed, banging his right middle, ring and pinky fingers against his right temple — the team's symbol for "3" this season.
On the ensuing Tar Heel possession, Remy Abell fouls Dexter Strickland on a made lay-in. Sheehey's about to be subbed out for the final time on the night, but he's not done. He re-directs his body — with purpose, mind you — to get a shoulder into Strickland and says a little something into his ear for good measure.
By the time the buzzer sounds and Sheehey leaves the court, it's a coronation. A jawing celebration with fellow junior Victor Oladipo and a high five and some spirited words from his coach Tom Crean — with both interactions maybe featuring a colorful word or two out of Sheehey's mouth. More high fives and jacked-up celebrations come from IU's entire bench, as Sheehey makes his way from the coaching staff down to the last player.
He finishes the night with 19 points, five rebounds, two steals and a heck of a lot of pointing and barking and vocal leading on the court.
After the game, a veteran member of IU's press corps asks Sheehey where all the emotion came from after that 3-pointer.
His response: "Wouldn't you do the same thing?"
The next morning at 7 a.m., Sheehey's in Cook Hall getting shots up.
***
"Will had a very similar role on our team that he has at Indiana," Sagemont's Adam Ross,  Sheehey's high school coach, said Tuesday morning from his office in south Florida. "He's a high-energy guy. He brings an incredible amount of intensity and work ethic … Will was a leader."
Sheehey transferred to Sagemont from South Fork as a senior and joined a strong team that included former Syracuse standout and current Boston Celtic, Fab Melo.
Sheehey's recruitment process, though, was far from simple. Ross described it as "interesting and sometimes frustrating" and responded with "there's no question" when asked if both he and Will felt he was being undervalued. Northwestern and Stanford had given him a look, but pulled out. George Washington had recruited him hard and others from the Patriot and Ivy League had shown some interest. Georgia Tech was in the mix, but never offered a scholarship.
It wasn't until Darrin Horn, who was South Carolina's coach at the time and was recruiting another one of Ross' players, Rod Days, recommended Crean — who had Horn on his staff at Marquette — to take a look at Sheehey, that Indiana entered the picture. Ross said two days later that Crean was in Sagemont's gym. Two weeks later, Sheehey and Ross headed to Bloomington for an official visit.
Michigan did come in with a scholarship offer late, according to Ross, but by that time Sheehey had just about made up his mind: He wanted to be a Hoosier.
"I think that Will really appreciated and understood coach Crean's vision for the program long-term," Ross said. "He really felt like he could be a part of that rebuild and bring Indiana back to the forefront of college basketball. He relishes that underdog role. He likes being told that he's not going to win."
***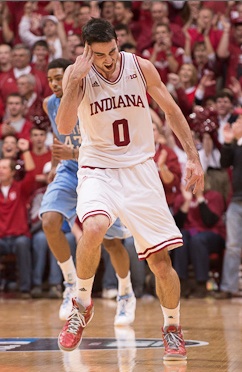 Heading into Indiana's 2012-13 campaign, Crean talked of Sheehey as one of the team's top two improved players. It's noticeable.
He's bigger and stronger. His defense has improved. He's averaging double figures in points (12.6) for the first time as a Hoosier. His effective field goal percentage (61.7) and offensive rating (123.0) are career highs.
He's emerging as a leader. In recent home games against Coppin State and Central Connecticut State, he could be found standing up off the bench, pointing out things to the starting five before he entered play as the team's sixth man.
And after Indiana beat Georgetown in overtime at the Barclays Center, the team's hardest-fought victory of the year, Sheehey also had a message for his teammates.
"As Will Sheehey said in our locker room after we met, 'it's a program win for us,'" Crean said after the game. "He went around and thanked the walk-ons, the guys that are out right now, the guys that didn't play a lot of minutes."
But Sheehey has changed in other ways, too, and has shown some differences from the rest of his teammates. He switched from No. 10 to No. 0. He, in a very Derrick Rose at the 2012 NBA All-Star Game fashion, eschewed entering Hoosier Hysteria by jumping and dancing around. He came out with a blank stare and walked to join his teammates. All business.
And no stranger to bravado, Sheehey has amped it up a bit this season. After setting an IU record on the VO2 endurance test, he proclaimed: "There's nobody in the country that can run as far and as long as I can." He hasn't always been warm to the media.
"There's really two personalities to Will Sheehey," Ross, who talks to Sheehey nearly every day, said. "There's the baketball player Will Sheehey and the 20-year-old kid, off-the-court Will Sheehey. The guy on the court is as competitive as any human being in the world. He plays with a chip on his shoulder because so many people over the years told him that he couldn't play at this level, that he couldn't be successful in the Big Ten, that he would never be successful at Indiana.
"Even after he committed there there was a tremendous amount of criticism and negative undertones from people that he wasn't good enough to succeed there. That really drives Will to be ultra-competitve. That work ethic, it derives from there. That sometimes I'm sure comes across as confident, arrogant, chippy — whatever adjective you want to use. He plays that way because he feels like he has to. The Will Sheehey off the court couldn't be a nicer guy. He's really just a regular, down-to-earth guy that cares about his friends, who cares about the people in his life. He's a very, very smart, highly intellectual guy."
It's that on-court personality, one quite different from IU's more mild-mannered and humble rotation players, that could come in handy in a rough and tumble Big Ten season when teams are really getting into the Hoosiers. Sheehey –as he showed during that small scuffle at the end of last year's home game against Penn State — will get in the mix and stick up for his teammates. They need a bit of a badass.
And it's all why Jeremy Gray of IU Athletics, has described Sheehey as a player the other team is going to hate. But Gray also sees Sheehey similar to Ross.
"One thing about Will that's impressive is that he's different than his on-court persona," said Gray. "Will plays with a serious edge, hounding defense, he likes to dunk on people. He gets jacked up, he gives the '3' sign when he knocks down a 3. He's that guy on the court. But Will is a very, very intelligent young man. It's my understanding that he plans to go to law school. His father is successful in business and is also a successful former basketball player.
"He's a guy that you can tell that his teammates love and I think that showed through with the injury to Austin Etherington as Will was right by his side. Will, when he steps inside those lines is one guy, but off the court he's clearly another."
***
Filed to: Will Sheehey