The Inside the Hall Mailbag: November 29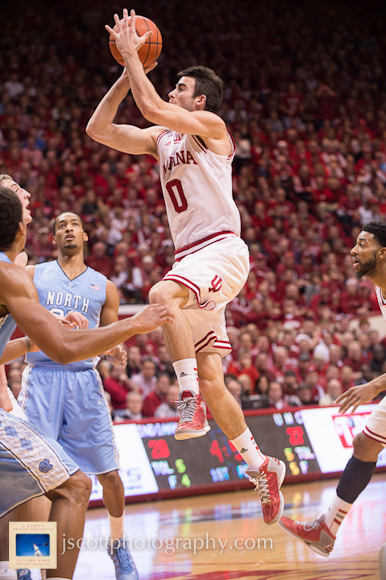 The Inside the Hall Mailbag is a collection of questions tweeted to us via Twitter (@insidethehall) and sent to us via our Facebook page. Submit your questions and we'll answer as many as we can.
Ryan Scherer (aka HoosierRyno) writes: Even though they will soon be back, how costly will Perea and Jurkin's suspensions be to the depth of the front court, since they have not been able to actually play against unfamiliar opposition or opposing teams?
Obviously the suspensions have put both Hanner Mosquera-Perea and Peter Jurkin behind in terms of gaining valuable game experience, but they've also been able to practice with the team every day, so they're not completely out of the loop. Looking at the schedule, they'll have home games against Mount St. Mary's, Florida Atlantic and Jacksonville that should all provide the opportunity to play solid minutes before Big Ten play arrives. And Indiana's Big Ten slate is somewhat backloaded in terms of the difficulty of road games, so I'm not sure I see the suspensions being as costly as some may believe. — Alex Bozich
Mark Joseph writes: Piggy-backing on first above question – What problems do you think the Hoosiers will encounter incorporating the players currently suspended into a lineup that has been playing together and adjusting for 9 games?
There will be growing pains anytime you're integrating new pieces into a team, especially one that's been on a roll and winning. And it's not only Mosquera-Perea and Jurkin who will potentially be introduced to the rotation — Derek Elston is also expected back in late Dec. or early Jan. from a torn meniscus.
The good news is Elston has been in the system for three years and has a grasp of what's expected. Tom Crean has mentioned Elston has been very involved in practice and on the bench during games, so that's a favorable development in terms of his capabilities as a leader. As I mentioned in the first question, I think those three home games with Mount St. Mary's, Florida Atlantic and Jacksonville are going to be pivotal. Crean isn't going to experiment too much because Indiana needs to stay sharp, but he's going to do his best to get Mosquera-Perea and Jurkin as acclimated as possible into their potential roles on a short timetable. — Alex Bozich
@tim_skibbe writes: What is your take on the Watford/Sheehey debate of who should start (debated quite a bit on the forum)?
To be honest, I'm not sure how much it matters. Both are playing comparable minutes. Watford is at 25.7 per game and Sheehey's at 21.7, so it's not like starting versus coming off the bench is creating a large separation there. In Tuesday's win over North Carolina, Watford started as he has for nearly every game in his career and Sheehey came off the bench. At halftime, Sheehey was giving the Hoosiers more, so he started the second half.
Overall, I think Sheehey seems to enjoy coming off the bench and providing that spark of energy, so assuming Watford is able to rebound from Tuesday's effort, I'd be surprised to see any type of permanent switch to move the senior out of the lineup, at least for now. — Alex Bozich
Ray Rodriguez writes: Jeremy Hollowell has been getting the bulk of his minutes filling in in the front court; with DE, HP, PJ all returning how far down does he slide in the rotation while playing on the wing?
I think Hollowell may find himself on the fringe of the rotation when Elston and Mosquera-Perea return. He looked shaky against both Georgetown and North Carolina and Mosquera-Perea in particular brings a better rebounding prowess and more size that's going to be important when play becomes more physical in the Big Ten.
Hollowell is arguably one of the most talented freshmen in the Big Ten, but the reality is that he's got proven, experienced players in front of him on the depth chart. He's averaging 14.4 minutes per game right now, but seven to 10 per game could be more realistic once the roster is at full strength. — Alex Bozich
Matt Uhl writes: Does UofL's admittance into the ACC alter in any way Fred Glass's hinting towards a football/basketball series with the Cardinals?
I'm not sure Fred Glass ever hinted at a series with the Cardinals in football or basketball, it was Louisville Athletics Director Tom Jurich who said he'd like to see Indiana and Louisville play in every sport. A lot of the motivation behind that comment probably stemmed from the fact that Louisville was desperate to get better non-conference opponents in football as the Big East sputtered away into mediocrity.
Now that the Cardinals will be in the ACC (most likely beginning in 2014) and playing against schools like Florida State and Clemson every year, their motivation may not be as strong to play a football series. I still think the basketball series makes a lot of sense because of the proximity of the programs and their tradition. — Alex Bozich
@BradBmrollin writes: when is Derek Elston coming back?
Elston is expected to return right around the beginning of the Big Ten schedule. Indiana's first two league games are at Iowa and Penn State and then they return home to play Minnesota, so it's conceivable that Elston would return in one of those games. — Alex Bozich
@LaceyLC writes: do u think will and Vic will leave early?
I think there's a possibility that Oladipo could test the NBA waters after the season, but I don't see Sheehey leaving early. Looking at the stock of Oladipo, he's on the radar at this point, but appears to be a second round pick at best right now. That can easily change, however.
If Oladipo improves his shooting from the 3-point line and free throw line as the season moves along, he's going to have a better case for at least exploring the possibility of making the leap. Right now, he's just a shade over 30 percent from the 3-point line and just 60 percent from the foul line. He's going to get open looks from outside and he's going to get to the foul line, so both of those numbers will need to come up. He's shooting an amazing 76.3 percent on 2-point field goal attempts, but most of his looks are coming from point blank range. It's hard to see that translating to the NBA. — Alex Bozich
@tim_skibbe writes: Do you think Duke should now be #1 b/c of their big wins so far this year, or do you think IU should stay #1 till beaten?
Do I think Duke should be No. 1? No. Would Duke be deserving of a No. 1 ranking? Absolutely. But the nature of polls, especially in college basketball, is this: You don't move out of the No. 1 spot without a loss. The Hoosiers will and should remain No. 1 in both polls until they're beaten. That's the way the system works. — Alex Bozich
Filed to: Twitter Mailbag