Recap of Tom Crean on Jim Rome on Showtime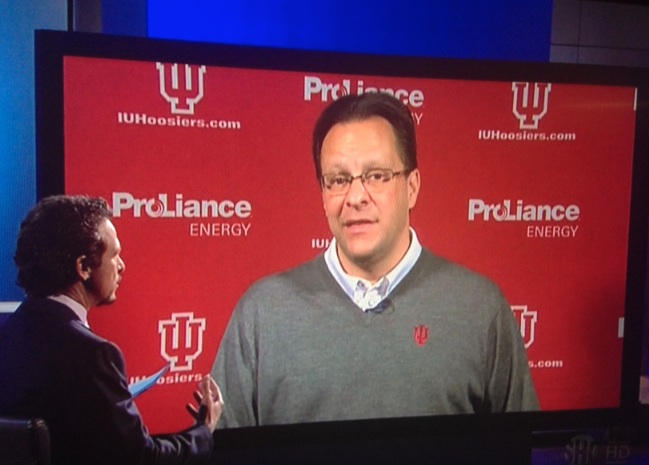 Indiana coach Tom Crean appeared on the new Jim Rome show on Showtime Wednesday evening. Here's a recap of Rome's interview with the coach of the 7-0, No. 1-ranked Hoosiers:
· Rome started by pointing out that the Hoosiers "smacked" North Carolina and noting that Will Sheehey called the win a huge statement. Crean was asked if that's how he saw the win and also what message it sent to the rest of the country.
"I don't know what [message] it sent the country. The message that our team wanted to send is that they can really defend. We knew we were playing a great team. We knew we were playing a transition team, a tremendous rebounding team. They were averaging 18 offensive rebounds a game, so we were going to have to be great on the glass. I think it sent the message that our guys take defense very serious at a high level.
· Rome asked Crean the significance of being ranked No. 1 given where the program was a couple of years ago:
"It means a lot, personally. But it means a lot because I think it means so much to so many people because of the way they have stuck with us."
· Rome brought up one-and-done players in the college game and what Crean's stance is on bringing them to Bloomington:
"To me, it's part of the deal. And as long as they come in… They have to unpack their bags. I know that sounds like a corny statement and I'm stealing it from one of Mike Krzyzewski's books one time where he talked about Carlos Boozer had to keep his bags unpacked. And I think that's exactly what's gotta happen if somebody comes into the program. You've gotta unpack the bags and get into it. If you're not into the team, if you're not into education, if you're not into school, it's going to catch up with you and you're going to lose games. Now, if you come in and you're about the team and you're about improvement and you're about doing your very best in school and you leave after one year, two years, so be it. That's fine."
· Rome asked Crean about the recent suspension of Morehead State coach Sean Woods for shoving one of his players on the sideline in loss at Kentucky:
"Well first off, I think too many people took shots at him. And as a coach, I'm not trying to defend what happened, but I wasn't there. And really outside of the team, outside of that assistant coach that was in the mix with it outside of Sean, they're the only ones who really know what was said, what transpired and what happened in practice. Does that condone it? No. But I think it's so easy to just verbally beat people up when we don't understand what happened. Now has he apologized? Was he suspended and disciplined? Absolutely. Does it condone it? No. But I think people just have to let that stuff play out and know that mistakes are going to be made and let the apologies come and let's move on."
· Rome followed up by asking what the line is on coaching guys up and trying to get the most out of them:
"I don't know. I think it's different. I think there's an intensity level, there's an energy level. I think you want to stay away from negative energy as much as possible. But there's going to be some negative energy and it should come from the coach. It shouldn't come from anybody else. But I do think you've got to help people get out of themselves, be a part of the team and understand there's a place that they can go. And they may not always want to get there, and they may not know how to get there and that's part of it.
"I think the more that you make it personal without absolutely trying to personalize the message, and I've learned some of this from having some friends and Tony Larussa, to me, was one of the masters of the message. And I've spent time around him and you just get a different perspective. My brother in-laws are the same way. I think they personalize the message without making it negative personally. And sometimes it's going to seem negative, but it's for that individual. But I think you've gotta make sure that's the line. Let's not make it so personal. And I know in the past I've made those mistakes of being too personal but you grow past that and you just want to try to help people be the absolute best they can be and see how to get there."