Film Session: The anatomy of Indiana's selflessness
Beyond the relentless break this Indiana team throws at opponents, beyond the individual talent of their Starting Six, there's this truth: These Hoosiers, they of the most efficient offense in the country, show a special ability to share the ball and make the extra (and sometimes extra-extra-extra) pass.
A deep look at a prime example of their unselfishness in the latest edition of Film Session.
—
Indiana punches the lead out to 19 in the second half against North Carolina and the water smells of blood.
Cody Zeller snags a rebound on the left block off a Tar Heel miss. He immediately outlet passes to Jordan Hulls. Hulls pushes it up the left side of the court. Will Sheehey — who bragged before the season that "there's nobody in the country that can run as far and as long as I can," and a re-watch of Indiana's torrid run in the second half can make you a believer in such things — and Victor Oladipo sprint down the right side and look to fill an opening in the middle of the floor near the top of the key: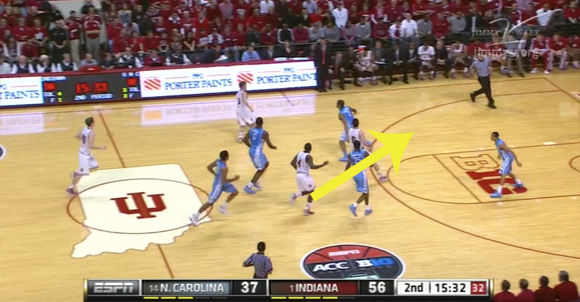 Yogi Ferrell is down in the right corner already ahead of the defense — he started his sprint down the court with less distance to cover than Sheeladipo — but there's risk in Hulls playing that angle with Marcus Paige sitting under the free throw line. So Hulls opts to slow things down with Indiana not having the numbers to take advantage, as North Carolina has all five players over halfcourt.
Recognizing there will be no fast-break score here, Sheehey immediately goes and sets a ball screen for Hulls. It becomes a double ball screen when Cody Zeller enters the play as well. You can see that Hulls starts to split the defenders as both ball screens free him from Leslie McDonald and Joel James makes the decision to reach for the ball instead of getting his body in front of Jordy: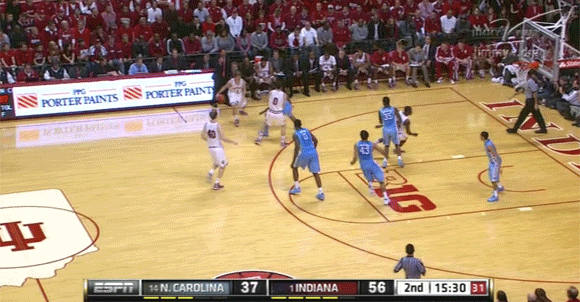 With the defense broken down, Hulls has options. Oladipo, like Zeller, is skilled at using the baseline area under the basket to create angles for scores. He's sneaking around down there. Yogi is still over in the right corner. Sheehey is also an option back where he set the initial ball screen that freed Hulls: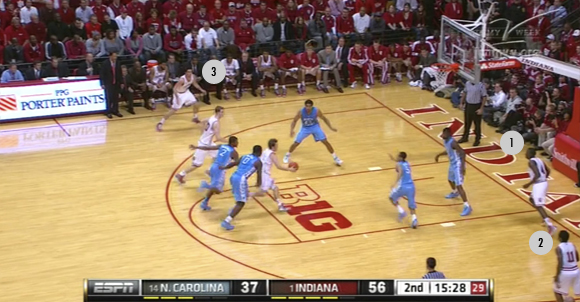 Hulls draws all five Tar Heels in or near the paint and opts to whip it out to Yogi while avoiding a charge: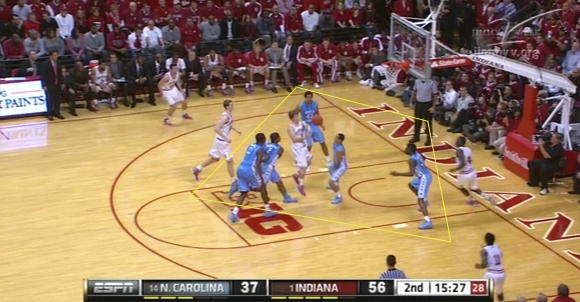 Ferrell ball fakes and gets by Reggie Bullock. Just as he's met by McDonald and it looks as if he might try and go over him with a floater for a score, Ferrell turns his body and whips a pass to Sheehey, who's filled into an opening in the left high post — a mid-range area Sheehey thrives in: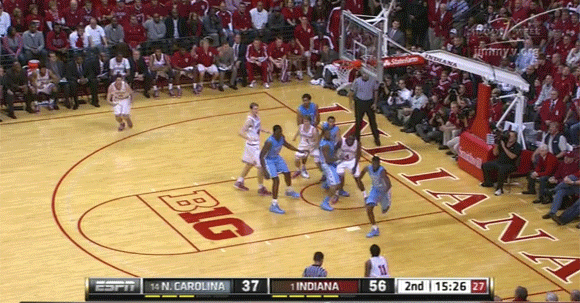 But instead of taking the shot, Sheehey turns and passes to Hulls on the left wing, who's open for a 3-pointer — a distance he's often automatic from. But Hulls doesn't square up and fire; he immediately throws the hockey assist to Oladipo in the left corner: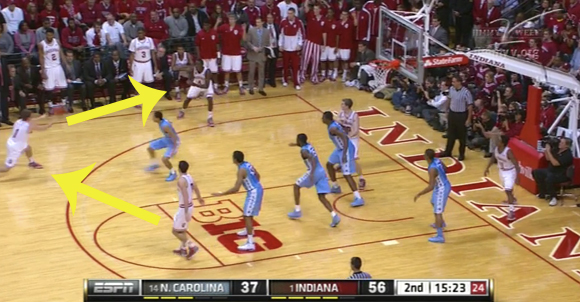 With Indiana swinging the ball from right corner to left corner, this does allow North Carolina to re-set its defense some after Hulls' breakdown of it, as all five defenders here are spaced better and are near Indiana's five: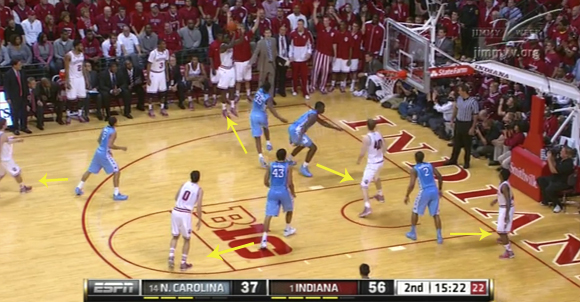 Oladipo ends up missing the trey, but Yogi springs for the board. Paige slides down off the perimeter instead of getting a body on Hulls for a box-out. Hulls is so far away from Paige at this point that he's not even in camera's view: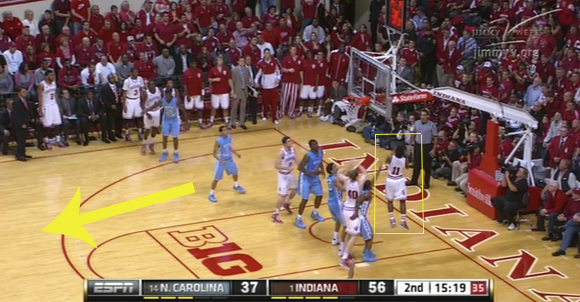 Yogi, as he did with his pass to Sheehey earlier in the possession, shows one way — he dribbles under the bucket toward the left corner — and then turns and whips a rocket of a pass to Hulls. Paige, at this point, follows Yogi's decoy move and even tries getting his hands on the pass: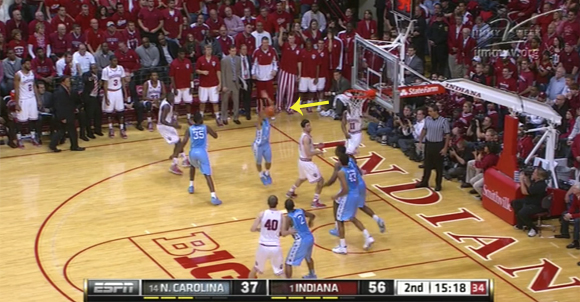 Leave Jordan Hulls open once beyond the arc with a more open teammate and he'll pass him the ball. Leave him wide open a second time, and it's buckets: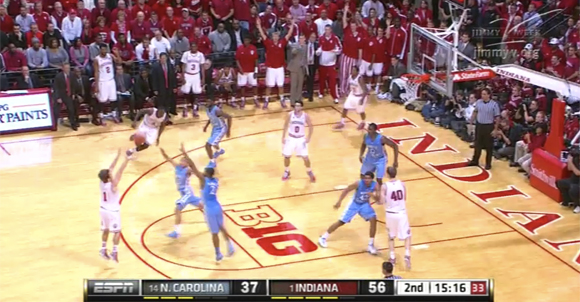 Video:
Filed to: North Carolina Tar Heels