The Minute After: Georgetown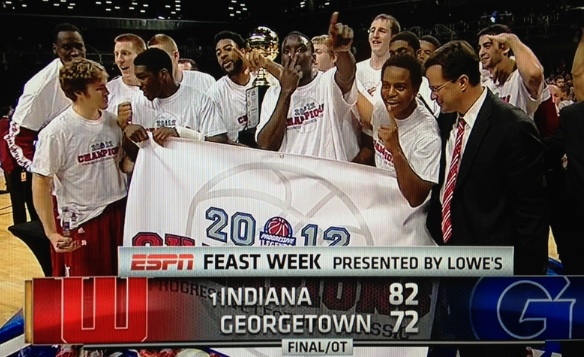 BROOKLYN — Thoughts on an 82-72 overtime win over Georgetown:
I. Indiana and Georgetown traded three after three over each other's zone defenses in the first half, and this began as it finished, in the words of Tom Crean, "an epic battle." Georgetown may not be ranked now, but it'll come as little surprise if the Hoyas find themselves in the Top 25 sooner rather than later. They came here and took down a No. 11 UCLA team with a comfortable lead for much of the second half on Monday night, and left with a overtime loss against the No. 1 team in the country. The Hoyas mounted an impressive seven-point rally in the final 1:03 of regulation to send this one into extra time.
Point guard Markel Starks tossed in 20 points after scoring 23 against UCLA; Lengthy, athletic players like Otto Porter (15 points), Greg Whittington (12 points) and Mikael Hopkins (11 points) got theirs against the Hoosiers.
"We had our chances," John Thompson III said after the game. It was true. But the Hoosiers made sure to own overtime, shutting the door on any chance of an upset.
II. Overtime was won on the strength of foul shooting; the Hoosiers went 13-of-17 from the line. A Yogi Ferrell 3-pointer as the shot clock expired and a Jordan Hulls and-1 gave the Hoosiers 18 points in total in that five-minute frame to allow them to net a 10-point victory. As noted in What to Expect, Georgetown has been keeping teams off the line this season. The Hoyas followed suit with that early as Indiana shot only six free throws in the first half. But by game's end, the Hoosiers had fouled out three Hoyas and hit 26-of-36 (72.2%) to finish with a free throw rate (FTA/FGA) of 73.4.
III. Cody Zeller played better tonight (17 points, eight rebounds) but there were still times tonight where, for all the time he's put in the weight room and all the strength he's built, Georgetown defenders were able to overpower him. It's been known that Zeller's been sick for several days now, and the 7-foot sophomore revealed after the game that he's been dealing with "some form of asthmatic bronchitis."
Indiana plays Ball State on Sunday after the Thanksgiving holiday and then North Carolina — a team that lost to Butler earlier this evening — next Tuesday.
So Zeller will have some time — although not much — to try and rest his body a bit and get over the illness in full.
IV. Jordan Hulls was sensational on back-to-back nights in Brooklyn, and his MVP award of the tournament was well deserved. Hulls turned the tide in the Georgia game and served as the team's catalyst in the victory during their run in the second half. Tonight against Georgetown, Hulls finished with 17 points and hit a number of key shots. He probably should have taken the last shot in regulation instead of passing to Zeller — something he admitted in post-game comments — but it's a minor quibble against the totality of his night.
For as good as Yogi Ferrell is and can be, Hulls' maturity, poise and shooting ability out of the backcourt is currently reigning supreme. This team needs him and he's delivering in every way so far.
V. Fun little scene here after Indiana won the title game. Victor Oladipo and Remy Abell held up the banner to cheers from the crowd. Jordan Hulls went up and embraced his family. The IU faithful that stuck around creeped down behind the basket to get a closer look and try and shake hands and get high fives from Crean and the players.
As Crean walked through the tunnel, he told those hanging over the sides, "you guys are awesome."
Filed to: Cody Zeller, Georgetown Hoyas, Jordan Hulls