What To Expect: Georgetown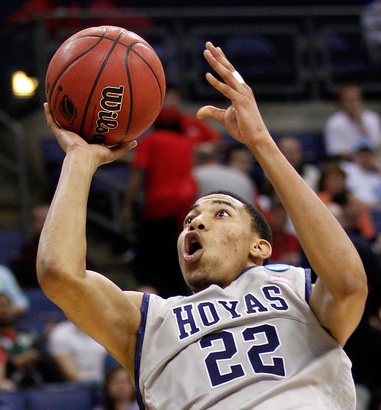 After an uneven performance in a Monday night win against Georgia in the Legends Classic at Brooklyn's Barclays Center, the Hoosiers will take on Georgetown in the championship on Tuesday night approximately 30 minutes after the 7:30 p.m. tip of the third-place bout between UCLA and Georgia.
Georgetown (3-0) upset the No. 13 UCLA Bruins 78-70 on Monday night. The game will be televised on ESPN.
SIZE
The first thing that jumps out about Georgetown?
On paper, the Hoyas are shaping up as a team able to take advantage of Indiana's size deficiency — both in the backcourt (Jordan Hulls and Yogi Ferrell) and potentially with the lack of depth up front due to the suspensions of Hanner Mosquera-Perea and Peter Jurkin. As Dan Shulman noted on Twitter, John Thompson III starts four players 6'8″ or taller — Greg Whittington (6'8″), Mikael Hopkins (6'9″), Otto Porter (6'8″) and Nate Lubick (6′ 8″). The lone shorter starter, Markel Starks (6'3″), dropped 23 points on the Bruins on Monday night. Porter had 18 to go along with 11 boards. It's possible Tom Crean could make a starting lineup tweak to match up better — potentially inserting Will Sheehey for Hulls — but Hulls was key to Indiana's victory on Monday night, so it remains to be seen.
Three games in, the Hoyas have been able to parlay that size into a decent defensive output (a 91.4 adjusted defensive efficiency has them ranked 27th in the country) and they're not allowing teams to get to the line much (just allowing a 21.3 free throw rate, 18th best in the nation).
Indiana has been getting to the line a lot and scoring in bunches, so we'll see what gives, if anything at all, Tuesday night.
PACE
Thompson III runs the Princeton offense at Georgetown, so his teams play at a slower pace than the nation's average. According to KenPom, the current DI average based on his adjusted tempo metric is 66.8 possessions per game; Georgetown currently is playing at a 64.3 possessions-per-game pace, ranking them 282nd in the nation. Last year's Hoyas ended the year at 63.0 possessions, which was 300th.
For comparison's sake, Indiana's up-tempo style has them above the NCAA average at 68.4 possessions on the year (91st); last year the Hoosiers finished the season at 67.3 (108th).
Crean and his team have talked often about dictating pace/playing at their pace so far this season to the media, so it's another area to watch with both teams flashing different offensive characteristics.
INDIANA CONNECTION
North Central product D'Vauntes Smith-Rivera — a one-time recruiting target of Crean's — is a freshman for the Hoyas. He went scoreless in 12 minutes of action against UCLA on Monday night. However, the freshman played 32 minutes in the team's season opener against Duquesne and scored a team-high 19 points, while also adding 12 points in 19 minutes against Liberty in Georgetown's second win of the season.
So it's possible he could play a decent role off the bench for the Hoyas in Tuesday night's matchup.
THE LINES
KenPom's computer is giving the Hoosiers an 83% chance at victory with a final score of 72-62. The Vegas line currently has the Hoosiers as a 9.5-point favorite.
QUICK FACTS ON GEORGETOWN
Student Enrollment: 17,130
Established: 1789
Notable Basketball Alumni: Dikembe Mutombo, Alonzo Mourning, Patrick Ewing, Allen Iverson and Roy Hibbert
All stats from KenPom.com.
Filed to: Georgetown Hoyas