The Minute After: North Dakota State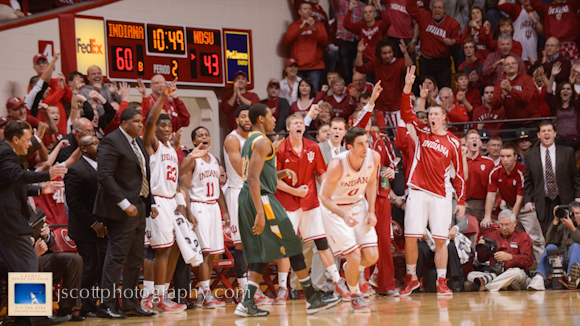 Thoughts on a 87-61 win over the Bison:
I. It is early, and grand, bold proclamations about anything at this juncture are't wise. Still, I'm willing to go out on a limb with this: These Hoosiers are playmakers. Go on down the line: Cody Zeller, Yogi Ferrell, Victor Oladipo, Christian Watford, Jordan Hulls, Will Sheehey, Remy Abell, Jeremy Hollowell — these cats can ball. Tougher opponents will come and the freshmen are sure to take more lumps, but is there any player in these eight that can't get theirs in multiple ways?
This is what makes this offense so potent: options all over the place in every which way, and they just keep coming, one after another. It is a fast break of fury for 40 minutes. And if they're not getting points before the defense sets itself in the halfcourt, they're creating an advantage, making the extra pass — or maybe too many extra passes, as some argued they fell into for a stretch in the second half tonight — and getting open looks at the hoop or behind the 3-point line.
Four in double figures tonight, and it won't be the last time.
II. Shoutout to Remy Abell. Just about died at his delayed fist pump after completing his solo 8-0 run in the second half — two straight threes, and a bucket at the cup to boot. Abell hasn't missed a shot all season and finished the evening with 14 points on 5-of-5 shooting. Tom Crean thinks his best days lay ahead. Abell is also proving himself to be a capable point guard backup to Ferrell at the 1, which means Hulls continues to have the chance to play off the ball and get those shots in rhythm beyond the arc.
III. As if the first section of this TMA didn't spell it out already, the offense continues to create tidal waves. The Hoosiers scored nearly 1.3 points per possession, had a turnover rate of just 14.9% and got to the line in droves (22-of-30, 57.1 free throw rate). Sure they could have shot better from the line and there were a couple wide open looks that seemed to just rim out. But these are minor quibbles in a world of imperfection.
Zeller scored 22 points with ease and he's looking like a 7-foot point guard at times; Hollowell chipped in 14 and I keep sorta thinking he's Watford; Hulls was hot early and finished the game with 11 points. The Hoosiers also had a strong night on the glass: They snagged 80% of available defensive rebounds and 37.1% of available offensive ones.
IV. Good catch from Albers: "Oladipo quietly (Quietly!? Crazy, I know) put up these numbers: 7 pts, 8 rebounds, 5 assists, 4 steals." With so many contributors early on here in the season, stuff like this can get swept under the rug.
One other thing about Vic? He looks more like a shooter this year. I'm talking form and fundamentals. And the confidence seems to be there, too. Bodes well going forward.
V. Is this the last live game on BTN.com? This is the last live game on BTN.com.
Filed to: North Dakota State Bison