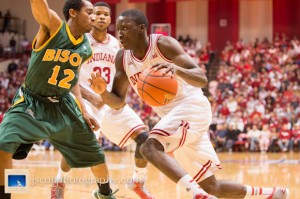 Check out 21 photos by Jamie Owens from Indiana's 87-61 win over North Dakota State at Assembly Hall in the embedded photo gallery after the jump. Purchase prints from J. Scott Sports.
Thoughts on a 87-61 win over the Bison: I. It is early, and grand, bold proclamations about anything at this juncture are't wise. Still, I'm willing to go out on a limb with this: These Hoosiers are playmakers. Go on ...
The Gazelle Group announced the complete bracket for the 2012 Legends Classic on Monday afternoon, which revealed two additional non-conference games on Indiana's 2012-2013 schedule. The Hoosiers will host North Dakota State on Monday, Nov. 12 and Sam Houston State ...