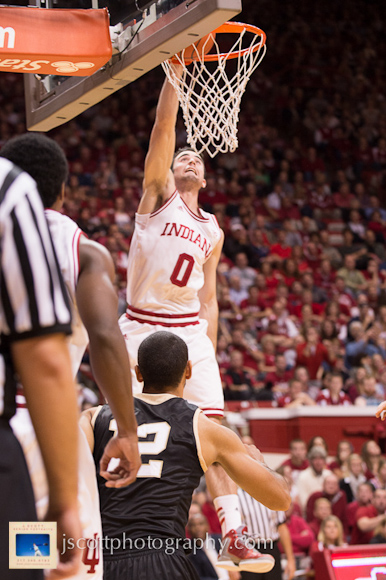 Thoughts on a 97-54 win against the Bulldogs:
I. Indiana's lack of frontcourt depth was not an issue in this one. Bryant didn't have much size. And the size the Bulldogs did have was dominated by Cody Zeller. Both Andrew Scocca and Vlad Kondratyev fouled out, as neither had much of a chance once Zeller got the ball on the block and went to work. When Zeller went to the bench, there were a few interesting small ball lineups on the court. At one point in the first half, Indiana's smallest rotation players — Yogi Ferrell, Jordan Hulls and Remy Abell — played with Jeremy Hollowell and Christian Watford.
At some point in the next eight, the lack of depth is likely to pose a problem. But for this night, the Hoosiers rolled regardless.
II. This was a game Indiana got to the line in bunches. Bryant simply couldn't match the Hoosiers' speed, athleticism and strength, and it resulted in 34 trips the line. The Hoosiers knocked down 29 of those attempts (85.3%) and racked up a free throw rate of 63.0. Indiana's offense hummed in just about every other facet as well: It sported a 63.0% eFG and scored 1.318 points per possession en route to nearly 100 points. Its defense also held Bryant to just .73 points per possession.
III. Christian Watford spoke of becoming a consistent rebounder this season at Big Ten Media Day, and he's proving it early this season. After snatching six in the exhibition game, Watford snagged a career-high 15 boards tonight. With so many scoring options, Watford may not always have a chance to impact the game offensively. (He did have 15 points, but it came on a rough shooting night (3-of-9) which was aided by eight points at the line.) But if he's boarding like this — and playing good defense, as he did on Bryant's top talent Alex Francis tonight — he can still make his presence felt on the court.
IV. After an exhibition game in which he turned the ball over a bit much, Yogi Ferrell followed it up with a strong debut. Ferrell had 10 points and five assists at half; he finished with 10 and seven to go along with five rebounds. His court vision and quickness continue to impress. Ferrell's backup, Remy Abell (a player Alex highlighted earlier this week) had a strong scoring game as well. The sophomore had 12 points (2-of-2 from the field, 6-of-6 from the line).
V. Odds and ends: Strange night for Will Sheehey. Lots of quick fouls, and his night ended early with five of them. He was still able to pump in 10 points in 12 minutes regardless. Fred Glass — sporting a retro-styled Indiana jacket — got on the mic before this one, and I'm not sure many — if any — expected something other than a pump-up speech to kick of the season once he got going. But then he dropped the news that Tom Crean is entering into a new contract — one that gives him a two-year extension that keeps him locked up through 2020. It also bumps his annual pay from around $2.52 million to $3.16 million.
Not a bad stack of change, eh?
Filed to: Bryant Bulldogs