Indiana announces details for Hoosier Hysteria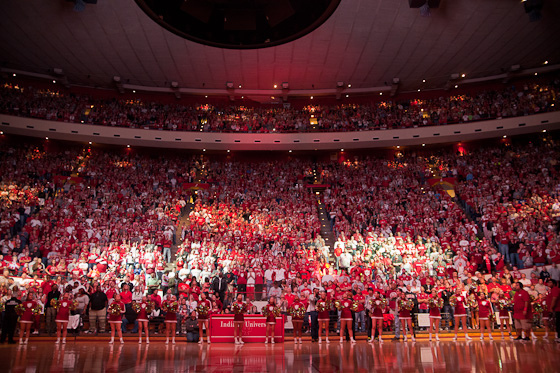 Earlier this afternoon, Indiana announced details for this year's Hoosier Hysteria, which will take place on Saturday, Oct. 20. Here's the complete release from IU Athletics:
The Indiana University Athletics Department will hold its annual Hoosier Hysteria presented by Smithville on Saturday, October 20 in Assembly Hall. Sage Steele, a 1995 graduate of IU and a co-host of ESPN's Sportscenter since 2007, will serve as emcee for the event which features the IU men's and women's basketball teams.

Admission is free and doors open at 4 p.m., and will remain so until Assembly Hall reaches capacity. The men's and women's teams will sign autographs from 5 p.m. to 6 p.m. with fans allowed to have one item signed per player. The program will begin at 7 p.m. The varsity shop and concession stands also open at 4 p.m.

"Hoosier Hysteria will be an unbelievably exciting night and I strongly encourage our fans to come early because we will not be able to admit anyone after the capacity of Assembly Hall has been reached," said IU Vice President and Director of Athletics Fred Glass.
The significance of Hoosier Hysteria for each team should ensure an unforgettable evening. First-year women's coach Curt Miller will get his first opportunity to address Hoosier Nation in Assembly Hall and fifth-year men's coach Tom Crean brings in a squad which is ranked #1 by several organizations and is coming off a Sweet Sixteen appearance last year. In addition, sophomore All-American Cody Zeller has been tabbed as the 2012-13 National Preseason Player of the Year by the Sporting News and CBSSpors.com and all five starters return from a team which finished 27-9.

Details of each team's appearance are being finalized and will be released prior to the event. Though admission is free, fans are encouraged to bring a canned food item which benefits the Hoosier Hills Food Bank.

Tickets remain on sale for the general public for four Holiday Break men's basketball games. Tickets are available for Ball State (Nov. 25), Mt. Saint Mary's (Dec. 19), Florida Atlantic (Dec. 21), and Jacksonville, Dec. 28. The mini series prices for four games are $139 for main level seats and $60 for IU students. Single game prices for Ball State are $40 (main level), $26 (balcony) and $15 (IU student). For the other three games they are $33 (main level), $25 (balcony) and $15 (IU student). To order, visit the IU Athletics Ticket Office in Assembly Hall which will be open from 9 a.m. thru the event that day, call 1-866-IUSPORTS or visit IUHoosiers.com.

Women's basketball season and single game tickets also are on sale with season tickets ranging from $153 (courtside), $51 (adult), $17 (youth and senior citizens).
Filed to: Hoosier Hysteria