The Inside the Hall Mailbag: October 10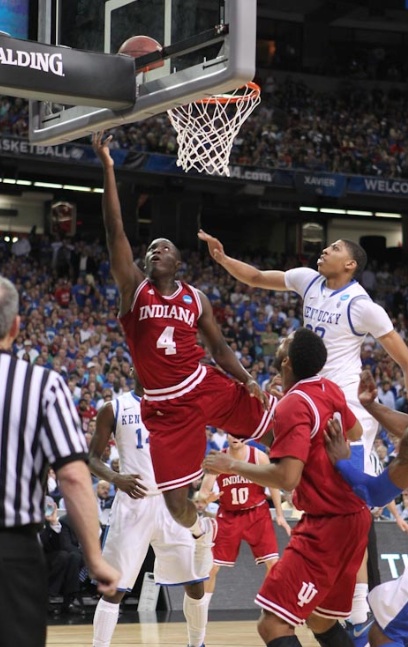 The Inside the Hall Mailbag is a collection of questions tweeted to us via Twitter (@insidethehall) and sent to us via our Facebook page. Submit your questions and we'll answer as many as we can.
@MShlyank writes: Looks like we can go with many different lineups for many different situations. What's our biggest weakness?
Alex Bozich: There's no doubt this will be the deepest team Tom Crean has assembled during his time in Bloomington. And you're right, the lineup possibilities seem endless with this group. If Crean wants to go big, he could hypothetically play a lineup with Cody Zeller, Hanner Mosquera-Perea, Christian Watford and Victor Oladipo on the court all at once. Or if he wants shooters, there's no shortage on the roster.
The biggest weakness is Indiana's defense. Yes, it improved substantially last season. The Hoosiers shored up their fouling epidemic from the 2010-2011 season and guarded the 3-point line better. But there's still plenty of work to do. Indiana barely cracked the top 200 nationally in 3-point percentage defense, their defensive rebounding wasn't great and it struggled to create turnovers.
It's clear this team has the pieces to once again be elite offensively, but teams that win national championships defend at a high level. That's one reason Crean has made it clear to his team how different their NCAA Tournament seeding could have been last season had they gotten a few more stops in key situations and won a few more regular season games. It'll be interesting to see what strategies are deployed to improve ball pressure and clean up the defensive glass better. Indiana will win a lot of games because their offense is arguably the best in the country, but the defense is what will ultimately decide how far this group goes in March.
Richard Charles writes: Are Zeller, Oladipo, and Watford the only guys on the current roster that have what it takes to make it to the NBA? What kind of players do you think each will be in the big show?
Ryan Corazza: No. I think you can extend that list to include Hanner Mosquera-Perea, Yogi Ferrell and Jeremy Hollowell, too. (One other Hoosier that could get an NBA sniff? Will Sheehey.) The NBA game continues to put a premium on above-the-rim athleticism, size and length. Mosquera-Perea has all that and then some. But his skills are raw. If he develops and improves his game during his tenure as a Hoosier, he has a chance to make an impact at the next level. Yogi's height may limit just how high he goes in the draft — if his game ascends to a level where he's in consideration — but there are enough 6-footish guards in the league now and that have been selected in recent years for it not to be a dealbreaker. Hollowell has the tools; it will depend on how he develops during his college career.
As far as Zeller, Watford and Oladipo are concerned, Zeller's ceiling is highest. I won't go so far as to call him an All-Star caliber player yet, but he certainly projects to be a meaningful starter in the league at present. His passing ability out of the post brings Pau Gasol to mind. Watford, for now, is a second round pick at best. He's also your classic tweener between the 3 and 4 at the next level, which doesn't help things. And with there only being so many roster spots available — let alone rotation minutes — he may struggle to see the floor as a rookie, which could limit his opportunities going forward. (Second round picks traditionally have a hard time sticking in the league for long.) But time will tell on this sort of speculation.
Oladipo has the motor, athletic ability and defensive prowess. If he develops a jumper and continues to show he can get to the rim like few else, his chances of getting drafted increase. Like Watford, projecting just what type of player Oladipo could be in the NBA is tough because he's not a lottery lock like Zeller. But it's not out of the question Oladipo could contribute off the bench in an energy scoring role without giving up much on the defensive end if he continues to improve and gets in the right system if drafted.
@Earnest_0 writes: With the recent high out-of-state interest in IU, will in-state recruits still play a key role in the future of IU's program?
Alex Bozich: In state recruits will continue to play a key role in the future of IU's program. The talent in the state is good enough to compete at a high level year in and year out. But I think sometimes fans can get too caught up in the belief that it's always better to take an Indiana kid.
A prime example was the 2010 recruiting class. After Victor Oladipo and Will Sheehey committed, there were some who wondered why Indiana hadn't recruited the state harder for that class. Looking back on that situation now and comparing some of the available players from the state to Oladipo and Sheehey, it's clear the staff made the correct decision in their pursuit of both players.
Moving forward, I think you'll continue to see a mix of the top players from Indiana with some national recruits sprinkled in. As the program continues to become more appealing to top players from around the country, Indiana should and will pursue many of those kids because that's what's necessary to compete at the highest level of college basketball.
@PNorris11 writes: What role do you see Maurice Creek playing for this year's team?
Justin Albers: That seems to be the question everyone wants answered. Obviously, it will depend a lot on his health. Creek has yet to prove he can remain healthy for an entire season so, fair or not, that will always enter the conversation.
But if Creek can stay healthy, he could be an important piece for this team. He's not going to start, but he could be a useful shooter off
the bench that can spread the floor and also occasionally create off the dribble. I see him having a little more than a Matt Roth role from last year simply because he's more than just a shooter. While it's true that Creek's primary job on this year's team will be to knock down open perimeter shots, it's not out of the realm of possibility that he could get to the basket, draw defenders and either score or kick it out. I would think Creek will get somewhere in the neighborhood of 15 minutes per game.
Brian Workman writes: How well is Jurkin coming along and how much time should we expect to see him on the floor cause I think he could really be a force blocking shots and rebounding and will he play any with CZ on the floor?
Alex Bozich: Everyone I've talked to believes Peter Jurkin has really done a solid job since arriving on campus in June. At last week's media challenge we didn't get a chance to see him in any live action, but he was out on the court at one point working on some moves around the basket and was really finishing nicely. He also looked much stronger in his upper body since I last saw him a couple of summers ago on the AAU circuit.
Derek Elston, one of Jurkin's mentors this season, was very complimentary in his assessment of his work ethic and said his hands have really improved over the summer. As far as potential playing time goes, much of that will depend on how ready he is to contribute at a high level once the games begin. In previous years, he's probably a guy who would have been thrown out there quite a bit just because Indiana wasn't very deep up front. This year, his role is likely going to be determined by whether or not he can do the two things you mentioned: rebound and block shots. If he can, he has a chance to make the rotation. If not, he's going to learn in practice and also get some experience in the non-conference portion of the season.
Filed to: Twitter Mailbag