Visit to Indiana makes an impression on five-star Pinson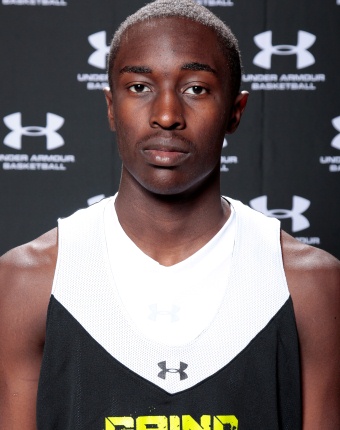 ALEXANDRIA, Va. – Theo Pinson is a consensus top-25 player nationally in the 2014 class, and he showed why at the Nike Global Challenge.
The 6-foot-6 small forward did just about everything while leading the USA East team to a 2-2 record.
He shot well from beyond the arc, drove hard to the rim in half-court sets and showed his athleticism by dunking in nearly every game.
Pinson, who plays at Wesleyan Christian Academy in Greensboro, North Carolina, was also one of the event's top defensive players and often guarded the opposition's best scorer.
He said focusing on the basics and using his 6-10 wingspan have helped him become a better defender.
"Just keeping my man in front of me (is a key)," Pinson said. "Help defense is important. I've been working on that. The college coaches told me to use my wingspan to stay in front of people. Deflections, they take note of that in college. Having that at a young age is good right now."
In four games at the Global Challenge, he averaged 15 points and seven rebounds.
He told Inside The Hall that the schools pursuing him the hardest at this point are "probably Alabama, Georgetown, Indiana, North Carolina, Florida State, Baylor, Louisville, Ohio State."
But while he's obviously being looked at by most of the nation's best, his face lit up with a question about his recent unofficial visit to Bloomington in early June.
"I liked it. It was different from all my other visits," Pinson said. "I can't really explain how it was different, but it just felt different. It's probably because the tradition there is so high. Coach (Tom) Crean, he's a really good guy.
"It was worth going, I can say that."
Pinson said he saw Assembly Hall, Cook Hall, Memorial Stadium, locker rooms and academic buildings when he was on campus in early June.
He spoke with Jordan Hulls and Maurice Creek, though only briefly because they were working out at the time. He also mentioned talking to Victor Oladipo at the Chris Paul Elite Guard camp last month.
Pinson currently has no visits planned or a timetable for any decision. He does, however, know exactly what he is looking for in a college.
"When I get on campus, I want the relationship with the coaches – the head coach, mainly – to be the same from when they were recruiting me," Pinson said. "Fan support, academics of course and just having a family environment around the team."
More from the Nike Global Challenge:
· Indiana "still pretty high" on Marcus Lee's list
· Indiana making a push for 2013 center Kennedy Meeks
· Indiana likely to receive one of Anya's five official visits
(Photo credit: UnderArmour.com)
Filed to: Theo Pinson