Indiana "still pretty high" on Marcus Lee's list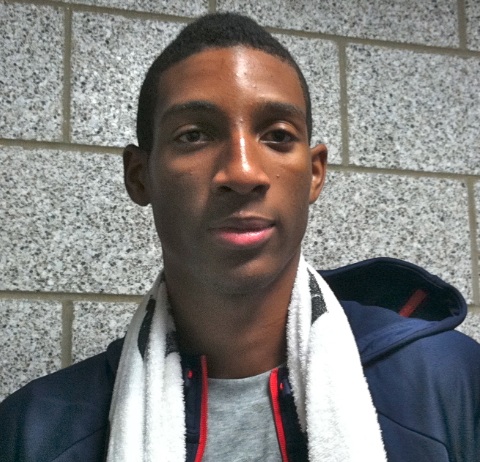 ALEXANDRIA, Va. – Last month at the NBPA Top 100 Camp, Marcus Lee (Antioch, Calif.) was largely ineffective in games due to a hip injury.
The 6-foot-9 power forward couldn't run the floor with his typical explosiveness and had problems beating defenders to the basket.
This past weekend at the Nike Global Challenge, though, was different.
A healthy Lee finished well in transition and in the post, despite his relatively thin stature. Lee also was arguably the tournament's top shot blocker.
His USA West team finished the three-day event 3-1 as he averaged 12.5 points, 8.8 rebounds and 3.0 blocks per game.
Lee has offers from nearly every major program in the country, including Indiana, but wouldn't name the schools pursuing him hardest at this point.
He plans to "narrow it down to seven in the next two weeks."
"Right now they are pretty much the same," Lee said. "I'm not really looking at schools, just trying to play basketball."
With that said, expect Indiana to make the cut.
He spoke with Tom Crean two days ago and added how much he enjoys watching the team play.
"They are still pretty high on my list," Lee said. "I still talk to their coaches. I'm just trying to learn more."
More from the Nike Global Challenge:
· Indiana making a push for 2013 center Kennedy Meeks
· Indiana likely to receive one of Anya's five official visits
Filed to: Marcus Lee