The Inside the Hall Mailbag: June 27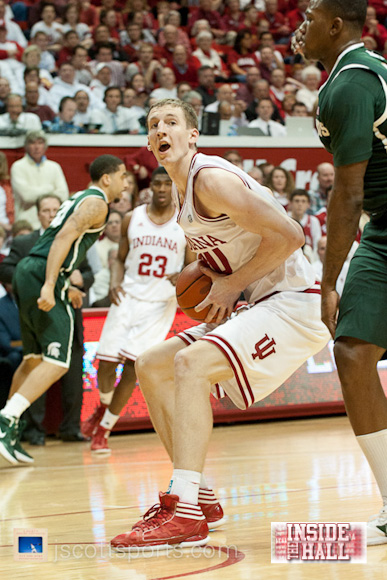 The Inside the Hall Mailbag is a collection of questions tweeted to us via Twitter (@insidethehall) and sent to us via our Facebook page. Submit your questions and we'll answer as many as we can.
@AdamPacmanB writes: Do you think IU has been overrated this preseason? Would they be a preseason top 5 if they lost to VCU?
Alex Bozich: No. They return all five starters (not including Verdell Jones) from a team that beat the eventual national champion, two other top five teams and reached the Sweet 16.
They could be slightly lower if they lost to VCU, but since they didn't, they're being judged by their body of work last season (which was impressive), the talent returning and a nice influx of talent. Top five seems perfectly logical.
@fakejho writes: where is iu with trevon blueitt? He seems to be picking up a lot of new offers
Alex Bozich: Bluiett is doing his due diligence with the process and you're right, his collection of offers is continuing to grow. Michigan is the latest school to offer the Park Tudor junior and the Wolverines join IU, Florida, Illinois, Purdue, Xavier, IUPUI, Virginia, Kansas State, Louisville and Notre Dame.
Our last Bluiett update still had the Hoosiers in a favorable position, but he stopped short of naming a leader. Indiana was his first offer, but it's clear that Bluiett isn't going to be rushed into a decision before he's ready.
@jayrigdon5 writes: Over/under 4.5 future NBA draftees on IU's roster next year. Zeller/Watford seem safe. Thoughts on prospects of others?
Alex Bozich: That's a tough question. Christian Watford and Victor Oladipo could certainly be drafted as could several of the incoming freshmen down the line. As it currently stands, Zeller is the only lock on the roster. For the sake of not ducking your question, I'll go over.
@HOMEGROWN_IUBB writes: Any idea when the B1G will release the single play schedule for men's basketball?
Alex Bozich: The single plays should be flipped for next season, so Indiana will likely get Illinois and Northwestern on the road only and Nebraska and Wisconsin at home only.
The complete Big Ten schedule is typically released in August or early September.
@d_fall83 writes: can you summarize the non con games scheduled to date & what do you think we can expect to fill out the rest of the schedule?
Alex Bozich: This information is maintained on our future schedules page, but here's what is known for next season's non-conference slate:
· Legends Classic at Barclays Center
– Dates: November 19, 20
– Teams: UCLA, Georgetown, Georgia
– Other teams who may play IU at Assembly Hall before games at Barclays incude: Duquesne, North Dakota State, James Madison, Liberty, UC Irvine, Sam Houston. (Source)
· vs. Ball State on Nov. 25 (Source)
· Big Ten-ACC Challenge: vs. North Carolina on Nov. 27
· Crossroads Classic: vs. Butler at Bankers Life Fieldhouse on Dec. 15
Beyond those games, barring an unforeseen change in direction from when Tom Crean addressed the media a couple of weeks ago at Huber Farms, I wouldn't expect another marquee opponent to be added for next season.
@lybarger602 writes: with Roth and VJ3 gone, does IU have enough consistent outside shooters to stretch the defense and keep them honest?
Alex Bozich: Perimeter shooting shouldn't be much of a problem for this group. Jordan Hulls (49.3 percent from 3) and Watford (43.7) led the team in made 3's last season and Derek Elston and Will Sheehey are also capable of hitting open looks from the perimeter.
As good of a shooter as Roth was, he had difficulty getting his shot off against some of the better teams on the schedule. His three double digit scoring games were UMBC, Penn State and Iowa and he scored a total of three points in the NCAA Tournament.
@jasonwehlage writes: explain summer coaching rule…2hrs/ week only individual instruction or can multiple players b involved in drills same time?
Alex Bozich: You can read the complete details here, but it's eight hours per week (for eight weeks) of which no more than two hours can involve skill-related instruction.
@Paytodd1 writes: what r the odds that Matt Roth is with the team this year?
Alex Bozich: A search of the student directory shows that Roth is not enrolled in classes this summer so the odds are not good. Roth's status for next season has been a frequent question, but given IU's scholarship crunch and the fact that he went through senior night in March, his return for a fifth season never seemed likely.
Nick Wilson writes: If you had to speculate a possible starting lineup, what would it be?
Alex Bozich: By the start of Big Ten play, Zeller, Watford, Oladipo, Hulls and Yogi Ferrell with Sheehey as the first man off the bench.
@hoopstrainer writes: If you had to describe Coach Crean's recruiting strategy how would you describe it?
Alex Bozich: Relentless and wide-spread. He never stops recruiting. As much of an emphasis as he's placed on the state of Indiana, he's also done a very good job going elsewhere to find talent like Watford, Oladipo, Maurice Creek and Sheehey. That's continued in future classes with Luke Fischer and Stanford Robinson.
I believe you'll continue to see a heavy emphasis on landing the top players from Indiana and a continued push to land more national recruits as well.
Chris Harder writes: What's the most we can hope for mo creek??
Alex Bozich: Hopes have been high for Creek in his first two attempted returns from significant injuries, so this is a difficult question. Anyone who follows the program (or college basketball for that matter) is rooting for a return to the form of his freshman season, but is that a realistic expectation to place on Creek? Probably not. A return to a spot in the rotation this season would be one of the more uplifting stories for the program in recent memory and that's probably a good place to start.
Filed to: Twitter Mailbag