2013 Detroit guard E.C. Matthews hearing from Hoosiers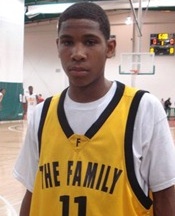 FORT WAYNE, Ind. — Indiana's revamped recruiting efforts for their 2013 class have resulted in several new names surfacing recently and E.C. Matthews, a 6-4 guard from Detroit's Romulus High School, now has the Hoosiers among his list of schools.
Matthews talked about the new interest from Indiana following a pool play game on Saturday at the Spiece Fieldhouse at the 2012 Bill Hensley Memorial Run-N-Slam Classic.
"Well my coach had informed me that they were coming to one of my open gyms at my high school and I was kind of shocked at first because I didn't think they knew me," he told Inside the Hall. "When he (Coach Crean) came, I just played my game and they said they were going to start following me. In Virginia, they were down there watching me play and were pleased with it."
Matthews averaged 19.8 points and 4.0 rebounds per game for The Family at the second Nike EYBL session in Hampton, Virginia and picked up offers from Arizona and Iowa shortly after.
He mentioned USC, DePaul, North Carolina State, Oregon, UNLV, Rhode Island, Nebraska and Mississippi as some of the other schools involved in his recruitment.
Although he's heading into the summer before his senior year, Matthews is still very much early in the process.
"I'm just taking my time," he said. "It's an important process. I've got to go to the right school for the right reasons."
Style of play was mentioned as a factor by the Detroit native, who is a lefty that likes to get out in transition and is most effective scoring off the dribble.
"I like teams that like to run. That's one of my strong suits," Matthews said. "I love pick-and-roll. My shot wasn't falling today, but when my shot's falling, I'm pretty hard to guard."
Matthews, the No. 74 player nationally according to Scout.com, said he hopes to take an unofficial visit to Bloomington soon and heard from Indiana as recently as a week ago.
"They called me about a week ago and told me they liked the way I play and that they were going to be recruiting me," he said.
—
A couple of scouting videos of Matthews from his junior season at Romulus via UMHoops.com and PrepHoopsTV:
Filed to: E.C. Matthews