Notebook: Hensley Memorial Run-N-Slam Day 1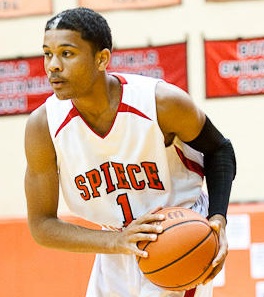 FORT WAYNE, Ind. — The 19th annual Bill Hensley Memorial Run-N-Slam Classic tipped off Friday night and Inside the Hall was there to get our first look of the spring at Trey Lyles, Jaquan Lyle and Trevon Bluiett as well as check in on a new 2014 name on the recruiting radar.
Here are our notes and observations from the opening night in Fort Wayne:
Blackmon on the road to recovery: Class of 2014 Indiana commit James Blackmon Jr., who tore his ACL on Feb. 7, told us that he is currently rehabbing three to four times a week, and is about two weeks away from doing running and jumping exercises.
Blackmon said that his rehab activities range from doing weight training to pool exercises, and also noted that he's roughly a month away from returning to non-contact basketball activities. He noted that he intends to be ready for the start of his junior season at Bishop Luers.
Bluiett taking his time: Trevon Bluiett, who landed an offer from Indiana in the fall of 2010, said that he doesn't plan to make a commitment until sometime around the start of his senior year of high school.
The 6-foot-5 sophomore said he has heard from Indiana often in recent weeks, as well as Florida, Notre Dame, Purdue, Michigan, Michigan State and Ohio State. He scored 12 points in a 108-67 Spiece Indy Heat win over I-90 Elite.
Bluiett indicated that he expects to receive an offer from Michigan on the coaches association recommended contact date of June 15th.
Lyle picks up new offer: Jaquan Lyle told us he picked up an offer on Friday from Providence and added that he hopes to take an unofficial visit to Kentucky soon. The Evansville Bosse sophomore had 13 points, three assists and two rebounds in a win over I-90 Elite.
Harris injured, but planning IU visit: Malek Harris, a 2014 forward from Sandburg High School in Orland Park, Illinois, told us he's planning to take an unofficial visit to Bloomington later this month.
Indiana began recruiting the 6-foot-7 Harris after the Nike Spring Showdown in April. He's already got offers from DePaul, Iowa, Miami (OH) and interest from Purdue, Illinois, Louisville and Nebraska.
Indiana offers top 2014 prospect: Per multiple reports, including this one from Evan Daniels of Scout.com, Tom Crean talked with 2014 forward Noah Vonleh on Friday night and offered a scholarship to the five-star prospect. Vonleh was also offered by North Carolina this week.
Robinson planning unofficial visit: 2013 Team Takeover and Paul VI guard Stanford Robinson confirmed to us on Friday night via text message that he'll take an unofficial visit to Bloomington on May 14.
Alex Bozich and Joe Eberhardt contributed to this report.
Filed to: James Blackmon Jr., Jaquan Lyle, Malek Harris, Trevon Bluiett