Jabari Parker has high praise for IU commit Lyles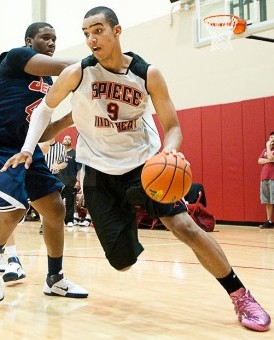 FORT WAYNE, Ind. — As the consensus No. 1 player in the class of 2013, Chicago Simeon and Mac Irvin Fire forward Jabari Parker gets the best shot from his competition every night in high school and AAU play.
That was certainly the case on Saturday morning at Spiece Fieldhouse as the Parker-led Mac Irvin Fire squared off with Trey Lyles and Spiece Indy Heat in the marquee pool play matchup of the 2012 Bill Hensley Memorial Run-N-Slam Classic.
Parker's game-high 23 points were too much for Indy Heat to overcome as Mac Irvin prevailed 70-58, but afterward Parker delivered a glowing endorsement for the future IU forward.
"The guy is so deceptive," Parker told Inside the Hall of Lyles. "He can play out on the perimeter and also in the post. So that makes him so special at his size, being so big, because he's so versatile."
Saturday morning's meeting between Lyles and Parker isn't the first time the two have crossed paths.
They've been on the court together before for USA Basketball and also at last October's John Lucas Camp in Louisville. As Lyles continues to develop his game, Parker sees just one peer who is a comparable at his size.
"Just one other guy, Julius Randle from my class, that's all," Parker said. "The 6-9 position is so dangerous because they have height, but can also put the ball on the floor. So that makes it scary for those guys that they have to play against."
Lyles finished with 13 points against a Mac Irvin Fire frontline that included Parker, Jahlil Okafor (No. 2 nationally in 2014) and Tommy Hamilton (No. 42 nationally in 2013).
Lyles' high school coach at Indianapolis Tech, Jason Delaney, said Saturday he believed the opportunity to play against a talent like Parker will only drive Lyles to become even better.
"In Indiana, it's hard because we have the 300 mile rule that we can't travel outside of," Delaney said. "So trying to get a Chicago Simeon or Whitney Young to come play us is difficult at times. So we don't always get to play against the national players. The AAU setting gives him a chance to play against those players and see where he is right now and compete at that high level. That's the great thing about what he gets to do right here."
Lyles, who said he was disappointed with Indy Heat's effort on defense against Mac Irvin Fire, was appreciative of Parker's praise.
"It just shows that you're up there with the elite guys and that you can play with anybody," he said. "It's a good measuring stick (playing against Parker). We go hard at each other every time we play and really just challenge each other to play at our best. It's good competition."
Filed to: Jabari Parker, Trey Lyles