Fischer's game continues to develop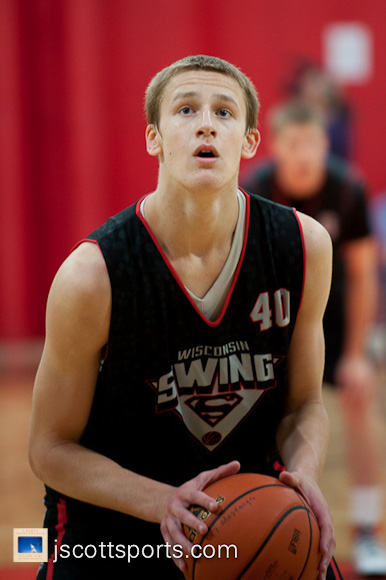 The game wasn't even a minute old, and Luke Fischer was already making an impact.
After one of his Wisconsin Swing teammates missed an outside shot, Fischer rebounded it and got to the line. A couple of possessions later, he got a layup. Then a tip-in. Then a three-point play, a dunk on a fast break, and a tip in on the break. Seemingly every time Swing had the ball, Fischer was involved.
A fan sitting nearby in the bleachers turned to me.
"Hey," he said. "How many does that Fischer kid have?"
He had everybody's attention. Casual observers wandered over to the purple court at the Fishers Fieldhouse to watch the 6-10 Indiana commit in action. Indiana fans talked with each other about what it could be like if Fischer and Cody Zeller play on the same front line together.
Fischer dominated against an Illinois Old School team without a guy big enough to contend with him. He exploded for 32 points and 10 rebounds in a first-round game of the adidas Spring Classic last weekend, converting 10-of-11 shots from the field and all 12 of his shots from the line. Twelve of Fischer's points came on offensive rebounds.
"It's really nice having a big guy like that," said Swing teammate Bronson Koenig, a Wisconsin commit. "If I get in trouble when I get in the lane and his guy comes to me, I can just dish it off to him. He's dependable. I know he's either going to finish it with a layup or a dunk, so it's pretty nice. And he can block shots, too."
Fischer, a Germantown, Wisc. native, committed to play for Indiana on Jan. 1 after watching the Hoosiers knock off No. 2 Ohio State the night before.
Since then, he helped his high school team win a state championship, and was a big part of Swing winning the adidas Spring Classic title last Sunday. He's improving his individual game in a number of areas but, perhaps even more importantly, he's learning what it feels like to win the ultimate prize.
"The excitement in the run that we made during the season was good for him because it gave him confidence that he can do a lot of things," said Germantown High School coach Steve Showalter, who was at the Fieldhouse to watch Fischer. "He's getting better all the time."
Some of the areas in which Fischer's getting better, according to Showalter, include his strength and toughness. Fischer is still fairly skinny for his 6-10 frame, but he's starting to grow into his body. One of Fischer's greatest strengths, much like Zeller's, is his ability to run the floor and finish on the fast break.
Still, though, there's plenty of room for improvement.
"He's got to get the toughness where he can finish with contact," Showalter said. "That's one thing we work on the most with him. Even when you get fouled, you still have to make the basket and finish at the rim through contact. He has a tendency to kind of fall back when someone hits him. He needs to finish through that stuff."
When Fischer and Swing played against Indiana commit Devin Davis and the Eric Gordon All Stars, Fischer struggled. He was guarded by North Central's Darius Latham, a shorter but much stronger defender. Latham used his leverage to push Fischer away from the basket, and the Eric Gordon All Stars regularly brought a second defender when he caught it.
In a way, Fischer's four-point, three-rebound performance resembled Zeller's first game against Michigan State last season. Like Fischer, Zeller was guarded by a shorter, stronger defender in Derrick Nix, and he struggled with the physicality.
"Those are the guys I hate when they guard me," Fischer said after Swing's win against the Eric Gordon All Stars. "They can always get lower and stuff. You've just got to work harder. Usually those are the games where you don't get your points, but you've just got to do everything else to help your team out."
When Fischer returns to Germantown for his senior season, he'll likely be forced to become the team's leader. Germantown graduated nine seniors from its state championship team, putting even greater pressure and expectations on Fischer.
Showalter, who's son Zak was the team leader last season, believes Fisher is ready for his expanded role.
"He's not real vocal, he's not a real rah-rah guy, but he leads by example and he plays hard all the time," Showalter said. "When he gets down [to Indiana], that will help him take on that role [for IU]."
Related:
– HD Video: Luke Fischer adidas Spring Classic highlights (April 30, 2012)
– Fischer helps lead Swing to adidas Spring Classic title (April 30, 2012)
– HD Video: Davis, Fischer square off at Spring Classic (April 29, 2012)
– Fischer and Swing knock off Davis, Eric Gordon All-Stars (April 29, 2012)
Filed to: Luke Fischer