Fischer helps lead Swing to adidas Spring Classic title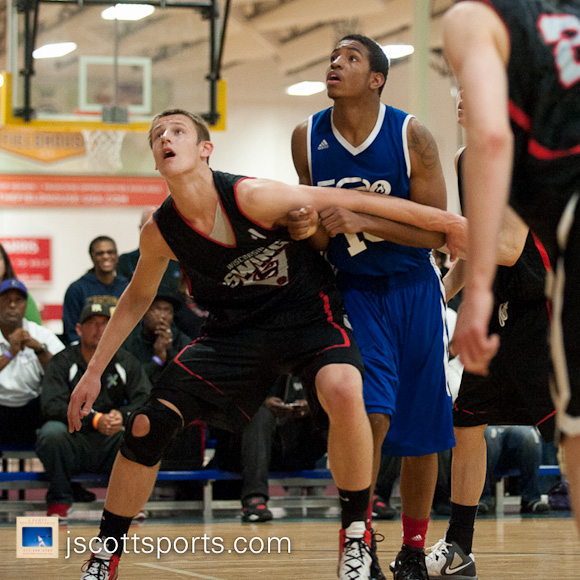 Inside the Hall continued our spring AAU coverage over the weekend at the adidas Spring Classic at the Fishers Fieldhouse and Fishers High School. The weekend was highlighted by 2013 commits Devin Davis and Luke Fischer, who were both tracked by interim assistant coach Calbert Cheaney and Tom Crean.
Here's a detailed look at the five prospects we tracked over the weekend:
Class of 2013
Devin Davis, PF/SF, Eric Gordon All-Stars: There's no question Davis has the potential to be a very good player at the college level. He has supreme athleticism, he's strong, and he has a good understanding of the game. Davis is also usually good defensively, but he tends to pick up a dumb foul or two during the course of the game.
Davis is at his best when he's taking the ball to the basket. His ball-handling skills are strong enough that he can grab a defensive rebound and race the ball back to the other end on a fast break. During the weekend's adidas Classic, Davis scored a good portion of his points on coast-to-coast layups. His moves to the basket are both strong and quick, and he's an above-average finisher when he gets there.
The only thing really lacking from Davis' game is a consistent jump shot. If he could develop a mid-range game to go along with what he already has, Davis could be a nightmare to deal with by the time he arrives in Bloomington.
Luke Fischer, PF/C, Wisconsin Swing: This was our first time seeing Fischer in person since July of 2011 and it quickly became apparent that his game has grown tremendously in nine months. With Wisconsin commit Bronson Koenig handling the ball on the perimeter, Fischer caught the ball in position to score regularly and was efficient in doing so.
He showed an ability to finish with both hands and his improved left hand is a result of a broken right hand suffered during the high school season. Fischer also finished well through contact and was effective in blocking shots without fouling. His footwork and hands are both very sound.
Fischer must continue to work on becoming more explosive around the basket and gaining upper body strength. With another year in the weight room before he arrives in Bloomington, he should be able to make significant gains that will allow him to contribute from day one.
Monte Morris, PG/SG, Michigan Mustangs: Morris' greatest strength is his passing ability. The 6-1, 175-pound guard is good at getting into the lane and finding open cutters or shooters. He's not a great outside shooter at this point, but he's best when he's pulling up on the fast break. His ball handling is usually solid, but he occasionally has a mental lapse and dribbles into trouble. Morris is used to having the ball in his hands and seems to lead well from the point guard position.
Morris' shot selection was questionable at times this weekend, especially on the drive. He tends to get caught in no-man's land, where he's forced to shoot an off-balanced runner. This would be okay if he made the shots, but he didn't in the games we saw. Morris also needs to improve his upper body strength.
Class of 2015
Chandler White, SG, Indiana Elite Team Indiana: White is one of more physically developed guards you'll see at this point in the 2015 class which allows him to finish well around the basket against overmatched defenders. He scored around the basket both off transition and in the half court with either hand. When he didn't have a opening, he looked to get teammates involved.
In a Saturday pool play game, White was effective from the perimeter as he knocked down shots off the dribble and the pass. As his peers begin to match his physical traits, White will need to continue developing a mid-range game and improve upon his defense to remain one of the best Indiana guards in 2015.
Hyron Edwards, PG, Indiana Elite Team Indiana: Edwards was unstoppable in a Saturday pool play game and did just about anything he wanted with the ball. He's an excellent ball handler and passer who is difficult to stay in front of because of his exceptional quickness. When he wasn't setting up teammates for easy looks, Edwards was scoring off of spin moves in the lane and dunking in transition.
Because of his size, he'll likely draw comparisons to former Purdue guard Lewis Jackson and incoming IU point guard Kevin "Yogi" Ferrell. His perimeter shot is still a work in progress and he needs to continue getting stronger. But it's clear Edwards is one of the best guards in the state already.
Alex Bozich and Justin Albers contributed to this report.
Filed to: Chandler White, Devin Davis, Hyron Edwards, Luke Fischer, Monte Morris