Fischer and Swing knock off Davis, Eric Gordon All-Stars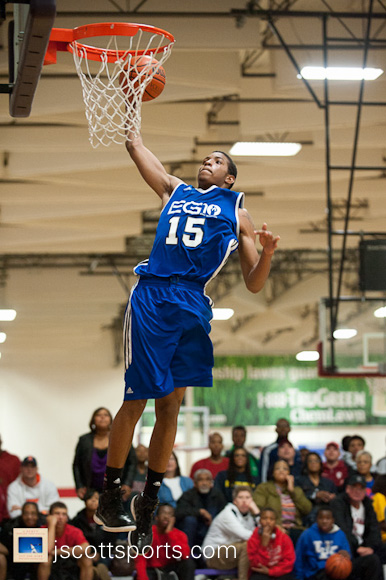 FISHERS, Ind. — Devin Davis and Luke Fischer stepped on the court together for the first time Sunday morning. In fact, this weekend was the first time the two future teammates had ever met.
When the final buzzer sounded, it was Fischer and his Wisconsin Swing team who pulled off a 70-67 win over Davis' Eric Gordon All-Stars team in the Super Group semifinals of adidas Spring Classic.
The loss snapped a two-tournament winning streak for the 17-and-under Gordon team.
"It was a real good game. Third straight time we're in a championship game," Fischer said of the win. "We just beat a real good team."
Swing led by as many as 16 points in the first half, but the Eric Gordon All-Stars roared back behind the perimeter shooting of Michigan commit Zak Irvin, who finished with 23 points.
The difference in the second half, according to Davis, was improved communication on the defensive end.
"First half, our defense wasn't great. We weren't talking," he said. "We just had to fix some things and ended up coming back, but fell short."
The Eric Gordon All-Stars had a chance to tie the game in the closing seconds, but an off-balance 3-point attempt by Davis fell short.
Statistically, both Davis, who suffered a nose injury after being hit with an elbow late in the second half, and Fischer were quiet. Davis scored all nine of his points in the second half. He also had two rebounds and two blocks.
Fischer scored all four of his points in the first half and added three blocks and two rebounds. Wisconsin commit Bronson Koenig led Swing with 22 points.
"I think our big guy played really good defense against him," Davis said of Fischer. "He's a pretty good player."
Fischer also had praise for Davis, who will join him in the fall of 2013 in Bloomington.
"He's a good player," he said. "Looking forward to playing with him in the future."
Filed to: Devin Davis, Luke Fischer