Recruiting Roundup: Nike EYBL Hampton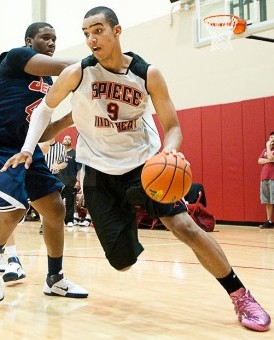 This weekend marked the second of two April evaluation periods, and the nation's top event was session two of the Nike Elite Youth Basketball League (EYBL) in Hampton, Virginia. Tom Crean and assistants Steve McClain and Tim Buckley were on hand at different points throughout the weekend tracking various prospects.
Here's a rundown of how many of the names on the IU radar performed over the weekend:
· Trevon Bluiett, Spiece Indy Heat: It was an efficient scoring weekend for the Park Tudor junior-to-be as he averaged 15.4 points on 55.2 percent shooting from the field. Spiece went 4-1 on the weekend and Bluiett drew the praise of Rivals.com national analyst Eric Bossi:
The 6-foot-5 sophomore isn't the most athletic guy, he doesn't strike you as the best ball-handler or the most dangerous shooter. But, the guy has a commanding feel for the game and is a throwback player with a skill and craft-based game like Mark Aguirre and Adrian Dantley had back in their day. The guy produces at a high level and gets the job done.
Bluiett mentioned recent interest from Florida to Chris Fisher of 247Sports. Bluiett also told the NBE Basketball Report that Duke is his dream school while mentioning Indiana and Butler as the two schools recruiting him the hardest.
· Trey Lyles, Spiece Indy Heat: The 2014 IU commitment put up stellar numbers in Hampton — 12.6 points and 7.2 rebounds per game — and will likely begin next high school season as the best player in the state regardless of class. His play impressed the NBE Basketball Report:
Considering he stands 6'10" 230 pounds, Lyles' skill level is basically unfair. He has legit 3-point range, a strong handle, and a variety of moves on the block. Lyles is also an excellent rebounder using his wide frame to create space and eat up rebounds. Indiana will be able to feature him as a low post scorer very early in his Hoosier career.
· Jaquan Lyle, Spiece Indy Heat: Lyle didn't stand out in one category statistically in Hampton, but he continues to build a reputation as one of the best passers nationally in the 2014 class. He finished the weekend with averages of 5.6 points, 4.8 assists and 4.4 rebounds per game.
· Marcus Lee, California Supreme: Lee, who picked up three more offers over the weekend, may be the hottest recruit in the country right now. His numbers over the weekend (6.8 points, 5.3 rebounds per game) weren't gaudy, but they were enough to draw this heavy praise from Bossi:
While the 6-foot-9 big man from Antioch (Calif.) Deer Valley isn't putting up swollen numbers, the coaching crowds watching him have been gigantic as nearly every big-time program has offered. Thin and quick, he patrols the paint swatting shots, is an outstanding passer and shows plenty of promise as a scorer thanks to soft touch.
· Jordan Mathews, California Supreme: Mathews, a 6-3 guard and the son of UCLA assistant coach Phil Mathews, drew the attention of Crean according to Inside Indiana (premium link) and has growing interest in the Hoosiers. Mathews, a member of the 2013 class, averaged more than 16 points in session two.
· BeeJay Anya, Team Takeover: The imminent hiring of Kenny Johnson should further aid Indiana's pursuit of the DeMatha big man, who averaged 7.2 points, 3.8 rebounds and 1.4 blocks per game as Takeover finished the weekend 3-2. After speaking with Anya, Clint Jackson of the Duke and UNC Rivals sites tweeted that he believed the Hoosiers were strong with the DeMatha big man.
· Stanford Robinson, Team Takeover: After missing the first EYBL session in Minneapolis with a broken nose, Robinson returned to average 7.8 points on 43.2 percent shooting.
· Semilore Ojeleye, Mokan Elite: Another new name on the 2013 radar, Ojeleye was watched by Crean according to this Bossi tweet. The 6-6 small forward is a consensus top 40 player and he showed off his ability to knock down perimeter shots by hitting 18 of his 37 attempts from behind the 3-point line. He finished the weekend with averages of 17.8 points and 5.2 rebounds, but Mokan Elite went just 1-4.
(Photo credit: Jamie Owens)
Filed to: BeeJay Anya, Jaquan Lyle, Marcus Lee, Trevon Bluiett, Trey Lyles