The 2012-2013 schedule: What we know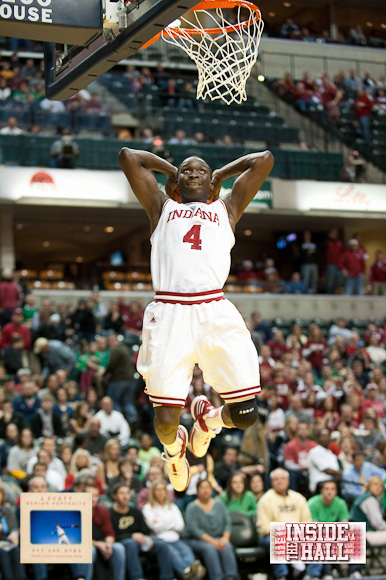 Indiana coach Tom Crean met with the media on Tuesday afternoon. He discussed several topics at length, including the 2012-2013 schedule.
While the complete slate won't be released until August or September, here's what we know so far:
· Close The Gap Crossroads Classic: IU's opponent will be Butler on Dec. 15 at Bankers Life Fieldhouse. Crean said Tuesday he expects the Bulldogs to be a top 20 or top 25 team.
· Legends Classic at the Barclays Center: The Hoosiers will face two of  three teams — either Georgetown, Georgia or UCLA — on Nov. 19-20 at the new Barclays Center in Brooklyn. The games at the Barclays Center will be preceded by home games from Nov. 11-15 at the campus sites of the four teams.
The Bruins should be a top 15 team, so it would make sense for IU and UCLA to meet on the second night of the event in Brooklyn.
· Kentucky game remains in limbo: Continuing the annual series with the Wildcats is still very much up in the air as Crean offered this update on Tuesday: "We have the Kentucky game which is still being talked about and worked on. It's not set in stone because as many of you know Kentucky doesn't want to play it on campus anymore. That is certainly not our first choice. Keeping it on campus is without a doubt our first choice, always has been since I've been here. Again when it was all said and done, to my knowledge, Kentucky was the one that moved it back to campuses before we came, to my knowledge, that's what I've been told. We've got that to play out."
If the two sides fail to come to an agreement, the Hoosiers have discussed a series with Kansas.
· No game with Louisville: Crean was asked about beginning a series with Louisville, which Rick Pitino expressed interest in last month in Portland, but that is not on the immediate horizon.
"This is not the first time of having a good team and sometimes when you walk down that road you start thinking well we need to this for scheduling and we need to do that for television," Crean said. "That's not how it works. The RPI is always going to take care of itself in this league. We want to do things that make sense. Now, I said all that to say this. It may very well make sense to do that, but it's not this year."
· Marquee game of the Big Ten-ACC Challenge? The matchups should be announced next month, but Crean named North Carolina and North Carolina State as two opponents Indiana could see in the Big Ten-ACC Challenge. Duke is due a home game after traveling to Ohio State last season, so the Blue Devils are unlikely. The Tar Heels and Wolfpack should both be top 15 and maybe even top 10 teams.
· Big Ten single plays: The conference schedule will again be 18 games with Indiana playing seven teams two times and four teams once. If the past is any precedent, the single plays should remain the same — Illinois, Nebraska, Northwestern and Wisconsin — with the venues changing. So the Hoosiers will host Nebraska and Wisconsin and will travel to Illinois and Northwestern.
Filed to: 2012-2013 Schedule