A look at Kentucky by the numbers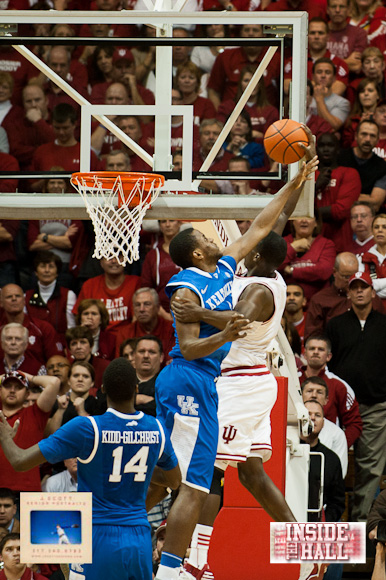 With an assist from KenPom, here's a look at where the Wildcats stack up on both sides of the ball:
OFFENSE:
With the way this team has been running over teams with dunks in the tournament so far, these numbers shouldn't come as much of a surprise. Kentucky's adjusted offensive efficiency (121.8 points per 100 possessions) ranks second in the country to Mizzou (125.5), who was bounced out of the first round of the tournament by Norfolk Sate. The Wildcats are also strong in the four factors. They rank 13th in eFG% (53.8), 20th in TO% (17.1), 19th in OR% (37.9) and 73rd in free throw rate (40.1).
It's a multi-faceted attack. Anthony Davis has improved his offensive repertoire since these teams first met, and can no longer be considered just a threat on the interior. Terrence Jones, whose size and power can intimate, likely isn't going to disappear in this one like he did in Bloomington. Michael Kidd-Gilchrist has a motor like few else in the country. Doron Lamb and Kyle Wiltjer can shoot. Marquis Teague, when under control, can break down the defense with penetration and score at the rim. Though the Wildcats have shown strength in transition, they play at a pretty average pace (65.7 possessions per game via adjusted tempo, 189th fastest in country).
DEFENSE:
Kentucky lost only two times this season because this team can get after it on defense, too. Their adjusted defensive efficiency (88.0) ranks ninth in the country. The Wildcats are tops in the nation in block% (21.0), 2-point shooting defense (39.3%) and eFG% (41.7%). (Davis' length has helped in these categories.) Though it's been a strength of the Hoosiers to get to line at a high rate, Kentucky has done an excellent job of keeping opponents off of it (20.0 defensive free throw rate, ninth).
If there's one knock on the Wildcats' D, it's that they aren't turning their opponents over much (17.8 DTO%, 293rd). This is quite a different look than VCU's "HAVOC" defense, which turned opponents over at the highest rate in the country and forced the Hoosiers into a season-high 22 turnovers. But with the way the Wildcats defend the rim, they still are one of the better defensive teams in the country.
POMEROY PREDICTION:
KenPom gives the Hoosiers a better shot than the current point spread (which is nine points), but has Kentucky prevailing 76-70. The Wildcats, who are ranked No. 2 by Pomeroy, only have the sixth highest win probability percentage of the eight favored Sweet 16 teams at 70. North Carolina (83%), Ohio State (81%), Kansas (79%) Michigan State (75%) and Baylor (71%) are all higher.
Filed to: 2012 NCAA Tournament, Kentucky Wildcats