Scouting New Mexico State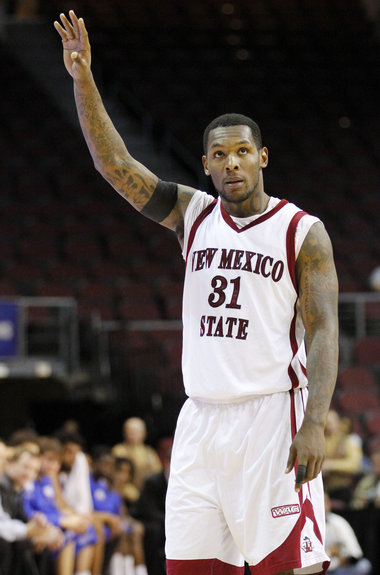 Record: 26-9 (10-4 WAC)
Against the NCAA tournament field: 1-3 (1-1 vs. New Mexico, 0-2 vs. Southern Miss)
Last time in field: 2009-10, lost in first round
How they got here: Won the WAC tournament championship by beating Louisiana Tech, 82-57
Coach: Marvin Menzies, a former assistant to Rick Pitino at Louisville. Menzies is in his fifth season as the head coach at New Mexico State. He recruited current Indiana guard Verdell Jones when he was with the Cardinals.
Player to Watch: Wendell McKines, 6-6, 230-pound forward. McKines, a fifth-year senior, is averaging 18.8 points and 10.8 rebounds per game and had 20 double-doubles this season. He's scored 20 or more points in 18 games, and he had a season high 28 in a loss to Arizona.
McKines isn't a great 3-point shooter (35 percent), but he does attempt a little more than four 3s a game. He attempts five free throws per contest, and is very much a volume shooter. Only twice this season did McKines attempt fewer than 10 shots in a game. He took 17 or more shots in nine games.
"Anybody who does this for a living knows the better players, and Wendell McKines is one of the better players, not only on the west coast but certainly in the country," said Indiana coach Tom Crean.
Why they're good: The Aggies like to get out and run, they get to the foul line (30 attempts per game), they rebound (sixth in the nation at 40.3 rebounds), and they score — a lot (78 points per contest). They're very much an up-tempo team, and they have seven players that average at least seven points a game.
They are not, however, a good outside shooting team. They shoot only 32.7 percent from 3-point range, and they made only 161 this season (about 4.5 per game). To compare, Indiana has made 211 and shoots 43 percent as a team from long distance.
"They have a couple things that stand out about them that make them really unique," Crean said. "Certainly it is something we are partial to because we work really hard to get to the foul line, but I can't remember a team that averages 30 free-throw attempts like they do. That is an incredible number.
"And they average almost 15 offensive rebounds, so they are relentless, aggressive. I've seem them over a period of time and they are a relentless team. An absolutely relentless team. They get guys that come from different parts of the country and they mesh into a very good team."
Filed to: New Mexico State Aggies