The Minute After: Wisconsin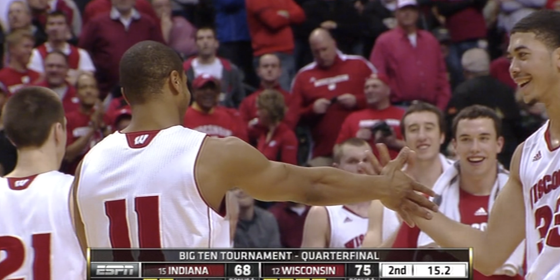 Thoughts on a 79-71 loss to the Badgers:
That was a tough, frustrating one.
Time and again in the second half, Indiana seemed on the verge of overtaking the Badgers — getting it to within a one-point deficit on three separate occasions — and well, it just didn't happen. Stops needed to be made. And Indiana just couldn't do it.
The Hoosiers were within 42-41 with 15:40 to go after Victor Oladipo split a pair of free throws. As the Hoosiers retained possession, Christian Watford turned the ball over. Rob Wilson — more on him later — hit a three. But Indiana was right there again rather soon. Back-to-back Jordan Hulls jumpers made it 48-47 with 13:04 left. Wilson hit a another three. Wisconsin advanced the lead to nine. But Indiana began to chip away. Hulls again was the man, connecting on a shot with a shooter's bounce to pull Indiana within one at 63-62 with 3:47 to go. It was there to be had. But Wisconsin didn't even need a possession to get points; a Cody Zeller foul of  Jared Berggren under the basket on Hulls' make allowed him to get to the line and hit two free throws. That was as close as Indiana would get the rest of the way.
Because then there was this: Wilson made a layup, assisted to Berggren on a dunk during that play where Zeller got crossed up on the flare screen, made another 3-pointer and a free throw during the final 3:47. He also grabbed an offensive board during a 1-and-1 situation where the Hoosiers were caught napping. Dude was just absolutely everywhere today. His seven 3-pointers were a Wisconsin record. After only scoring in double figures once this year — 11 in a loss at Iowa — and just 36 points his entire junior season he dropped 30 on the Hoosiers this afternoon. And Wilson wasn't the only one hitting from beyond the arc for the Badgers. The team finished 13-of-26 (50%). That's 39 points and just about half its scoring.
Indiana didn't play a bad game here, really. The Hoosiers shot well enough (52.0 eFG%) and got to the line and connected (18-of-22 for 81.8%, 43.1 FTR). They scored more in the paint (24-18) and with second-chance opportunities (11-8). Watford continues to play like a man on fire, achieving another double-double (17 points, 10 boards). Hulls was again difficult to contain (17 points on 7-of-10 shooting). But playing from behind against a Wisconsin team shooting the ball well is a tall task, as the Hoosiers found out today.
But alas, this is not the end of the road. A No. 3 seed may now be out of sight. But come Selection Sunday in just two days, the Hoosiers are likely to be awarded a No. 4 or No. 5 seed in the NCAA Tournament.
They'll get time to regroup and repair.
Fret not: There's more to come.
Filed to: Wisconsin Badgers