Film Session: Three keys plays
Indiana beat Michigan State on Tuesday night by matching the Spartans' physicality and registering several strong performances — Victor Oladipo's penetration, offensive rebounding, free throw rate and defense.
A look at an Oladipo score, a strong defensive stand against Draymond Green and two key offensive rebounds from the second half in the latest edition of Film Session.
1)
Here, Oladipo gets the ball up top from Christian Watford: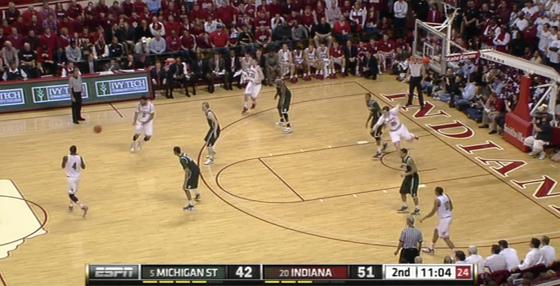 Tom Pritchard sets a great pick for him: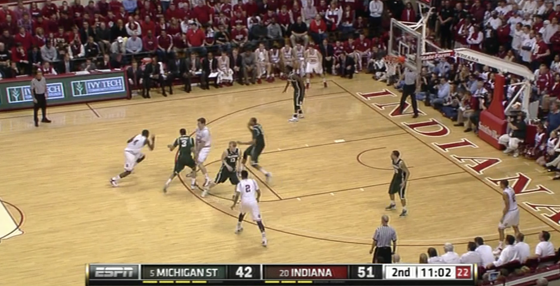 Oladipo cruises by Adreian Payne like he's standing still, and Draymond Green isn't able to shift over and get a body in front of Oladipo with Matt Roth in the corner: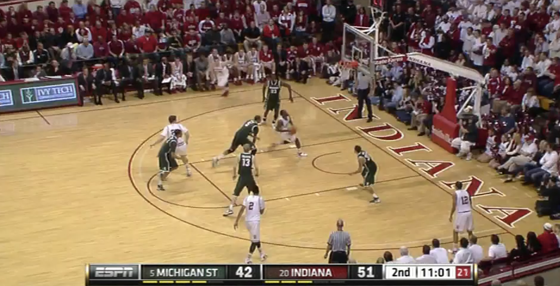 Which allows Oladipo to toss down an emphatic dunk with ease: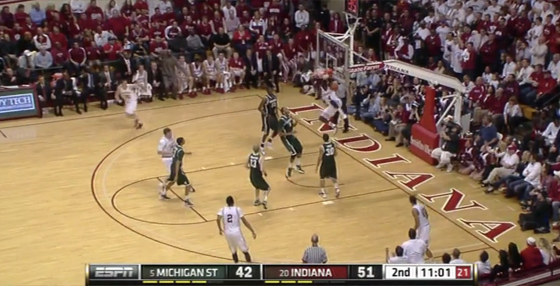 As noted on the broadcast, after Oladipo got to the rim at will in the first half, Michigan State tried to force him to use his left hand on penetration to slow him down a bit. He went left here. And still converted.
VIDEO:
2)
Draymond Green gets an entry pass on the left block: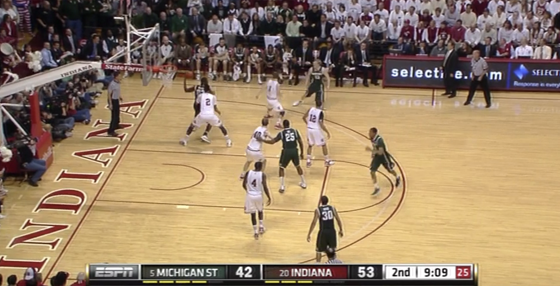 Watford gets a body into Green. He makes a move toward the basket. Watford is able to rise up and get a clean block on Green: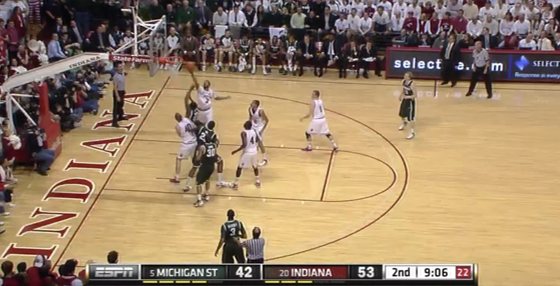 The ball makes its way out to Brandan Kearney, who quickly shoots: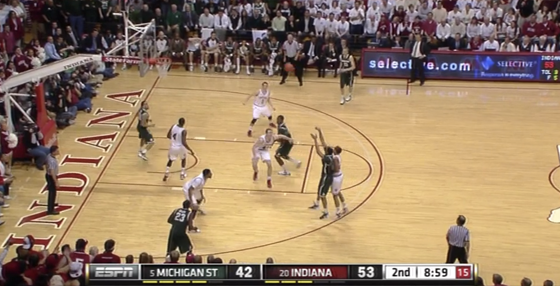 It's an air ball. But Michigan State recovers the ball again, and Green has it out on the right wing: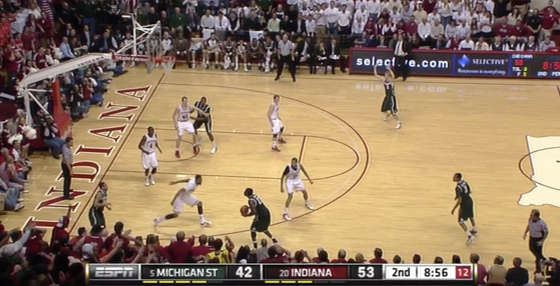 With the shot clock ticking towards single digits, Green decides to drive toward the hoop. Oladipo gets a hand in to disrupt: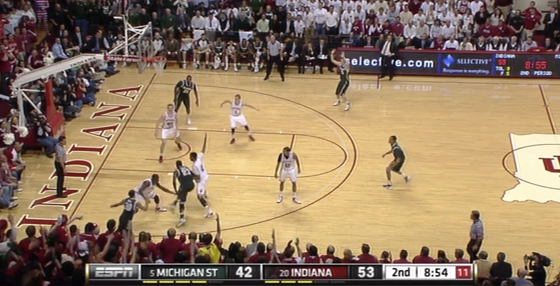 With Zeller meeting Green on the right block and him loosing control of the ball from the Oladipo swipe, he fumbles it out of bounds. Turnover. IU ball: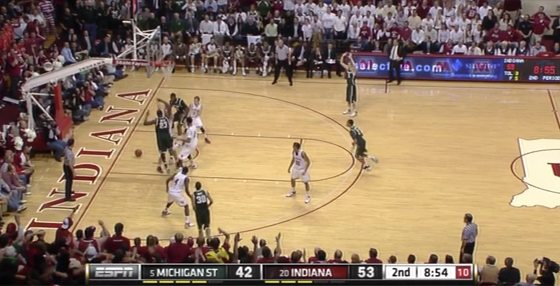 From this point out, Green only had one more field goal the rest of the contest. After shouldering much of the offensive load, this play points to the fact that he was wearing down a bit late in the second half. It probably would have been the smarter play for him to swing the ball or fire a skip pass to Austin Thornton, who you can see calling for the ball beyond the 3-point line.
VIDEO:
3)
Watford is able to out-jump both Green and Derrick Nix for an offensive rebound off a Zeller missed free throw: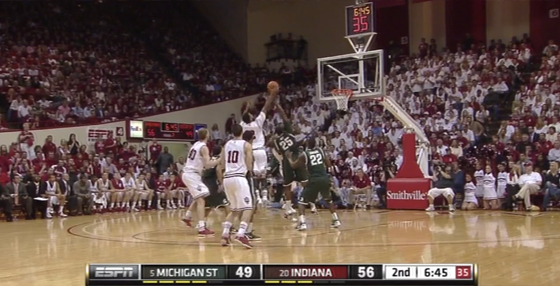 After burning up much of the shot clock, Will Sheehey gets a nice look near the free throw line with three seconds left to shoot: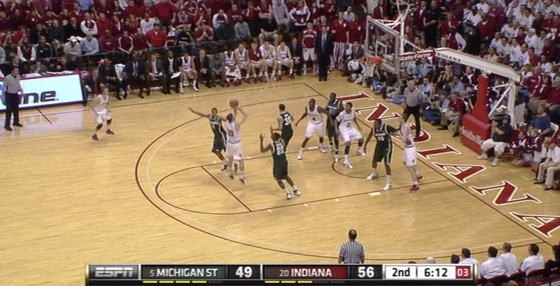 He misses. But Oladipo gets a hand on the rebound: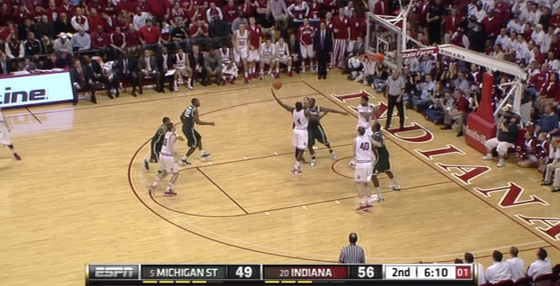 And it eventually finds its way to Zeller: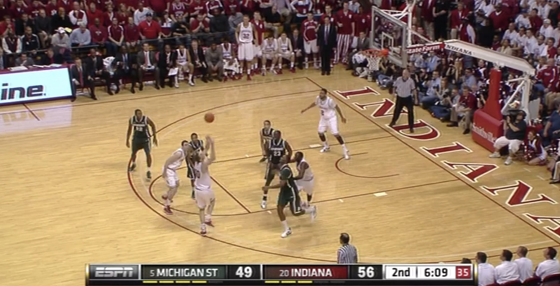 Who gives it up to Jordan Hulls: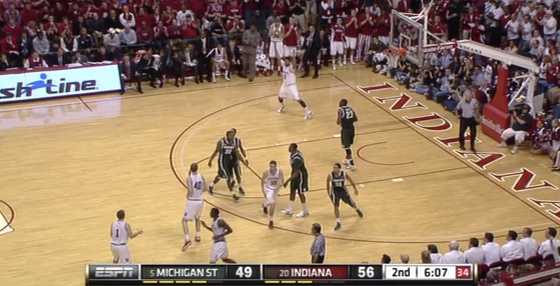 Hulls passes to Watford on the left wing — the "Wat Spot" — and he banks home a three: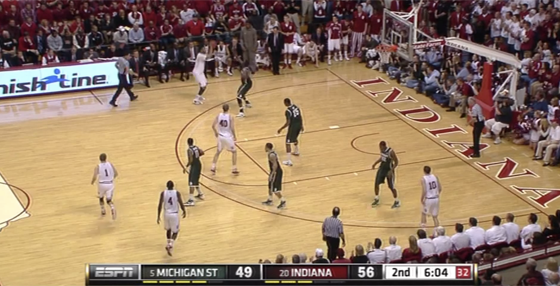 This pretty much broke Michigan State's back, and the win was secure from this point out.
VIDEO:
Filed to: Michigan State Spartans