The Minute After: North Carolina Central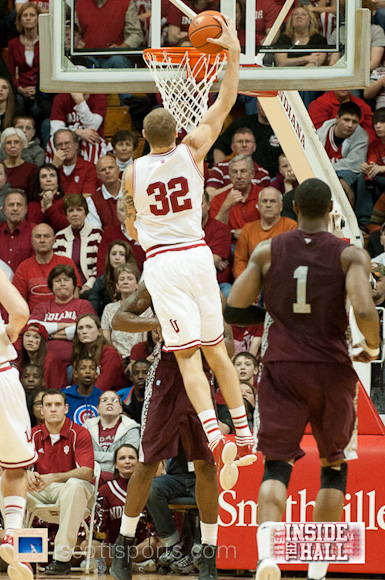 Thoughts on a 75-56 win against North Carolina Central:
What to make of this random game snuck deep into the heart of the Big Ten season?
Well, things felt different. Assembly Hall lacked its fever-pitch energy. And Indiana's play followed suit. It wasn't so much I'd qualify this as a poor performance. Far from it, in fact. Still, Indiana just never seemed to hit full throttle on either end of the floor for considerable lengths of time. The Hoosiers were often sloppy. North Carolina Central played tight man to man — sometimes full court, sometimes pressing Indiana just across the timeline in the first half. It disrupted the Hoosiers. By half, they'd turned the ball over on 24 percent of their possessions. But some strong shooting (62.1 eFG%) and offensive rebounding (61.5 OR%) made up for the miscues, and Indiana found itself  with a 13-point lead (39-26).
But it could (and maybe should) have been more.
Indiana was able to punch the lead out to 20 points at the 12:59 mark of the second half by taking it at North Carolina Central and getting to the foul line. The Hoosiers also turned it up a bit on D. But the lead sorta just sat there the rest of the night, bouncing somewhere between 17-24 the rest of the way out.
Individually, there were some positives. We saw a strong offensive outing from Will Sheehey. Since coming back from his ankle injury, the Florida native hasn't performed at the high level he was before he went down. Which is understandable and perhaps even expected. But against a less-talented opponent, Sheehey was able to get back into the swing of things with his offensive game. He went 6-0f-9 from the field and scored 12 points. Sheehey also snagged seven boards. He looked active.
Cody Zeller was Cody Zeller. Steady as a rock. Zeller also went 6-of-9 from the field, but added a 5-of-9 performance at the line — he was a frequent victim of fouls at the bucket — to finish the night with a team-high 17 points. Victor Oladipo continues to keep up his slashing ways. He scored 16 points on 5-of-8 shooting (5-of-6 from the line). Yet, he was erratic at times and registered three turnovers. (Jordan Hulls and Verdell Jones had three a piece as well.) Derek Elston had a nice night, scoring 10 points (3-of-5, 2-of-2 from the line). His made buckets were two 3-pointers and a strong second-half dunk, arguably the most emphatic of his Indiana career.
But Christian Watford is still slumping. The forward was 0-of-8 from the floor this evening. His only offensive output was two second-half free throws.  Hulls also remains a little quiet. He took only one 3-point shot all evening, but did finish 2-of-3 from the floor (five points).
These two veterans will be needed again shortly.
Because Sunday, it's back to the Big Ten. Back to the reality.
QUICKLY
+ Dominque Sutton lived up to expectations. Impressive array of moves. Finished with 21 points on 10-of-16 shooting. Four steals, too.
+ We hear a lot about Crean's relationship with the Harbaugh men. And seeing Jim Harbaugh literally become a staffer tonight was a sign these two have a bond and level of high respect for each other.
Filed to: North Carolina Central Eagles