The Minute After: Michigan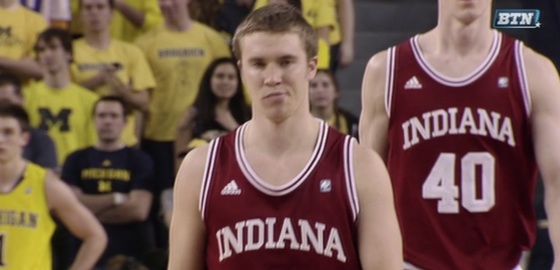 Thoughts on a 68-56 loss to the Wolverines:
Things did not start well in Ann Arbor this evening.
Indiana missed shots. It turned the ball over and allowed Michigan to have its way on offense. The Wolverines frustrated Cody Zeller down low. With 7:12 to go before half, the Hoosiers had only mustered eight points and were down 20. The road has not been kind to this team in Big Ten play. And here they were, struggling amidst the cheers of the opposing crowd once again. But Jordan Hulls came to play. He made threes; he made runners in the lane. And things began to settle. By half, the Hoosiers were (only) down 11 after turning the ball over on 29.9% of their possessions and lacking polish and poise for a long stretch before the break.
The second half began and Tom Crean made some changes. Out came Christian Watford from the starting lineup after only playing seven minutes in the first half. In came Derek Elston. In came Remy Abell for the injured Verdell Jones, Victor Oladipo for Will Sheehey. For the second straight game, Elston displayed how he's capable of performing when he brings energy and focus (nine points on 3-of-4 shooting, two rebounds). He was key in keeping this one close in the second half. And when Crean inserted Watford back into the lineup, he rose to what was surely a challenge from his coach. He guarded Trey Burke well for a stretch, using his size to disrupt him. Hulls kept scoring (18 points, 6-of-12, 4-of-5 from three). Tim Hardaway Jr. was mostly inefficient on the offensive end for Michigan. And this game was well within reach for the Hoosiers.
But as we've seen of late on the road, the home team has executed when it matters and the Hoosiers have fallen flat. So after Watford split a pair of free throw to pull the Hoosiers within two (52-50) with 2:58 to go, that was as close as Indiana would get. Burke penetrated and dished to Hardaway, who made his second three (2-of-8) of the night. Michigan's next possession was more of the same. Hardaway missed a lay-up, but Indiana allowed Jordan Morgan to snag an offensive rebound, similar to how the Hoosier let it slip away against Wisconsin late by giving up crucial rebounds to the opponent. Michigan ran some clock. Burke drove baseline on Abell and kicked to Hardaway Jr. in the left corner. He passed up to Stu Douglass on the left wing. Douglass drained a three. Indiana found itself down 58-50 with 1:47 to go and that was pretty much all she wrote, save for some desperation late fouling.
Another road loss for the Hoosiers. Another reminder that for all the improvements this team has showed from this season to last, winning on the road in the Big Ten remains an elusive proposition.
SOME NUMBERS
+ For the game, Indiana turned the ball over on 24.1% of its possessions (14 total). Michigan converted these miscues into 17 points. That's 25 percent of the Wolverines' points right there.
+ While Indiana allowed a key offensive rebound late in the game to Michigan, it actually did a great job containing the Wolverines there for most of the contest. Michigan only recorded three offensive rebounds the entire game (12.0 OR%). (Though, Michigan's offensive rebounding is not a strong suit.)
+ Indiana had a below average night from beyond the arc, hitting just 5-of-14 (35.7%). If the Hoosiers fail to keep up their hot shooting from 3-point range, they're going to need to find other ways to score.
Filed to: Michigan Wolverines