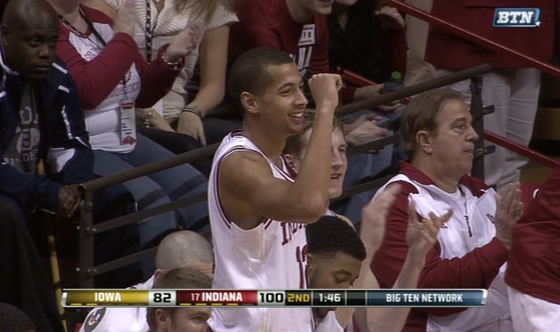 Thoughts on a 103-89 win against the Hawkeyes:
There was Thursday's slow-paced, every-possession-counts loss to the Badgers.
But tonight inside Assembly Hall? Decidely different. Blink and you missed a bucket. Indiana's relentless scoring early in the shot clock was reminiscent of the pre-conference season, where it was defensive rebound/force a turnover, pass, push the pace, shot attempt — on repeat. Most of tonight's offense didn't even come off the 3-ball (just 4-of-16); it was dunks on dunks on dunks. Indiana would simply draw the defense and find an open man around the bucket — often Mr. Cody Zeller, who finished the game with seven dunks and a career-high 26 points on 11-of-12 shooting. And when the Hoosiers were missing their first attempts on offense, there were plenty of extra opportunities to be had.
Consider this: Indiana rebounded 57.1 percent of its misses (20 total offensive rebounds) and scored 23 second-chance points. Now, this was against the Big Ten's worst defense. The Hawkeyes were giving up a league-worst 1.11 points per possession coming into tonight's contest. Still, the Hoosiers were incredibly dominant, scoring 1.34 points per possession to finish with over 100 points in a Big Ten league game. This is rare. In fact, Indiana's 103 points were the most scored by a team in league play all season. It was the first time the Hoosiers surpassed the 100-point barrier in Big Ten play since March 12, 1995 against the Hawkeyes.
Perhaps rarer still: Derek Elston and Tom Pritchard had strong offensive outings. Elston was hot early; he hit two threes and a jumper during a quick stretch in the first half. The Tipton native finished the night with 11 points on 4-of-5 shooting (2-of-2 from three). Pritchard scored in transition with a layup during the first half. He made one of two free throws. He scored a season-high seven points in 11 minutes and also took two charges.
Indiana scored 58 (!) points in the paint. The Hoosiers hit 25-of-31 from the line (80.6%). And in a game with a lot of possessions, they had a livable 13 turnovers (18.0 TO%).
And most importantly: After Iowa has had Indiana's numbers the last couple go-rounds, the Hoosiers made sure the W was pretty much never in doubt.
OTHER THOUGHTS
+ Will Sheehey shaved his head. He also started in place of Victor Oladipo. And well, it was probably time for that. Oladipo, a player who thrives off energy, seemed to have lost his mojo over the last stretch of games. But in this uptempo game suited for an offensive player of his style, he had a bit of a rebirth — playing with a spark and scoring 12 points on 5-of-8 shooting. He hasn't scored that many since pumping 15 points in against Ohio State on New Year's Eve. He exited the floor for the evening on a block of a jump shot, a fitting way to go out. An engaged Oladipo will be of great service to the Hoosiers the rest of the way if he can keep it up.
+ Lots of positives here. But the defense was a little concerning despite the blowout win. Iowa scored 1.19 points per possession and shot it quite well (70.4% eFG). Basically this: Not a lot of defense played this evening. But fans of scoring were certainly rewarded.
Filed to: Iowa Hawkeyes