The Minute After: Wisconsin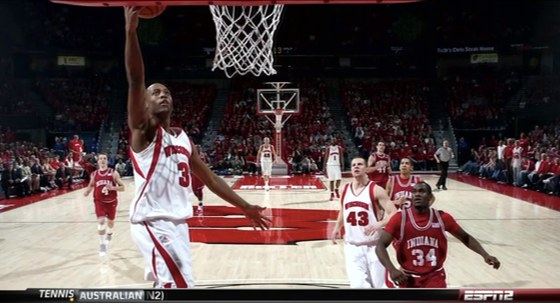 Thoughts on a 57-50 loss to the Badgers:
Look above.
Verdell Jones has been through it all, seen it all in the Tom Crean era.
And so his hot start in his last trip to the Kohl Center was perhaps fitting. It was the senior at his best. The silky mid-range game. Taking what's there and not forcing the issue. By half, Jones had pumped in 12 of Indiana's 27 points on 6-of-7 shooting. The Hoosiers took a two-point lead into the locker room. The defense was communicating and helping. Indiana looked destined to stay in this one until the very end.
But in the second half,  Jones cooled off (he finished 6-of-10 and didn't score after the break). The Hoosiers had some unforced turnovers early. Cody Zeller had arguably his worst game as a Hoosiers stretching across the whole game (foul troubled limited him; he got blocked a fair amount; he had seven points on 2-for-7 shooting). Still, the Hoosiers were indeed in this one until the very end. But Wisconsin executed down the stretch — or perhaps the refs were kind to the Badgers, as many articulated via social media — and Indiana was unable to counter, unable to sneak out of the Kohl Center with a win. Wisconsin hit six straight free throws (and 12-of-12 in the second half) in the last 1:03 to close this one out on a 6-0 run after being up 51-50. They grabbed some key offensive boards as well.
Despite the loss, all and all, this was a strong effort from the Hoosiers. They were in this one from start to finish, never really showed a lack of focus or poise. And had a few other things gone their way late, we may have been singing a different tune.
Instead, the Hoosiers remain winless in Madison since 1998 and fall to 4-5 in the conference.
A LOOK AT SOME NUMBERS
+ I noted above that Zeller got blocked a helping of times, but it wasn't just the Washington native having trouble getting a shot off. The Badgers had eight total blocks  — five by Jared Berrgren, one each from Mike Bruesewitz (that block of Will Sheehey's dunk) Ryan Evans and Frank Kaminsky. In a low possession game, this was a decent factor, as Wisconsin actually finished the night with a block percentage (percent of shots shots blocked) of 14.9.
+ They say as Jordan Taylor goes, so goes Wisconsin. And I suppose that was sort of true tonight. Indiana never really let him be much of a factor for much of the contest. He only scored 10 points (5-of-14 from the floor, 0-of-5 from 3-point range). Though, as usual, he was strong with the ball, never turning it over in 39 minutes of action.
+ The Badgers scored 1.06 points per possession on the evening; Indiana scored at a .91 points per possession clip.
Filed to: Wisconsin Badgers