The Minute After: Nebraska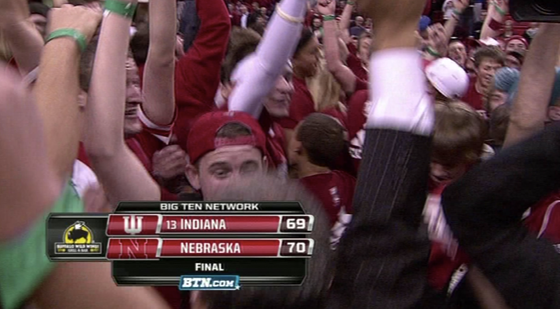 Thoughts on a 70-69 loss to the Cornhuskers:
Where to begin in a game so ripe for criticism?
Start here: Up 11 points with six minutes to go (63-52), Indiana appeared to be in control. The Hoosiers had an opportunity to step on Nebraska's throat and cruise to a lopsided victory. If not, it was simply about maintaining and leaving Lincoln with the W and heads held high. But neither of these things happened.
Instead, Indiana completely fell apart down the stretch on both ends of the floor. Jordan Hulls missed the front end of a one-and-one. Jorge Diaz hit his two on the other end to put Nebraska up 1. Hulls, trying to avoid getting blocked in the waning seconds, threw up a lay-up that hit the underside of the rim. As the ball neared going out of bounds near the Indiana bench, he was able to chase it down and heave a desperation turnaround 3-pointer.It bounced off the rim. Nebraska's student body rushed the court; Doc Sadler danced with them. The Cornhuskers had outscored the Hoosiers 18-6 over the final six minutes.
Had this really just happened? It had. It had indeed.
Beyond the meltdown, Indiana, as it has during this three-game losing streak, continues to have problems with turnovers. Tonight, the Hoosiers turned it over on almost a quarter of their possessions (22.7 percent, 15 turnovers). And it's s not so much the other team imposing its will and making Indiana cough it up. Indiana simply isn't being sharp with passes. They are being lackadaisical and lazy; these cough-ups are often of the self-inflicted variety.
And then there's the defense that continues to underwhelm. On its face, Indiana allowing 1.02 points per possession to Nebraska this evening isn't too bad. (1.0 is said to be an average offense). But when you are provided with the context that Nebraska is the worst offensive team in the conference and has only been scoring a woeful .84 points per possession in Big Ten play, it's another poor performance by the Hoosiers.
Perhaps most troubling in this one was that, after showing such poise on the road against N.C. State, after showing resolve by coming back at Michigan State, after staring down the No. 1 and No. 2 team in the nation and saying "Not In Our House,"  they just wilted and died in this one.
Through 16 games, this was a tough team that showed a lot of maturity and confidence. They took punches and kept on swinging. But old habits are bubbling to the surface. Bad defense. Too many turnovers. A lack of focus and resolve. Add those three things up, and you get the Hoosiers of old under Tom Crean, a team that lost conference game after conference game after conference game.
They've now rung their latest total up to three … and counting.
Filed to: Nebraska Cornhuskers