The Minute After: Ohio State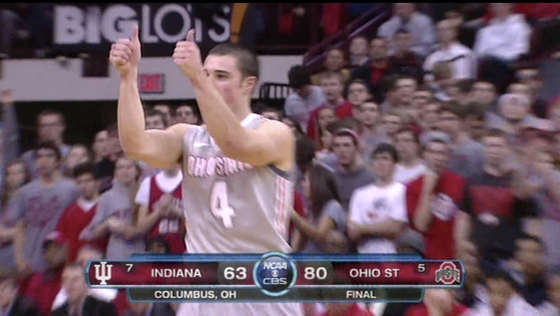 Thoughts on a 80-63 loss against the Buckeyes:
Few, save for Jared Fogle, predicted a victory against the Buckeyes this late afternoon in Columbus.
They were out for revenge against an Indiana squad that defeated them on New Year's Eve; they'd lost a tough one in Champaign earlier this week with Brandon Paul hitting everything in sight. As Dana O'Neil tweeted: "Never play the Buckeyes when they're angry."
But a first-half performance this putrid inside Value City Arena? Oy. Indiana had problems all over the place to start this one. The Hoosiers couldn't buy a bucket, only having 14 points at the break, mustering just an eFG% of 29.5. They allowed 11 second-chance points to the Buckeyes, who sported an OR% of  37.5. Indiana also turned the ball over too much (12 turnovers, 37.5 TO%). And then there was Lenzelle Smith Jr. He came into this one averaging 5.2 points per game. At half, he had 18. When the final buzzer sounded, Smith had a career-high 28 on 10-of-12 shooting, including four 3-pointers.
But the second half? Indiana held its own. The shooting recovered (it finished with a 49.1 eFG% ) and the 3-point shot — which had been dormant against Minnesota and in the fist half  of this one — came to life a bit as Indiana hit 7-of-21 (33.3%) on the evening. Not as good as they've been hitting. But not as bad as the first half was projecting. Indiana went 2-3 zones for stretches, which helped slow the Buckeyes some. And the turnovers cooled down (17 total, 26.0 TO% for the game). The Hoosiers also outscored the Buckeyes in the second half, 49-45.
So after all is said and done here, Indiana — a team that was a 13-point underdog this morning and was given just a 16% chance of victory by KenPom — lost by 17. Bad? Sure. Season-altering, sky-is-falling bad after Thursday's loss to Minnesota? I don't think so.
The truth is this: Indiana probably isn't as good as its 15-1 record indicated. And they probably aren't one of the seven-best teams in the country. This does not mean they're not worthy of a high seed come the tournament. Or that they can't still challenge for one of the top spots in the conference . Or that they still can't remain in the Top 25 for the remainder of the season.
But adversity has hit for the first time all year. And how these group of young men respond to it could ultimately tell the tale on this season.
Filed to: Ohio State Buckeyes